A year ago this week, our weather focus was firmly planted on the coming weekend.
It was obvious from about a week out that a wet storm system riding the El Nino-enhanced southern branch of the jet stream was moving headlong into blocked-in Arctic air over the eastern U.S. The precise outcome wasn't yet known, but even several days before its arrival Dec. 9, a Sunday, it appeared to be a likely snow setup for Southwest Virginia.
There was some bouncing around on amounts in the forecast models, but it became obvious in the last 24-36 hours that a deep snow was on the way. Unlike many winter storms over the years that seem to underwhelm, this one maxed out its potential, somewhat overshot many forecasts and became a truly historic winter storm for our region.
The Dec. 9-10, 2018, snowstorm was:
Roanoke's biggest December calendar-day snow on record, dating to 1912, and the third largest at any time of year, with 15 inches falling on Dec. 9.
Roanoke's third-biggest December snowfall on record, with 15.2 total, only trailing the 17.8 inches a decade ago in the Dec. 18-19, 2009 storm and a 16-inch Christmas snow in 1969. (A December 1890 storm is purported to have dumped 3 feet on Roanoke, but that was before the era of official record keeping.)
The earliest date on the cold end of the calendar that a foot or more of snow has fallen at Roanoke, Blacksburg (13.7 inches) and many other locations in Southside and Southwest Virginia.
The largest areal coverage of foot-plus snow totals across National Weather Service's Blacksburg forecast area (much of Southwest and Southside Virginia, plus parts of southeast West Virginia and northwest North Carolina) since 1996.
Even once the forecast models locked on to higher amounts and starting increasing them, it was a little difficult to believe that this could be a regionwide foot-plus snowstorm. It was emanating from a pattern that rarely produces such a snow.
Since 1912, Roanoke has had 11 snowstorms that dumped at least 15 inches of snow on the Star City.
Ten of those resulted from what is known as the Miller A storm setup — a low forms in the Gulf of Mexico, upper-level energy from two different branches of the jet stream "phases" or flows together, and the storm is lifted up the East Coast, usually intensifying as it does.
When this occurs, our region gets moisture from the Gulf of Mexico lifted northward ahead of the storm, continues getting moisture from both the Gulf and the Atlantic Ocean wrapped around the back side of the storm, and remains in cold air as the counterclockwise rotation behind the coastal low and a pocket of colder air aloft with a trailing upper-level low keep the atmosphere chilled.
The Miller A storm evolution (named after 1940s weather researcher J.E. Miller — there is a Miller B storm also, a subject for another day) gave us the big snows you may remember in March 1993 and January 1996, the one 10 years ago in December 2009 (I'd still like your memories of that one — see attached box) and five-plus years ago in February 2014, all four of which dumped 16-25 inches on Roanoke.
The only 15-inch-plus snowstorm in our local weather history that wasn't a Miller A happened a year ago.
The Dec. 9-10, 2018, snowstorm fits firmly in a different category, called an overrunning event.
This kind of winter storm setup is as simple as its name suggests — Gulf of Mexico moisture being lifted into and over a parked dome of cold air, or "overrunning" it.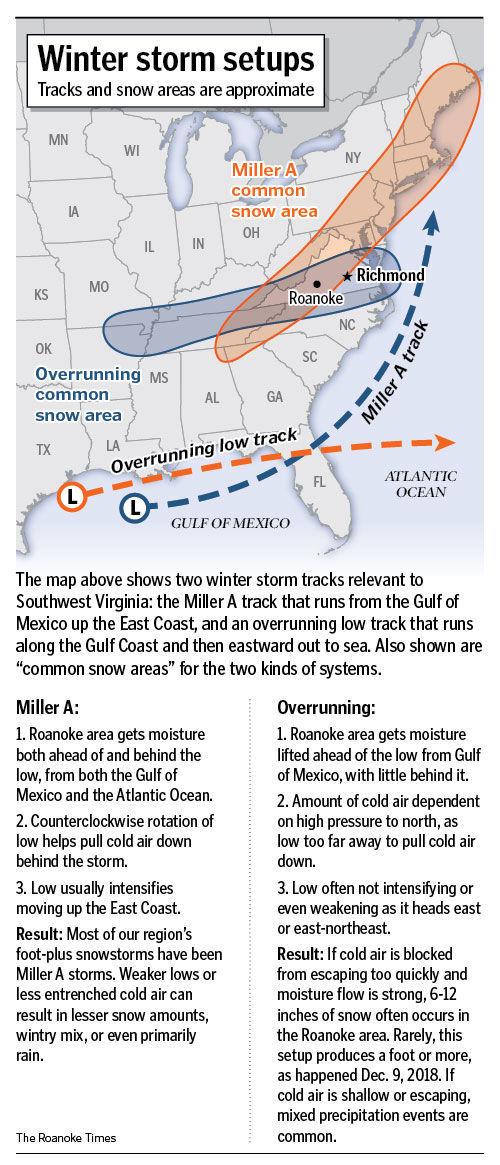 When this winter storm evolution occurs, a low-pressure system tracks east or east-northeast along or near the Gulf Coast, exiting in the Atlantic off the coast of the southeast U.S. The low usually doesn't strengthen much, and quite often even weakens. But it pushes a large area of moisture northeastward ahead of it, overrunning cold air that is locked in place by high pressure to the north.
We have had several fairly memorable winter storms with overrunning setups, but usually not widespread foot-plus events. Most of the heavier overrunning snow events we get are in the 6- to 12-inch range — late January 2010 (10 inches at Roanoke) and mid-February 2015 (8 inches) are a couple of recent examples.
Compared to a strong Miller A storm, accumulation from overrunning events is usually limited by the fast eastward movement of the storm, the lack of wraparound moisture on the back side, and often a tendency for warmer air aloft to turn the snow into a wintry mix.
However, in the case of last December, the moisture feed was rich enough and the cold air sufficiently deep and firmly locked enough that we got hammered with about 12 hours of moderate to heavy snow, followed by several hours of intermittent light snow.
Last December's snowstorm went off the script in another way. Most winters when there is a foot-plus snowstorm, there is at least one sequel of 6 inches or more. There were no other big snows in the 2018-19 winter — the Dec. 9-10 storm accounted for 78 % of the total seasonal snowfall.
It was a one-hit wonder in the 2018-19 winter, and a one-off way to get 15 inches in our local weather history.
Weather Journal appears on Wednesdays.