BLACKSBURG — Virginia Tech coach Justin Fuente threw 18 interceptions in two seasons at Oklahoma. He threw 20 more as Murray State's starting quarterback.
"I told him, 'I've thrown a lot more interceptions than he has fumbled in my career,' and he kind of smiled, and I felt better that I was getting to him and he went out there and played his tail off." Fuente said.
Turner's turnover came on a bubble screen at the end of the first quarter. The ball popped right out of his hands when he was greeted by linebacker Braden Gilby. Turner watched helplessly as multiple Furman defenders dove on the ball at Tech's 41-yard line.
The Paladins took advantage of the turnover to take a 7-3 lead.
"Everybody respects him," Fuente said. "We always want to get him involved in what we're doing, but you go over to him and tell him, 'We have to go play the next play. We have to go put that behind. Nobody likes what happened, but you can't do anything about it now. You don't have to prove anything to anybody, other than you're tough enough to suck it up and go back out there and go compete,' because he's a competitive person."
Turner put the ball on the ground once as a true freshman in a win over William and Mary last season, but Tech recovered the ball. According to Turner, he never fumbled in high school.
Tech players that fumble often get extended stays on the bench. Freshman running back Keshawn King got a taste of that last week against Old Dominion. Fellow running back Caleb Steward lost control of the ball for a split second after his only carry Saturday and didn't get back in the game.
Turner knew it was a possibility he would miss a series or two, but that wasn't what bothered him.
"I mean, when I fumbled, I immediately just broke down, because they put such an emphasis on ball security, and I just didn't do good about it, at the end of the day," Turner said.
The sophomore receiver was grateful for Fuente's words of wisdom and the way his teammates encouraged him on the sidelines.
"He brought me back [Fuente] and then my receivers coach [Jafar Williams] brought me back up, he said I can't pout about it," Turner said. "We have a whole game to play. And my teammates all brought me back. I just love all those guys and am just thank them."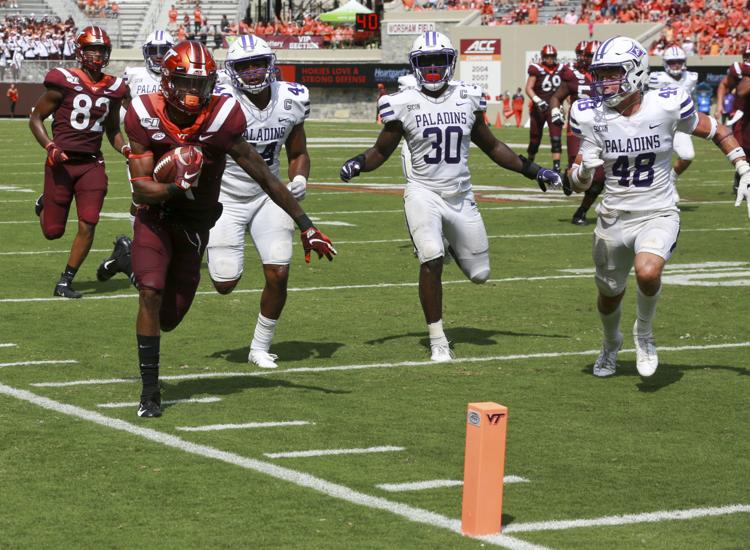 It was a good thing Turner got refocused since the receiver was a focal point of the offense during a second half turnaround. He accounted for 63 total yards and two touchdowns (one receiving) with six of his nine touches coming after halftime.
Much of his success came on the ground with five carries for 68 yards running a jet sweep.
"It just developed," Turner said. "Coach [Brad] Cornelsen, he just saw the looks that they had on defense, and we knew how we could beat them on offense, so they just told me to be ready, take care of the ball and get as many yards as I can."
Turner scored on a 29-yard run down Tech's sideline with 5:04 left in the game. Furman safety Bryan Okeh almost tripped Turner up with a diving tackle attempt, but the receiver stayed on his feet and outraced three defenders to the pylon for his second career rushing touchdown.
"The funny thing is, coach just told me to get the first down," Turner said. "So when I got the first down, all I saw was green grass and I chose to just go get a touchdown, because I didn't want to get tackled. I don't like getting tackled."
The receiver hopes Virginia Tech's offense can get back on track in similar fashion coming out of the bye week.
"Our big improvement that we need to have is just consistency, because we came out the third quarter and scored two straight drives," Turner said. "If we can do that for a whole game, we'll be consistent and not beat ourselves. Because the false starts, the turnovers, just everything hurts us. And that's why we were down 14-3 at halftime."