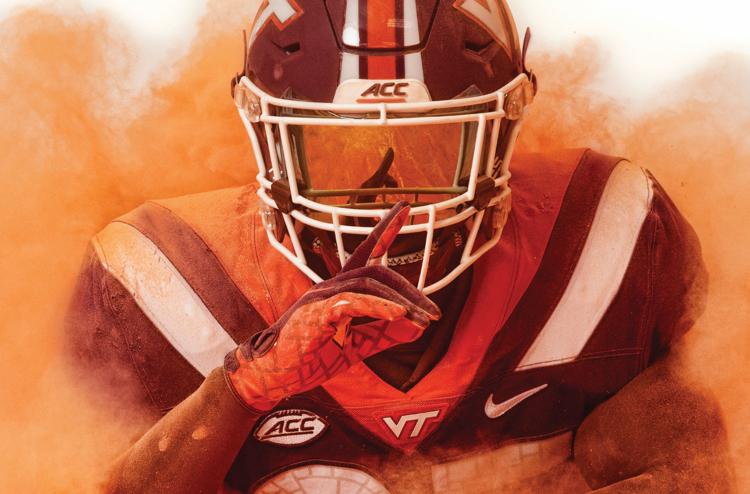 BLACKSBURG — Virginia Tech junior guard Aisha Sheppard didn't know what she was getting into.
Decked out in her basketball uniform, Sheppard walked into the visiting locker room at Lane Stadium that was covered in plastic. She didn't expect the pair of Tech student marketing interns dressed in hazmat suits either.
This wasn't any normal photo shoot.
Virginia Tech scheduled a picture day in late July with winter sports student-athletes for the athletic department's 2019-20 marketing campaign.
Freelancer Zach Ancell had 45 minutes lined up with Sheppard, who kicked off the long day that also included sessions with teammate Kendyl Brooks, wrestler David McFadden and men's basketball players Wabissa Bede, Landers Nolley and Isaiah Wilkins
This year's marketing materials (posters, schedules and media guides for each sport) features images of Tech student-athletes in a cloud of orange powder.
At first look, it might seem like something done in Photoshop, but that isn't the case.
Ancell needed 15 minutes to set up the lighting and take test shots of Sheppard. He kept a loose atmosphere throughout the afternoon and stressed that each athlete try to have fun.
For each photo, the interns take a big handful of powder and toss at Sheppard. 
Virginia Tech director of marketing and promotions J.C. Whidden and graphic designer Ben Smith threw out ideas for poses throughout the session. Whidden also offered the interns throwing the powder an important word of warning.
"Do your best not to hit anyone in the face," Whidden said, with a smile.
Ancell took dozens of shots of Sheppard in various poses — smiling, serious, with a basketball and without, facing the camera, back to the camera and even some of her screaming. Sheppard couldn't keep a smile off her face as she started yelling at no one.
"You're crushing it," Ancell told her.
By the time Sheppard is done, she's covered head to toe in orange powder, but in good spirits.
"It's a little weird when they first walk in and they aren't sure what they are getting into," Whidden said. "The first time they get hit with powder, it's different. It's dusty, gets in their mouth and nose, but once they get going they have a good time with it."
According to Whidden, very little is done to the images in post-production.
"The images have been fantastic," Whidden said. "Our graphic designer [Smith] obviously manipulates the photos just a little bit mostly to clean them up, but what you see has pretty much been captured in camera." 
Whidden, who has worked for Tech's athletic department for six years, came up with the idea for the campaign in a brainstorming session with Ancell in her current role overseeing Virginia Tech's brand. She's responsible for how Tech's brand is represented visually in marketing materials and making sure the experience fans have at athletic events aligns with that vision.
"I touch a little bit of every sport, some more than others," Whidden said, sitting down for an interview in July at the Jamerson Athletic Center. "I kind of work with each coach with their visual identity. We try to make it cohesive across all the sports, but sometimes you have to give them a little special to showcase their sport individually too."
One of her annual responsibilities is coming up with a marketing campaign across all sports for the academic calendar year.
The theme her team put together last year was a play on the lyrics of Metallica's "Enter Sandman", the entrance song used by the football team at Lane Stadium. Each team poster featured the phrase "Enter Night" or "Exit Light" with student-athletes from each sport posed on a maroon background.
Virginia Tech worked with Ancell for both campaigns. They use the Portland-based freelancer, who has worked with the Seattle Seahawks and Nike, for special projects to keep full-time staff photographer Dave Knachel free to handle all the department's day-to-day needs.
Whidden and Ancell started planning the 2019-20 marketing materials last fall. The only concrete idea they had to start with was trying to do something "brighter."
"We wanted to do something out of the box and unique," Whidden said. "College poster designs are all pretty similar typically. I wanted something that would stand out and be different from the crowd."
They landed on using dry powder — similar to what's used in a color run — after looking to Instagram for inspiration. Ancell isn't sure what sparked the exact idea, but settled on it after tossing around designs using smoke effects.
"I had seen enough powder images to know it's able to be done, but there was definitely some worry about how is this actually going to work?" Ancell said.
Whidden put together a test shoot with a model in Portland in January, a session involving plenty of trial and error.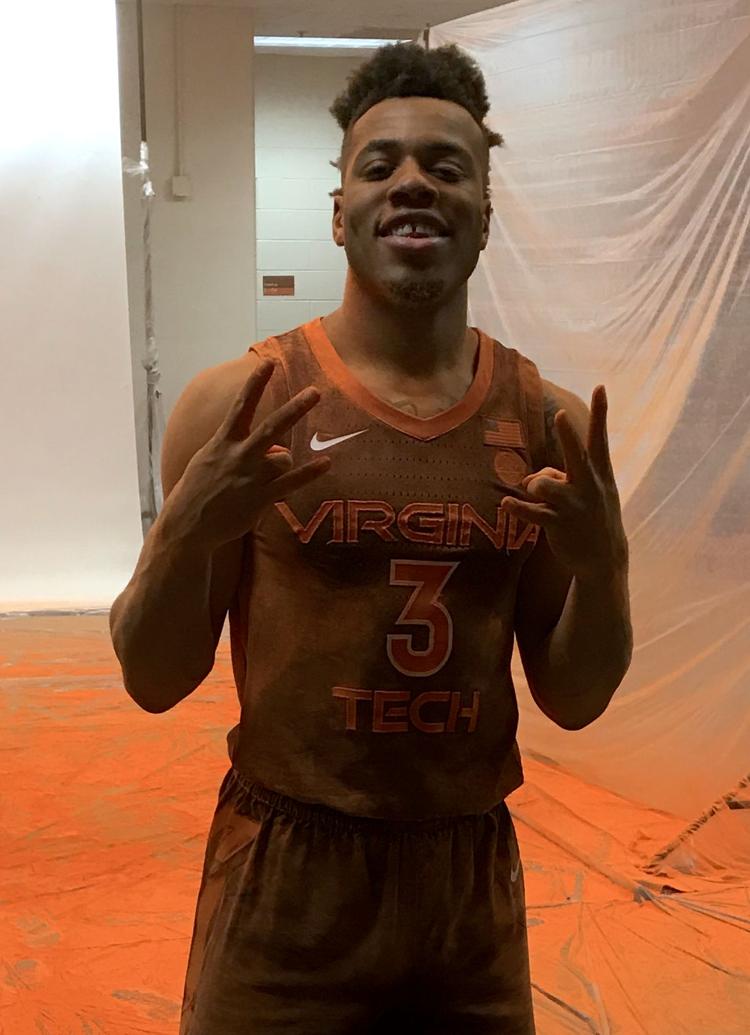 "The biggest thing we learned was the best way to throw the powder," Ancell said, in between the July photoshoots. "We started off with tiny handfuls and it looked a little hazy. Under hand? Over hand? We were messing with different tools. There was a fire extinguisher filled with powder we tried. It was a little extreme [laughs], even a baby spray of that just went everywhere. We squashed that after a couple seconds."
The football posters made their public debut on June 15. Deablo is the student-athlete on the poster, but Reggie Floyd, Jarrod Hewitt, Rayshard Ashby, Divine Deablo, Dax Hollifield, Christian Darrisaw, Dalton Keene and Tre Turner all posed for photos. The rest of the fall sports posters have since been released.
"Fans have embraced it," Whidden said. "We saw in our office, a fan trying to recreate it on Twitter. Coaches have liked it. It's a unique recruiting thing to show this is what we are doing at Virginia Tech that's outside the box and unique."
The finishing touches need to be put on the winter images — Ancell will be back in Blacksburg later this fall to shoot student-athletes from Tech's spring sports as well — but that hasn't stopped the pair from having informal discussions about next year's campaign.
"I'm so stressed out thinking about it," Whidden said, with a laugh. "I have no idea what I'm going to do. We'll start brainstorming what we want to do for the 20-21 season later this fall."