NORFOLK — A monthslong investigation into a racist yearbook photo that appeared on Gov. Ralph Northam's 1984 medical school yearbook page could not "conclusively" determine who is in the photo or how it ended up there.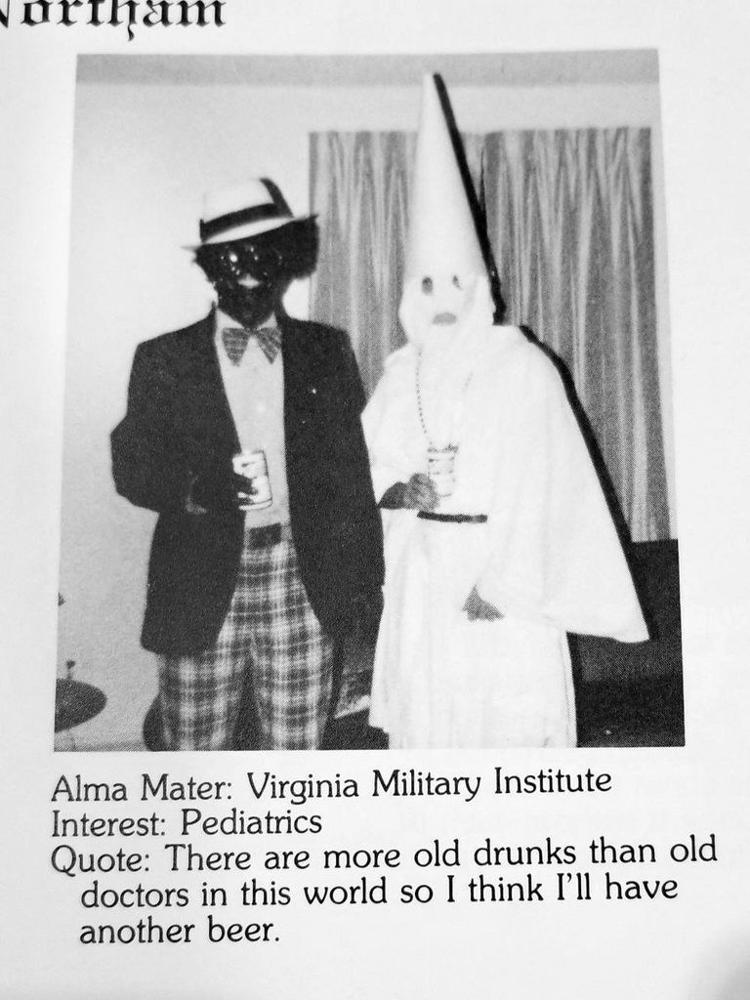 A team hired by Eastern Virginia Medical School released its much-anticipated, 55-page report Wednesday, shedding some light into the culture at EVMS at the time, but delivering little about the photo, which depicts a person in blackface and another in a Ku Klux Klan robe.
"We could not conclusively determine the identity of either individual depicted in the photograph," the report reads, adding that it found "no information that the photograph was placed on [Northam's] personal page in error" and also could not "conclusively determine the origin of the photograph."
McGuireWoods contacted over 80 people connected to EVMS and interviewed 30 people connected to EVMS as part of its investigation, including five members of the yearbook staff. Investigators also interviewed Northam and members of his staff.
The report looked into Northam's statements immediately following the publication of the photograph in news outlets, including his initial admission that he was in the photo and that he had never seen the yearbook page. Northam later backtracked, saying he was not in the photo.
Investigators interviewed one witness, whom they did not name, that rebutted Northam's statement that he had not seen the photo.
"One unidentified witness has reported to us that he recalls reviewing the governor's personal yearbook page with the governor in 1984," the report says, adding that the witness "did not think the Governor was personally depicted in the Photograph."
Northam denied that the meeting ever happened.
Northam also told investigators that he felt compelled to address the photograph quickly, and feared saying that he did not appear in the photo out concerns that someone would come forward and say, "I was there and remember and it is you."
At the time of the release of the findings of the investigation, Northam was in Lexington to tour a meat market as part of Agriculture Week.
He said he had not read the full report yet, but would later.
"I suspect this has been a thorough investigation. I've actually participated in the investigation, been present for the questioning the day they asked me of," Northam said in Lexington.
Later Wednesday, in a statement issued from his office, Northam again apologized: "I know and understand the events of early February and my response to them have caused hurt for many Virginians and for that, I am sorry. I felt it was important to take accountability for the photo's presence on my page, but rather than providing clarity, I instead deepened pain and confusion."
Overall, the details in the report, which was paid for by EVMS, fall short of Northam's promise during a Feb. 2 news conference, when he said, "I want to have all the facts. And I want Virginia to have all the facts. That's important to me," Northam said. "I think that we will continue to collect information to definitively prove, in addition to my word, that I'm not in that picture."
EMVS President Richard Homan said Wednesday that upon reading the report, it was clear that its publication represented a "failure of the administrative oversight on the part of EVMS."
"It should never have happened," he said.
Homan added that EVMS is not alone when it comes to troubling yearbook photos, citing a USA Today report that found dozens of racist photos in yearbooks from across the country.
"That's not an excuse but rather a troubling diagnosis of the racist bias and racism that continue in this country today," he said.
The unearthing of the photo plunged the Northam administration into crisis and prompted widespread calls for his resignation.
It also set off a chain of events that saw two of Virginia's other top state officials battle their own crises: two women accused Lt. Gov. Justin Fairfax of sexual assault and Attorney General Mark Herring admitted to wearing blackface in college to depict a black rapper.
After a couple of interviews in which he vowed to battle inequity in the state and lead Virginia through the pain caused by the photo, Northam has spent the past few months working to return to normalcy.
He has made regular public appearances since April, many to announce economic development news or deliver keynote speeches at events around the state, but has sought to revive his political fundraising efforts.
Northam spoke to returning his governorship to a more normal footing during his visit to Lexington: "Virginia is doing very well. That's one of the reasons I'm here today to promote agriculture, to promote our economy. And in the first 16 months of our administration, we brought in over $17 billion of capital investment, over 48,000 new jobs. I was elected to govern. I've got a great team. We're obviously refocusing on the inequities that exist across the commonwealth. I look forward to the next three years of our administration. We're going to keep Virginia the best state in the best country in the world."
But, in his official statement later, he also reiterated the dialogue he's conducted across the state on enacting "meaningful progress on issues of equity.
"That conversation will continue, with ensuing action, and I am committed to working to build a better and more equitable Virginia for all who call it home," Northam said.
Roanoke Times staff writer Amy Friedenberger contributed to this report.