BREAKS — The bull elk stood alone in a field just before dusk, and peed all over himself.
It's his way of courting females, and a van of tourists couldn't take their eyes off him, either. After more than 150 years of silence, the sound of  bugling bulls echoes over the hills. It's rutting season in far Southwest Virginia, where a five-year-old elk restoration project attracts visitors and delights wildlife enthusiasts.
The randy bull in the field of a privately-owned reclaimed strip mine site 13 miles from Breaks Interstate Park is one of 200 elk that today range over parts of Buchanan County. They were stocked there by the Virginia Department of Game and Inland Fisheries beginning in 2012. They range into Wise and Dickenson counties, where they also are protected from hunting.
One pregnant female has been seen at Breaks, but so far few elk have wandered into the mature forest that covers the 5,000-acre park, Superintendent Austin Bradley said.
Through a partnership with the Southwest Virginia Coalfields Chapter of the Rocky Mountain Elk Foundation, guides take park visitors to the old mine site in April and May during calving season, and during the breeding season from August through October.
"The goal is to drive tourism to the area," Bradley said. "This area has been reeling from the decline of coal. Breaks is taking an active role in revitalizing the economy."
Established in 1954, Breaks Park straddles the border of Virginia and Kentucky and is managed by a commission comprised of officials from both states. It is one of two such "interstate" parks in the country. The other sits on the border of Minnesota and Wisconsin.
Breaks' centerpiece is its 1,000-foot-deep gorge gouged out of Pine Mountain by the Russell Fork River. It has between 250,000 and 300,000 visitors annually. Bradley hopes to draw more with dozens of amenities, such as a new 2,200-foot long, 300-foot high zip line along the gorge rim that's set to open on Sept. 30. And the elk tours have been good for the park, too.
Elk can also be seen on public property in the county's Poplar Gap Park, DGIF elk project leader David Kalb said.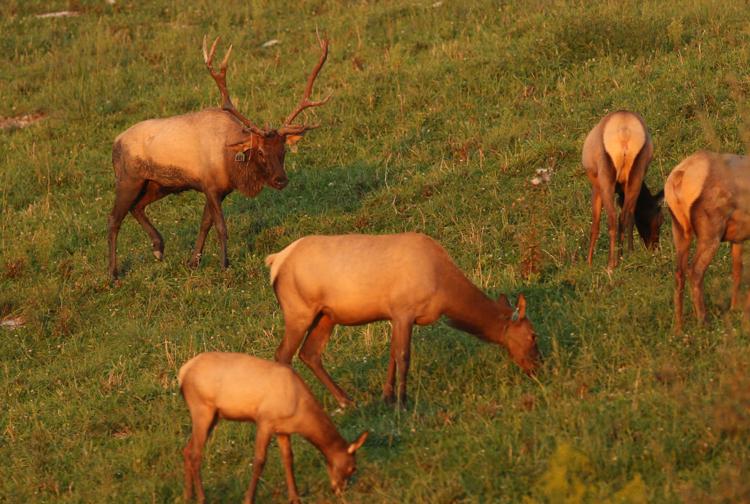 Homecoming
After more than a century of study and failed efforts to bring elk back from extinction in Virginia, in 2012, DGIF worked with the Rocky Mountain Elk Foundation and other partners to stock the animals on the reclaimed mine site nearby Breaks Park. Over three years, the state brought in about 75 elk from Kentucky's 11,000-strong herd. The project cost about $1 million, with a portion of the funds coming from private entities, Kalb said.
Kalb said Kentucky's herd has remained free of the major diseases that worry cattle farmers: tuberculosis, brucellosis and chronic wasting disease. Farmers also worry about elk breaking livestock fencing and competing with their cattle for forage, Kalb said.
Originally, DGIF intended to stock elk in Dickenson and Wise counties, too, but they resisted the effort and the animals were released only in Buchanan. But Wise and Dickenson counties are designated as part of the restoration zone, and elk can't be legally hunted the three-county area.
Restoring elk offers sport and high-quality, organic meat to hunters, and the project is expected to drive tourism both for hunting and wildlife viewing, Kalb said. They also are a natural part of the ecosystem that's been missing for generations.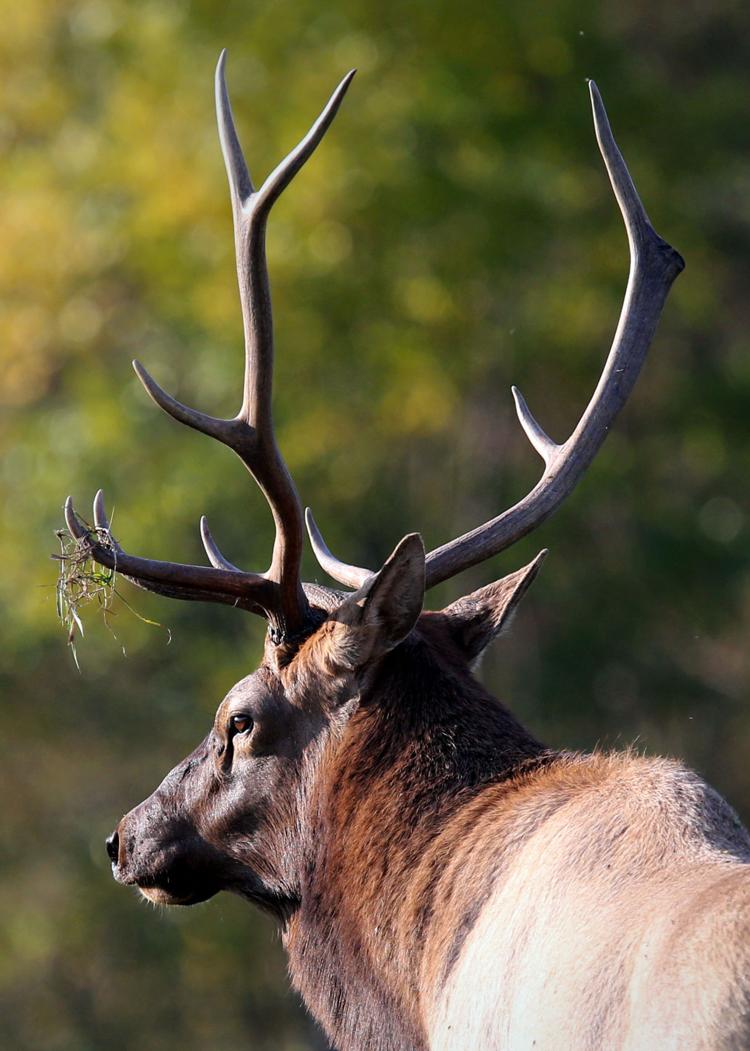 North American elk remains dated to 20,000 years ago have been documented in northwestern Virginia, according to DGIF. Elk ranged across most of the state and were most common in the Allegheny and Blue Ridge mountains. Explorers in the late 1600s described abundant elk herds, particularly in the Shenandoah and New River valleys.
With European settlement came habitat destruction and overhunting. The last wild Eastern elk in Virginia is thought to have been killed by Col. Gos Tuley of Clarke County in 1855. By the 1870s, the entire Eastern subspecies was extinct across its range.
Before settlers arrived, more than 10 million elk lived in the United States and parts of Canada, according to the Rocky Mountain Elk Foundation. "Today, about one million elk live in the western United States, Wisconsin, Michigan, Minnesota, Missouri, Pennsylvania, Arkansas, Kentucky, Tennessee, Virginia and North Carolina, and from Ontario west in Canada."
The Kentucky Department of Fish and Wildlife began that state's restoration in 1997 and by 2002 had stocked 1,550 wild western elk imported from Utah, Kansas, Oregon, North Dakota, Arizona and New Mexico. Today at least 11,000 elk graze across and estimated 4 million acres in 16 Eastern Kentucky counties. It is considered the largest wild elk population east of the Rocky Mountains.
And elk don't respect state lines. Following the stocking near the Virginia border, between 50 and 100 Kentucky migrants are thought to have crossed over. Efforts to trap and deport them were expensive and eventually discontinued. Virginia was going to have manage elk anyway. Then it started its own stocking project.
Leon Boyd, president of the Southwest Virginia Coalfields chapter of the Rocky Mountain Elk Foundation has been a major force behind restoration. He grew up one ridge over from the mine site and has hiked and hunted the surrounding hills for decades. In 2000, he went to New Mexico for an elk hunt "and I fell in love with it," he said.
Now Boyd does a lot of elk hunting at home – with his high-end binoculars. He spends a good amount of time on a tractor, too, making sure the site's pastures are full of native wildflowers, warm-season grasses, clovers and other natural forage. That work has attracted a lot of other wildlife, including wild turkey and pollinators, Boyd said.
And there are other rewards.
"To do something like this and pass it on to your kids – it's pretty special to see it," Boyd said.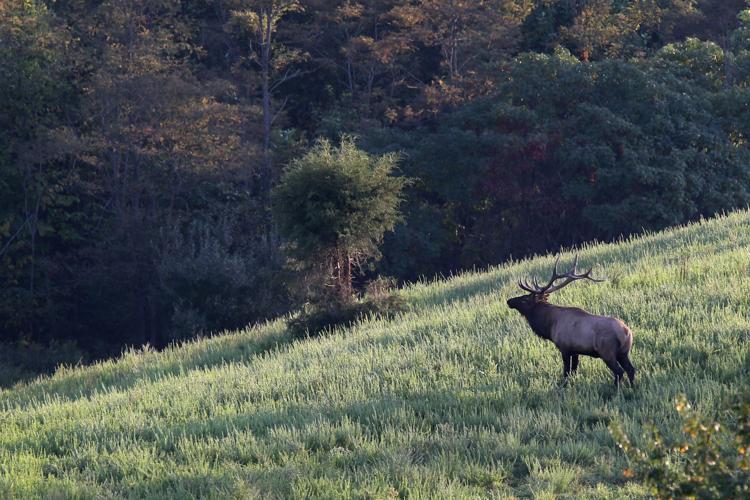 Managing a growing herd
Virginia has completed its stocking efforts.
"We are allowing nature to do its thing now, they will reproduce on their own," Kalb, the project leader, wrote in an email. "It's just a rather slow process. Right now we are seeing good recruitment numbers and we are seeing excellent health in the animals that we have."
Originally, the state proposed a restored herd of 1,200, but resistance led to a plan for a herd of no more than 400, according to DGIF documents. So far, there have been few problems with elk. DGIF has handled seven complaints since 2012, according to Kalb. Two were about damage to fencing, two were related to agriculture, two calls claimed the elk were too close to the public and one call was about damage to grass, he wrote in an email.
So far the 200-strong herd has remained in a seven-mile radius of the mine site, according to Kalb. To keep elk away from farm fields and pastures, hunters outside of the three-county restoration zone may legally harvest elk during deer season, using a deer tag. Since stocking began, two elk in Virginia have been legally killed, Kalb wrote in an email. But, "in the past 3 years there have been no legal harvests of elk in Virginia."
There have been several instances of poaching, however, both inside and outside the restoration area, according to Kalb. The number remains small and won't affect the overall population, he added.
Aside from ecological benefits, wildlife can be a big economic diver.
DGIF estimated that in 2006 hunting and wildlife contributed $1.4 billion in economic activity, and elk could add to that total. Kentucky has allowed elk hunting by permit since 2001, and according to a 2015 report, estimates are that it brings in $3 million annually. The state has no estimate for the value of tourism from passive elk viewing, but out-of-state visitors drawn to the restoration zone are  estimated to spend $480 each.
Virginia's restoration has been a long time coming. In 1917, the newly-minted Virginia Game Commission began importing elk from Yellowstone National Park to reestablish herds, placing animals in 11 counties, according to DGIF documents. Other introductions were made in Bath, Augusta and Rockingham. But they didn't gain a foothold. By 1926, small herds remained only in Giles, Bland and Bedford. By 1970, they had all died out.
But elk seem destined to regain their old home range as interest in them grows. West Virginia is in the second year of stocking a seven-county restoration area in its Southern Coal Fields Region.