LYNCHBURG — Certain triggers bring the memories crashing back for Carl and Warren Raines. The thump of helicopter blades puts the brothers in the cemetery the day they buried four family members as passing search helicopters drowned out the pastor's words.
And there's the pungent smell of deeply disturbed earth — a reminder of the night the Raines brothers desperately clung to trees as a swirling mass of mud and chunks of houses raced by them and into the rain-swollen river.
The floodwaters generated by the remnants of Hurricane Camille in August 1969 altered the landscape of Nelson County and the Raines family forever.
The storm killed their parents, Carl Franklin Raines Sr., 52, and Shirley Gordon Raines, 42. It also robbed them of two sisters, Johanna Gordon Raines, 18, and Virginia "Ginger" Estelle Raines, 7, whose body was found two weeks after the flood; and their younger brother, Walker Saunders Raines, 9.
They were among 125 Nelson County residents who lost their lives in the Aug. 19-20 flooding, and part of the 259 people who died overall as a result of the Category 5 hurricane that struck Mississippi and then, as a tropical depression with diminished winds, dumped unprecedented torrential rain in the mountains of central Virginia.
Camille left then-16-year-old Carl Raines Jr. and 14-year-old Warren Raines orphaned and, for a time, rudderless.
"To go from being happy — we were an average family. We weren't rich people and we weren't poor people, but to go from where we were to becoming orphans in one night …" Warren trailed off.
"It turned our lives upside down," Carl added.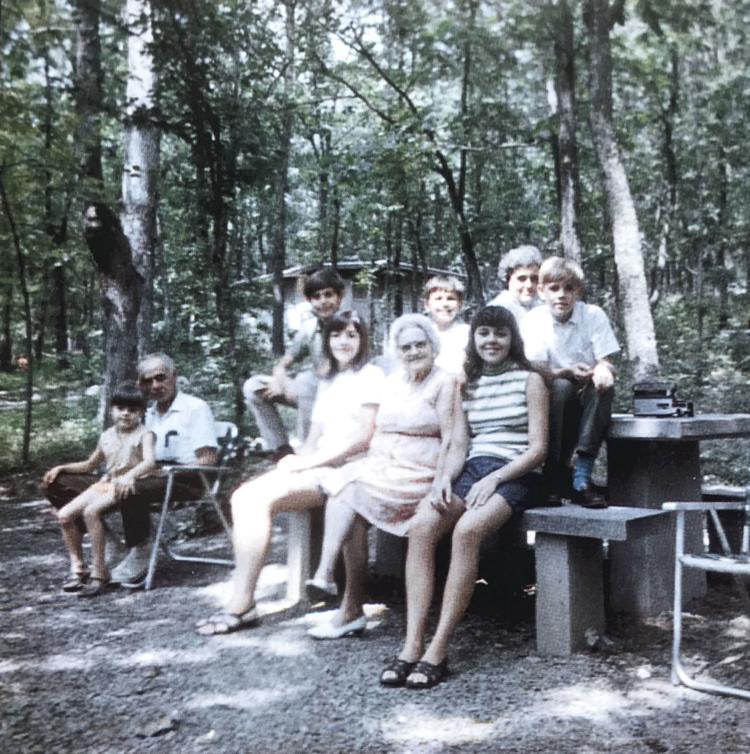 Warren recalls watching the rain with his father from the porch of their home in Massies Mill. The family later turned in for the night, unaware of what that rain would bring.
A 2 a.m. phone call first alerted them to flooding on the Tye River, which normally ran about 500 feet behind their home.
Warren recalls his parents discussing what to do. Then his mother suggested looking outside. Headlights from the cars of evacuating neighbors illuminated the floodwaters that had started to rise in Massies Mill.
"It probably wasn't but 8 inches deep at that time," Warren said. "It was nothing to really get panicked about, but it was coming. Our father decided maybe we better go ahead and evacuate."
When they opened the door to leave, the family's black lab, Beau, raced into the house and up the staircase, Carl recalled.
Young Carl backed the family station wagon onto Virginia 56 when a neighbor asked Shirley if she would take his children, too. He and his wife planned to ride out the storm since she was wheelchair-bound.
Eleven people piled into the car.
"We all got in the station wagon and we were pulling out and the water had gotten deep enough to kill the engine. We all got out. The water wasn't that deep on the highway at that time," Warren said, adding the car sat at a low spot.
"It rose really fast after that," Carl said.
The two families started walking the quarter-mile to a house on higher ground.
Carl carried his little sister as they trudged through the rising water, but the deeper it got the more he struggled. He handed Ginger back to his mother.
"We hadn't gotten 75 yards and the water had gone from a little bit deep to at least 5 feet," Warren said. "It all came at one time and it was real swift."
Warren later learned the river had been picking up debris that jammed up in the valleys, creating debris dams. Then those dams would break, creating a sudden rush of water, which collected more debris and repeated the process.
"It all broke loose," Warren said. "When that happened, it separated us."
Warren clutched to a tree in the sudden rush of water but he felt it breaking under his grip. He still could see his mother and he yelled to her, "I'm losing my grip! She said, 'Let go, we'll catch you!' "
Warren let go. But when the waters carried him to where his mother and sisters had been, they were gone.
Warren was swept toward a big willow tree, and he grabbed its trunk. The force of the water toppled the willow, but its roots clung firmly to the earth.
The water pushed Carl against a small shed. He shimmied up a nearby tree and climbed onto its roof.
"About that time, the shed was getting ready to wash away," he said. "There was a big tree right beside it. I grabbed the big tree and when I did, the shed collapsed and washed away."
The boys clung to their trees — as cars and houses and cows swept by in the darkness.
Carl, as it turned out, was within shouting distance of Warren the entire night, but neither boy knew that.
"Warren and I had to face all the terror by ourselves," Carl said.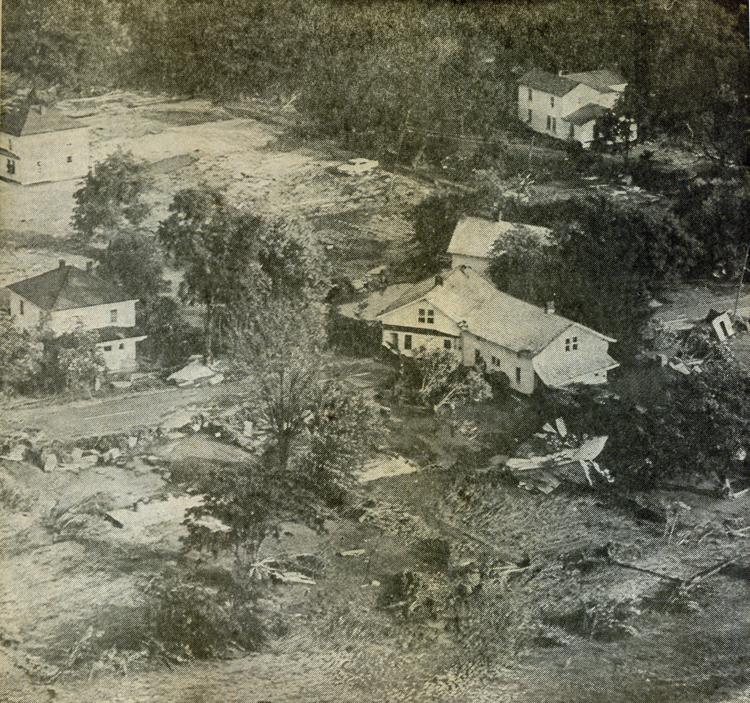 After the sun rose, Carl yelled out to his brother.
" 'Do you know who I am?' " Warren recalled Carl shouting. "I said, 'No, I don't know who you are.' I guess I was in shock and about to freeze to death."
Rescuers in a johnboat came by about 7:30 a.m. and brought the boys to dry land. Someone took them to a house to rest and warm up, but after about 30 minutes, they set off in search of their family.
The boys first went to their father's work. Carl Raines Sr. managed a Miller Chemical Co. facility in Massies Mill, supplying pesticides and fertilizers to area farmers; Shirley was a nurse in the maternity ward at Virginia Baptist Hospital in Lynchburg.
The floodwaters had picked up the Miller Chemical warehouse and deposited it on Virginia 56.
"We went to the building and went in and called, 'Momma, Daddy, you here?' " Warren said. "We thought maybe they had gotten up into the attic. Nothing. Nothing there."
The Raines brothers decided to return home.
The house still stood, though floodwaters had shattered the first-floor windows and left behind almost 2 feet of mud.
"When he and I pushed the door open and went into the house, we heard something," Carl said, thumping his hand rhythmically on the end table in Warren's living room to demonstrate. "It was our dog, Beau, right at the top of the steps."
Warren thinks had the family decided to ride out the storm in their home, they might have survived.
"Water was downstairs and it was like an agitator in a washing machine downstairs where it tore everything up," Warren said. "If we had stayed upstairs in our house, we would have been fine, but we didn't know that. It would have been a scary feeling because you'd be waiting there any minute for the house to explode if we had stayed there."
"It wouldn't have worked. It would have been seven of us in our family and four of our neighbors in an old frame house like that; that wasn't stable," Carl said. "You're talking about a ton of people on the second floor trying to ride out the storm."
Carl speculated the force of water coupled with the number of people on the second floor would have caused the house to collapse.
But second-guessing history doesn't change it.
In the aftermath of that horrible night, the brothers found themselves "wandering around, hoping that somebody would tell us they found them and everything was OK," Warren said.
As Carl and Warren walked through Massies Mill, they found the family station wagon wedged against a house that had become unmoored from its foundation. They saw two nearby houses that had collided, a dead cow stuck between them.
"People would feel sorry for us and they would come up with all kinds of stuff. We had one come up and tell us, 'Your momma and daddy, they're fine. They're up at Lynchburg General Hospital and they're looking them over and they said if we see you to let you know everything is fine,'" Warren said.
"We just looked at each other and thought that can't be. There was just no way that could be."
The brothers came across a customer of their father's who wanted to take them to his home for the night.
"We didn't really want to do that," Warren said. "It was like we was giving up, you know? But anyhow, we knew we had to do that."
The boys fell into an exhausted sleep. The following morning, Carl and Warren tried to return home but were stopped by two Virginia state troopers. The area was restricted, they said, and then one asked where their parents were.
"We said, 'We don't know,' " Warren said.
That trooper got in touch with Trooper Ed Tinsley, who drove the boys to the Amherst/Nelson County line on Virginia 151.
Their grandparents and oldest sister, Ava Raines, all of whom lived in Lynchburg, were there. It was as close as they could get to Massies Mill.
The boys stayed with family, returning to make funeral arrangements after the bodies of Carl Sr., Johanna and Walker had been found two days after the flood.
Warren still can conjure up the smell of that funeral home, of wood, disinfectant and embalming fluid.
The funeral director asked the boys if they wanted to see their family one final time.
"I said, 'No. I want to remember them as they were,' " Warren recalled, his voice cracking.
The body of Shirley Raines was found Aug. 26 about a mile from where her family had been separated by the rising waters. The following day, Carl and Warren buried their parents and two siblings at the Jonesboro Baptist Church Cemetery in Roseland.
Ginger's body was found two weeks after the flood, about 20 miles downstream. Investigators determined her identity because she was the only young girl missing from the area. The brothers held a graveside service for her.
Two of the four children that tried to leave with the Raines family survived. The bodies of 18-year-old Donna Wood and 4-year-old Gary Wood never were recovered.
While trying to figure out a more permanent living arrangement, the brothers eventually returned home to gather belongings and board up the house.
Carl's diary survived the flood, its entries recalling when their mother took them to see former President Dwight D. Eisenhower's funeral train pass through Raphine and when the brothers climbed onto the roof with a garden hose to put out a chimney fire as the school bus passed them by.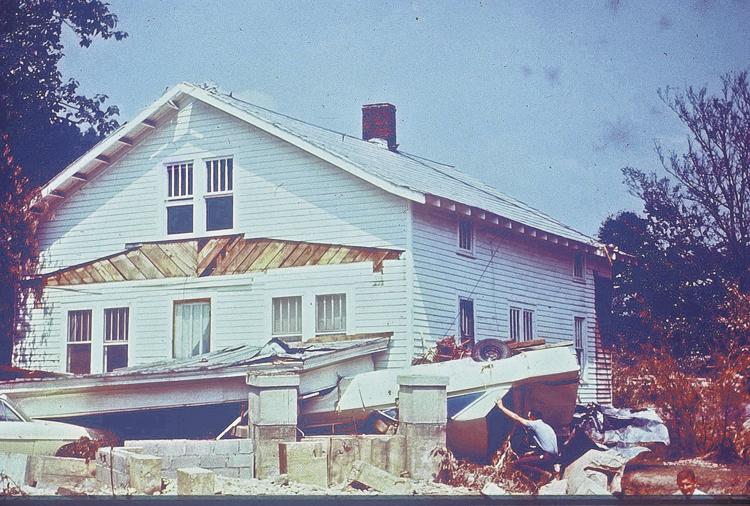 Warren was sent to the Staunton Military Academy where he stayed for one "hellish" year. Carl moved in with a family to finish school in Nelson County. Warren later joined him.
Carl attended Virginia Tech for one year before a change in Virginia law turned the age of majority from 21 to 18.
"I was 19," Carl said. "I didn't have to live with them. I couldn't figure out what I wanted to do so I dropped out and got an apartment in Lynchburg. There, I was close to our grandparents."
For Warren, the relationship with the family who took them in was tenuous. At age 17, he returned to his family home.
"That was one of the hardest things I ever did was to go back there and live, to go back there by myself," he said. "Our family — you could compare it to the Waltons. We were a close family, and you get back there and you lay your head down the first night and it was just silence."
Warren met his wife at church and they married seven months later. She, too, suffered losses in the flooding.
Warren lived in the home for less than two years before buying land in Piney River, about 6 miles away from his family home, to build the house where he raised his family. Carl still lives in Lynchburg.
That old home still stands, though Warren said it's been remodeled and painted differently than he remembers.
And behind it, the river continues its peaceful flow much as it did in the days of Carl and Warren's boyhood, when they fished and swam in its refreshing waters.
They can't see it the same any more, though.
Forever embedded in the brothers' memory is just how violent that water became that summer night in 1969, moving with such power that houses couldn't stand against it.
"There was nothing that anybody could have done," Warren said.