The Faith Network of Franklin County
Then: Sherry Scott was overwhelmed by the number of families she encountered living in poverty in Franklin County.
Though there are many nonprofits and churches that serve these struggling individuals, Scott felt the need was so great, and resources so strapped, that few had time to follow up and check in on families after their immediate needs were met.
"We're just kind of going around putting Band-Aids on situations, but no one is maintaining relationships with these families to kind of sustain them for periods of time," Scott said at the time.
Now: Since the Faith Network got up and running in July, Scott said it has helped 52 people with housing, food electric bills and transportation.
The network has 12 active mentors and hopes to add more with a training session early next year, Scott said. There's also an army of volunteers — roughly 30 strong — to help with smaller, short-term tasks like food deliveries and home repairs.
In 2018, Scott said she hopes to bring on a paid employee. Right now the network is made up entirely of volunteers, many of whom, including Scott, have full-time jobs. She'd also like the network to use a telephone hotline it set up this year but hasn't advertised because it's been so inundated with requests on its Facebook page.
"The need is overwhelming and your average person wouldn't realize that until you actually step into the field to see," Scott said. "But I do think that we are making progress and word is getting out about the services we provide."
Scott said the network already has several success stories, like a man who was living in the woods after being released from jail because he didn't have a drug-free place to go. The network found him housing and set him up with a mentor who helped him find a job.
"The only reason he was able to make those changes is because he was connected with a positive support system that he had never had before," she said.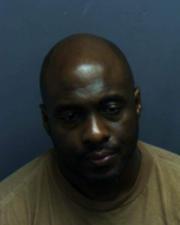 Then: In September, a Roanoke federal judge released Brown from what had been expected to be a more than 20-year prison term on drug and gun convictions.
Brown, who spent part of his childhood in Roanoke, was previously in a West Virginia prison serving 23 years and nine months. From behind bars, he filed an appeal that faulted the legal work of his court-appointed lawyer. A judge agreed the legal work was bad, granted Brown's wish to withdraw his guilty plea and canceled Brown's sentence. The U.S. attorney's office in Roanoke could have prosecuted Brown on the original charges, which were still pending, but instead dropped the case, citing bad police work by one of the officers who investigated Brown. The name of the officer has not been released.
"I hope you can live a calm, peaceful and happy and law-abiding life and productive life, " Judge Michael Urbanski told Brown during one of his last court appearances. "You've been given a chance here to reset your life."
Now: Brown lives in Charlottesville.
"I'm good," he said. "Being able to adapt back into society — that's been a little a work in progress — being able to deal with other people. I'm enjoying my freedom."
Brown, 42, said he works full time as a restaurant dishwasher, lives with a longtime friend and bought a car. After his release, he received the $4,400 in cash taken from him by police he was arrested in 2012. Because of other criminal convictions, probation officials will supervise Brown until 2019.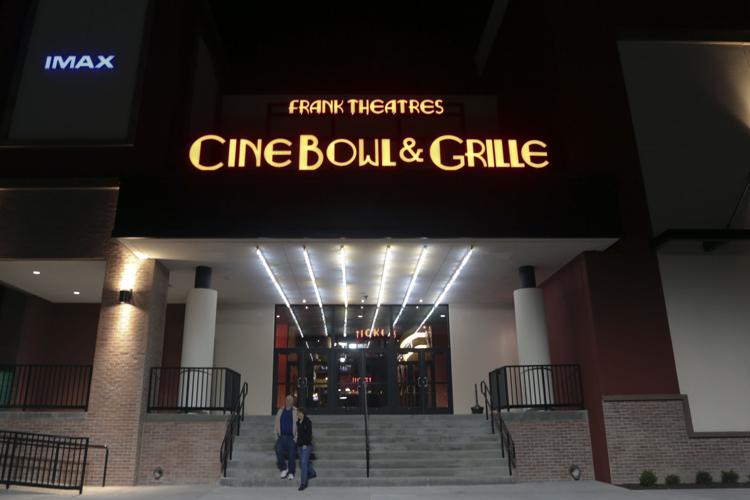 Then: Employees showed up on April 25 to find chains wrapped around the doors at Blacksburg's combination movie theater, bowling alley, restaurant and arcade.
It was later revealed that CineBowl, owned by Florida-based Frank Theatres, owed the First & Main shopping center almost $500,000 in back rent.
The property owners, Blacksburg APF Partners, had had enough and initiated eviction proceedings.
But Frank Theatres took the matter to court, claiming the landlords took possession of the property without following the notification process spelled out in the lease.
Circuit Judge Marc Long sided with Frank Theatres and issued a temporary injunction that let the company resume business.
About a month later, CineBowl paid off its debts and the eviction was called off.
Now: Frank Theatres has made every rent payment on time since the dust settled in the courtroom, according to an email statement from David Street, managing director of Blacksburg APF Partners.
He added that he now has a sound working relationship with his tenant. The pair are now working together to finalize a remodeling plan to improve the facility.
Representatives for Blacksburg APF Partners didn't immediately respond to questions seeking more details on these remodeling plans.
"In a very unexpected way, the litigation in the spring of 2017 has been the best thing that has happened to the relationship between First & Main and the CineBowl," Street said in the email. "Today, we anticipate a long and successful relationship with the CineBowl."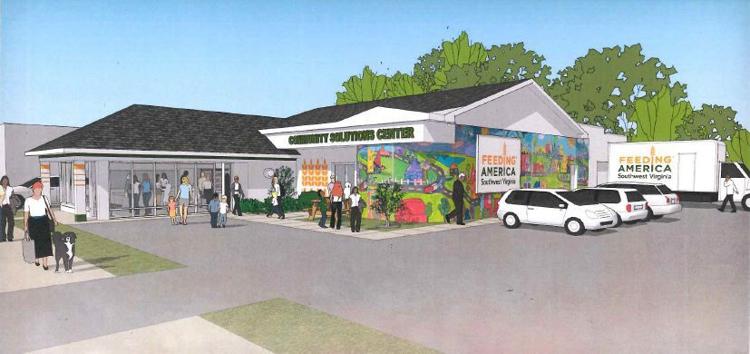 Community solutions center
Then: In May, Feeding America Southwest Virginia finalized its purchase of a building on Melrose Avenue in Roanoke with the intention of transforming it from a place of problems to one of solutions.
The building at 2328 Melrose Ave. was marked by a recent history of violence. Most recently, it housed Ms. Choc's Lounge, which experienced a number of shooting incidents that prompted it to shut down in June 2016.
Now-retired Roanoke police Capt. Rick Morrison led a prayer vigil outside the nightclub and then approached Feeding America with the idea of turning it into a place that would provide resources for the community.
The Roanoke Police Department, Feeding America, Goodwill Industries of the Valleys and community leaders are working to turn the building into a center that would provide a variety of services: a community kitchen, feeding programs, job training, a headquarters for community discussions and a place to meet with police officers.
Now: The community solutions center project has received national attention, including stories on NPR and in Southern Living magazine, for its innovative approach to establishing partnerships in order to solve larger problems. Groups hope the center will address hunger and healthy food, crime and relationships with police, job skills and employment.
"People from the community told us what they need," said Morrison, who retired from the police department in August but is a consultant on the project for Feeding America. "If we want this to have an impact, it needs to be built to last."
Construction began this fall on the building, and the community solutions center is slated to open in April or May.
"This project has been a whirlwind, but it's great for the organization to do something innovative and try to help a community," said Pamela Irvine, president of Feeding America Southwest Virginia.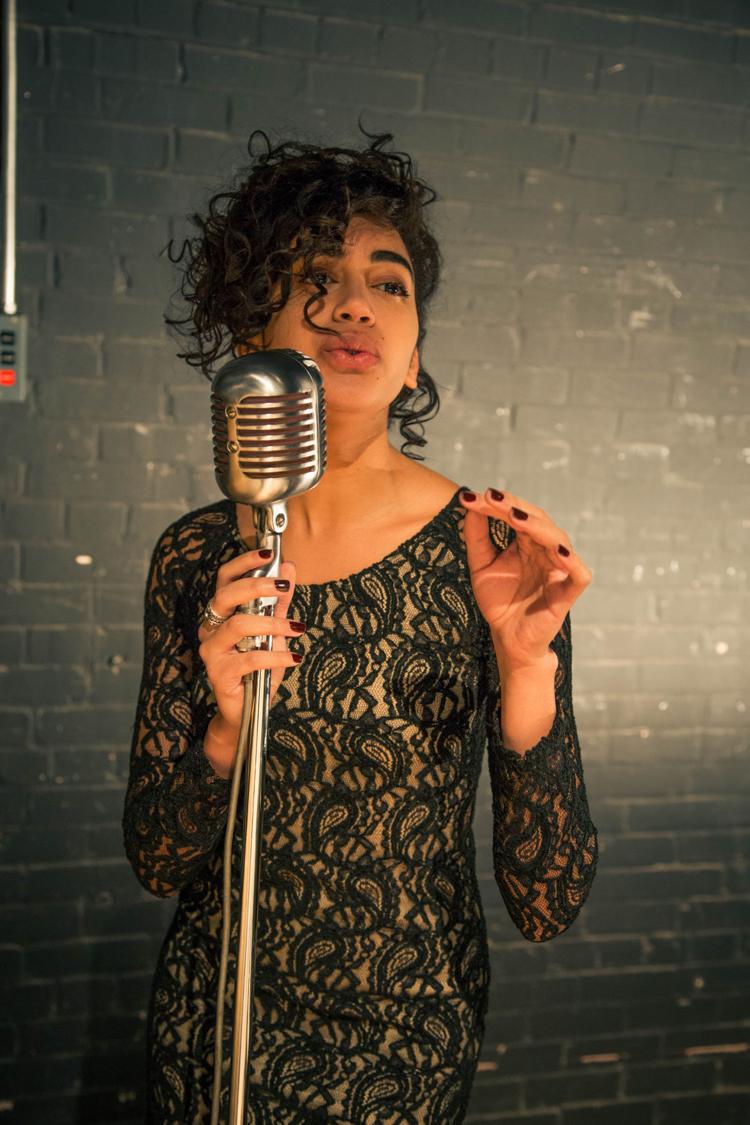 Then: On March 24, Patrick Henry High School and Music Lab at Jefferson Center graduate Judi Jackson returned to Roanoke for a Jazz Club at Jefferson Center performance with New York-based drummer Ari Hoenig and his band.
"The gig with Ari was absolutely incredible, an amazing homecoming!" Jackson wrote in an email exchange.
Now: She has released an EP, "Blame it on My Youth," and a video for the single "Worth It."  She had two EP release parties, one in New York City and one in her adopted home, London, England.
English jazz-pop pianist/singer Jamie Cullum is playing one of the tracks, "Set On You," on his BBC radio show, she wrote. Another BBC host, Robert Elms, had her in for his "Radio London" show and made that spot his live session of the week.
"The response has been absolutely incredible, with over 26k Views on Youtube, and over 40K [streams] on Spotify, Itunes, Soundcloud, etc.," she wrote.
Then: When a friend gave a pair of Knitted Knockers to Christine Slade, she was able for the first time since she had her first breast cancer surgery in 2008 to move comfortably and confidently in public without the added pain of a heavy prosthesis.
She wanted every woman who sacrificed a breast or two to cancer to know about the soft, tailor-knitted and free option. She launched Knitted Knockers of Roanoke, a registered supplier for the national organization, found a knitting home at Yarn Explosion on Airport Road, recruited a stable of volunteer knitters and by March was ready to make her plans public.
"I want for a woman to be able to walk into cancer centers here and be told about it, to pick out something because they like the color or size," she said. "I want unity between the medical community and the women in need. It's not going to cost anything. I need volunteer knitters and I need people who need one to ask for one."
Now: Knitted Knockers Roanoke has knitted, stuffed and shipped more than 500 knockers to women in Virginia, has a team of 30 volunteer knitters and crocheters from Charlottesville to Abingdon and is gaining acceptance by the medical community as a comfortable option for women who have had mastectomies.
Slade knew someone would lead the effort once cancer stole her energy, and then her life.
"I knew she had terminal cancer, so I asked, 'Who helps you out?' She said she didn't have anyone," said Cindy Huber, who now coordinates the effort.
Slade died Nov. 10. She is survived by a growing Knitted Knockers Roanoke group. Huber said monetary donations are always welcome to cover supplies and postage and can be made online or dropped off at Yarn Explosion. Those who can't knit, but want to lend a hand, can check the group's Facebook page for gatherings that prepare the orders for shipping.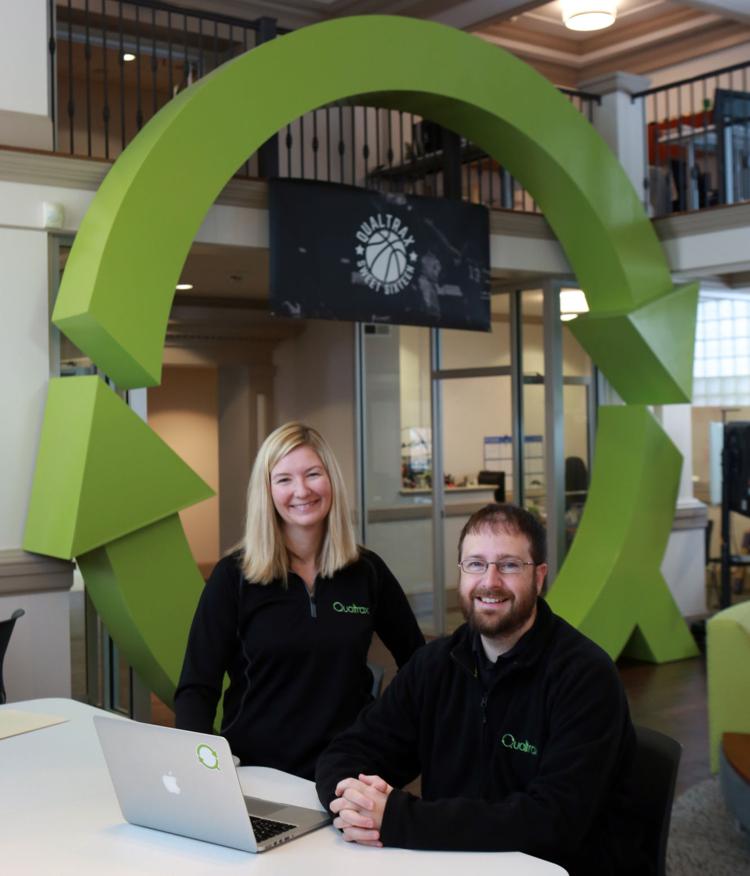 Then: The Blacksburg software company was preparing for a growth spurt in January, when it announced a $3 million investment.
It was the first outside funding for a company that had been making tools to help businesses keep track of various certification requirements for 23 years.
Until recently, Qualtrax was just one product sold by FoxGuard Solutions. But it spun out as a standalone business in 2015, began raising venture capital and moved into a swanky new downtown Blacksburg office.
Qualtrax President Amy Ankrum said in January she was anticipating a big year of growth fueled by the $3 million investment.
Now: Everything has gone according to plan for the company, which saw a 90 percent increase in subscriptions throughout 2017.
Ankrum said the funding has paid for 12 new employees, growing the sales, marketing and support teams. That's allowed Qualtrax to target new markets and land new customers, such as defense manufacturing giant Orbital ATK.
Next, Ankrum said the company is going to focus on growing its software development team.
Proposed forest recreation fees
Then: In August, the Eastern Divide Ranger District proposed increasing fees at White Rocks Campground in Giles County and initiating use fees at the Blacksburg shooting range off Craig Creek Road and solicited public comment on the issue.
Currently, campers pay $4 for a single site at White Rocks, which would increase to $15 under the proposal.
Use of the shooting range — including pistol, rifle, shotgun and archery facilities — has been free to the public for many years. Under this proposal, users would pay $10 per person, or could purchase a $75 annual permit.
"The new fees would help make these sites financially sustainable and bring them into better alignment with other nearby private and public recreation facilities," District Ranger Dan McKeague wrote in an email at the time.
"For the Shooting Range, my priorities for the retained fees would be public safety through improved maintenance and law enforcement presence," McKeague wrote. "At White Rocks Campground, an increased fee would allow for a higher standard of maintenance and completion of improvement projects."
McKeague emphasized that the agency wanted to take public input before making a final decision.
The proposal will go before the Southern Region Recreation Resource Advisory Committee, a citizen-led body "which helps ensure the Forest Service addresses public issues and concerns about recreation fees," a forest service news release stated.
The committee's recommendation will be forwarded to the office of the Southern Regional Forester. That office, which oversees public forest land across the Southeastern U.S., will make the final decision, according to Rebecca Robbins, an agency spokeswoman.
Now: The public comment period has been extended to Jan. 15, McKeague said.
The Resource Advisory Committee is updating its charter and a new charter must be finalized before anything can happen with the fee proposal.
"That's affecting our timelines," he said.
Comments on the fees may be sent by mail to the George Washington & Jefferson National Forests, Eastern Divide Ranger District, Attn: Recreation Fee Program, 110 Southpark Drive, Blacksburg, VA 24060; by email to eastern-divide@fs.fed.us; or by phone to 552-4641.
Roanoke Skatepark Initiative
Then: The Roanoke Skatepark Initiative's effort to raise $20,000 in 2017 toward building a new skateboarding facility in the city got a huge boost February when an anonymous donor pledged to match up to $10,000 in donations.
Even if the group met it's goal, the money would barely dent the total cost of $350,000 to $500,000 to build the envisioned skate plaza.
Kerri Garnett, the initiative's founder, said the money would show city officials the group is serious about contributing to a new facility, and would give them some skin in the game.
City Parks and Recreation Director Michael Clark said the money would go toward feasibility and location studies.
Now: Thanks to dozens of donations of as little as $5 and one major donation of $5,500, the skatepark initiative raised $10,000 and the anonymous donor came through with the $10,000 match.
As of late December, the group's gofundme page showed $20,872 in donations.
Garnett said she couldn't divulge the name of the donor, but said it's a Roanoke father who bonded with his son over skateboarding together and wanted to help create a great place to skate.
It's 2017 goal met, Garnett said, the group is now aiming to raise another $20,000 in 2018.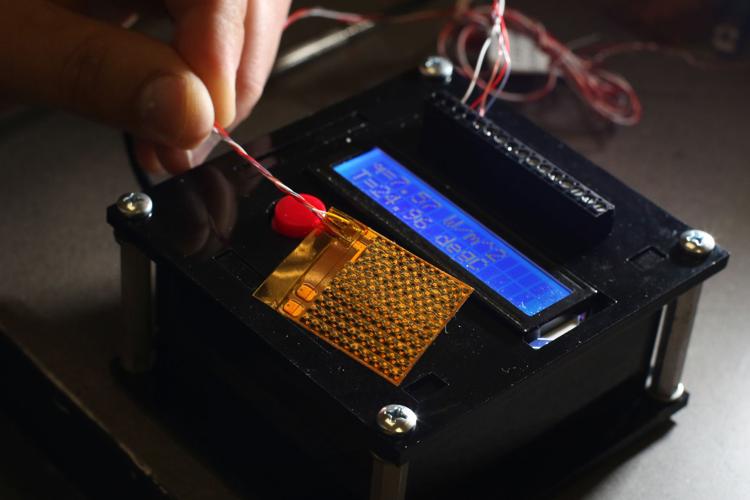 Then: Recent Virginia Tech graduates Rande Cherry and Chris Cirenza were working long hours in their one-room Blacksburg office, building heat flux sensors by hand.
The devices weren't unique. They measured the rate at which thermal energy moves through an object, except FluxTeq's gadget relied on new technology that brought the cost down to about one-fifth that of competing sensors.
The pair kept the operation lean, turning down venture funding and powering the business with winnings from pitch competitions. It started with a $50,000 grant, then one for $5,000, $20,000 and then $25,000.
Now: FluxTeq has continued its winning streak, most recently landing a $50,000 grant from Virginia's Center for Innovative Technology.
The startup is using that money to develop a new product, called a noninvasive BTU meter. The device uses the same technology as the heat flux sensors, except it attaches to the outside of an HVAC system. It measures the energy moving through the system, allowing buildings to monitor usage across different zones. It could be used in a condominium, for instance, to meter tenants based on HVAC usage.
FluxTeq has partnered with Oak Ridge National Laboratory, which is sponsored by the U.S. Department of Energy, on that project.
In the meantime, FluxTeq co-founder Chris Cirenza said the company has sold thousands of heat flux sensors, with about half shipping internationally. The company has hired two full-time employees, but they're still keeping things lean in a small, overcrowded office.
"We're still in there because we don't need to move out yet," Cirenza said. "All four of us can fit in there at once."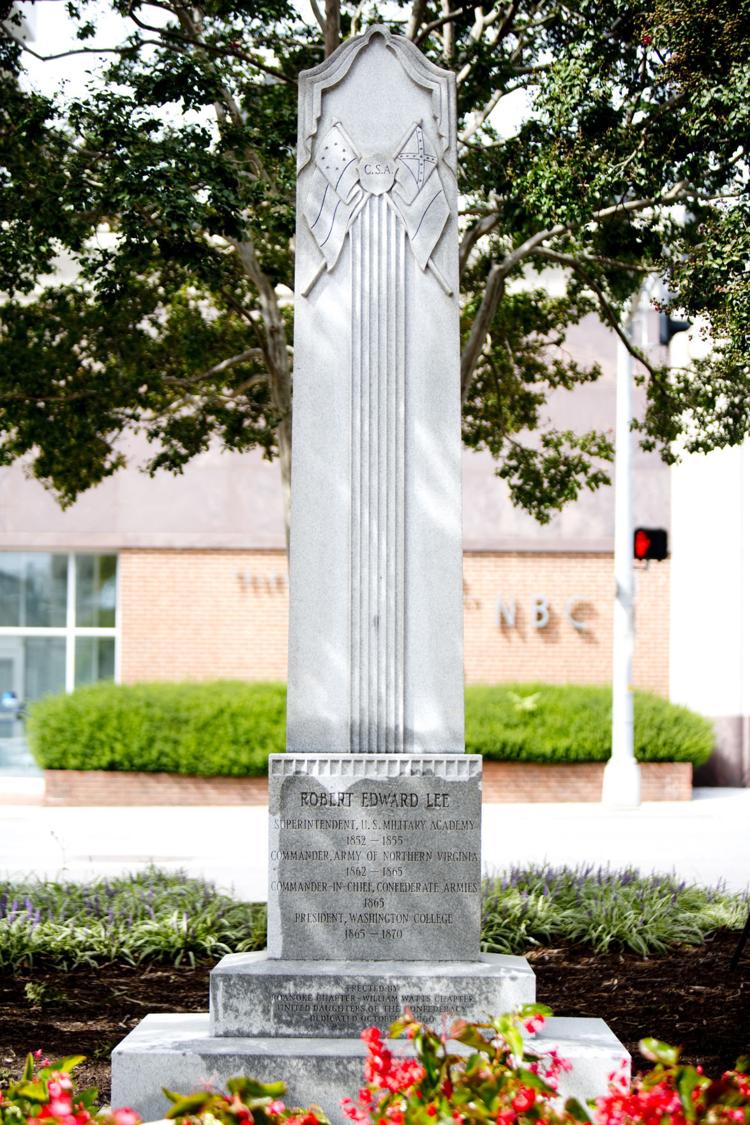 Then: A month after a violent clashes in Charlottesville over efforts to remove a statue of Robert E. Lee from a city park there, emotions about Roanoke's lone public homage to Lee came to the surface.
In September, a vandal took aim a monument to Lee across Church Avenue from city hall. The obelisk was doused with oil and spray painted with "Rest in power Heather Heyer," a reference to the woman killed in Charlottesville in August when a car plowed through a crowd that was counterprotesting at the rally there. The engraved name of Lee was also struck with a hammer or other object and chipped.
Now: City workers have scrubbed away the oil and paint from the monument — work that took days — but Lee's chipped name can't be repaired.
A police investigation so far has yielded no arrests, but remains open, Roanoke police spokesman Scott Leamon said.
City Council members decried the vandalism as a mode of expression, but said it was a sign the city needs to have a conversation about Confederate memorials on city land. While the city school system has empaneled a group to discuss the name of Stonewall Jackson Middle School — named for another Confederate general — city leaders have held no formal public discussions on the issue.