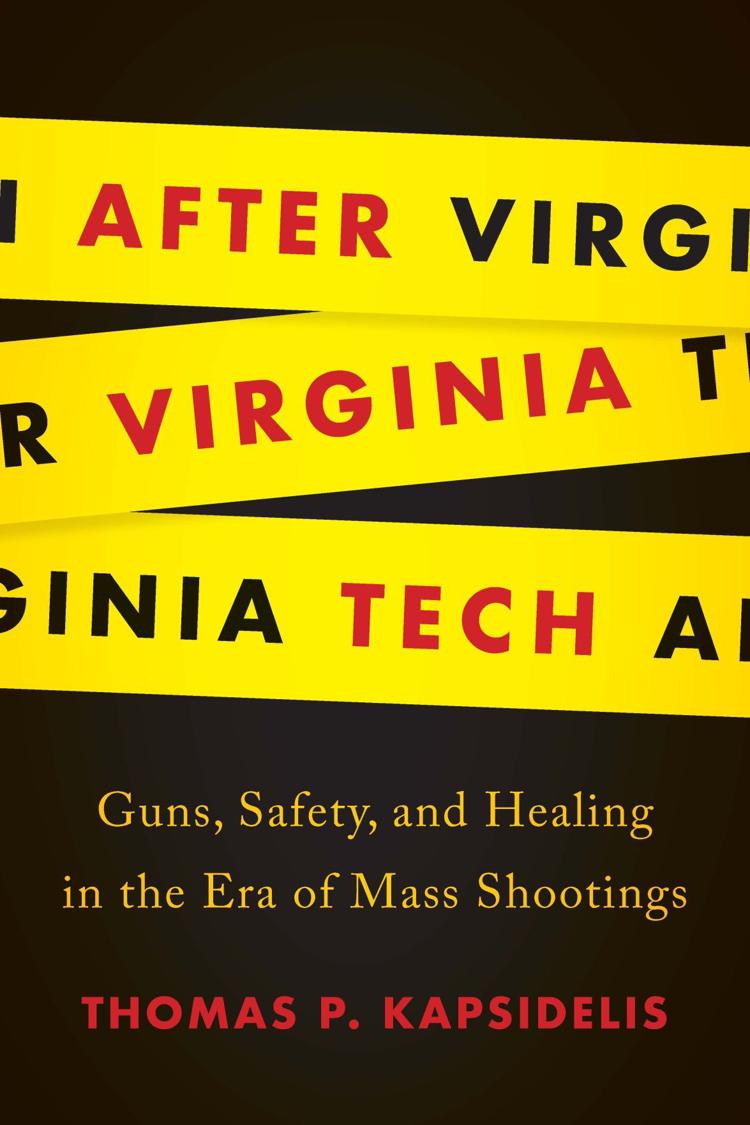 On the blustery morning of April 16, 2007, Tom Kapsidelis sped to Virginia Tech to cover a gunman's rampage on campus that left 32 students and professors dead, 17 others wounded and countless people emotionally traumatized.
He'd spend the next decade trying to understand how that day has affected people in Blacksburg, but also, the country.
In "After Virginia Tech: Guns, Safety, and Healing in the Era of Mass Shootings," Kapsidelis weaves together the stories of survivors, families and first responders as they navigate how to heal from what was the worst mass shooting in the United States for nearly a decade.
After surviving being shot in Norris Hall, Colin Goddard advocates for gun control measures. Shot in the same classroom, Kristina Anderson works to improve safety at schools, businesses and other places.
For years, parents who lost children sought answers from the university. First responders worked through the trauma of what they saw.
"I wanted to see how people were making their way forward through a difficult path," said Kapsidelis, who was a journalist at the Richmond Times-Dispatch for 28 years.
Dozens of mass shootings have happened in the United States since Virginia Tech. A man fatally shot 26 people inside an elementary school in Newtown, Connecticut, in 2012. A gunman killed 49 people and injured 53 more in an attack at a nightclub in Orlando, Florida, in 2016. The shooting at a concert in Las Vegas in 2017 killed 58 people.
One of Kapsidelis' friends was among the five killed in the Annapolis, Maryland, newsroom of the Capital Gazette last year.
Kapsidelis said with a 24-hour news cycle and so many hot-button issues commanding attention, shootings can become a blur.
"I wanted to slow down the pace for readers to reconnect them with what people have gone through over a decade and their emotions with what happened," he said. "Maybe they will ask themselves what they can do to be a part of the solutions."
More than 12 years later, Virginia Tech still seeks to prevail over that day and remember the lives lost. It also offered lessons to the rest of the country.
Then Gov. Tim Kaine was determined that the shooting receive a thorough examination to learn about faults and what should have been done differently.
The tragedy set off an effort to improve schools' abilities to identify troubled people and intervene before it's too late. It caused schools to shore up physical security.
"There has been progress, so it's wrong to say that nothing has changed, but it's also accurate to say more things need to change," Kapsidelis said.
One major area that Virginia and the rest of the country has struggled to make progress on is gun control. Kapsidelis writes about the survivors of various shootings and family members continuing to press forward on their mission despite the pushback from gun-rights advocates, the National Rifle Association and politicians unwilling to budge on the issue.
"The disconnect between the overwhelming majority of people and what the elected officials do, that's what the public needs to realize," Goddard told Kapsidelis.
The gun debate changed after the shooting last year at Marjory Stoneman Douglas High School in Parkland, Florida, especially when the attack's passionate teenage survivors demanded new restrictions on firearms.
Virginia Tech survivors have been grateful for the energy and persistence from the teens, Kapsidelis said.
Congress is currently mulling a gun control bill. State legislatures have passed dozens of bills to address gun violence.
In Virginia, the Republican-controlled General Assembly killed all gun control bills this past session, and a special committee focused on improving school safety steered clear of discussing guns.
"Change comes incrementally in this country," Kapsidelis said.
Meanwhile, with each new shooting, more people have joined Virginia Tech survivors in the network that advocates for gun control, mental health resources and other safety measures. They've become more organized, and they remain hopeful that changes will happen .
"The perseverance of the Tech community has paid off," Kapsidelis said.