Chalet Orr had barely entered adulthood when her Granny's health rapidly declined.
One evening the family crowded into Granny's nursing home room. Orr was perched next to the bed. Granny reached for her hand.
"Her beautiful blue eyes, I can still see those looking into the room. I don't think it was pain, but a little bit of 'I'm scared and I'm glad you are here, and I don't want people to leave me' kind of face," she recalled.
Eventually, Orr stood to leave and Granny's hand slipped from her grip.
"In my heart, I knew that evening when I hugged and kissed her goodbye that was going to be the last time," she said.
In the early morning hours, Orr's mom came into her bedroom. The nursing home had just called. Granny had passed.
"I've always wondered if there was a nursing home staff with her, or if she was lying in the room alone," Orr said. "Honestly, I don't want to think of her being by herself."
That worry stuck with Orr, so when the call went out to the Carilion Clinic family looking for people willing to sit with patients who are dying alone, Orr, a secretary in Carilion's pediatric department, answered. She didn't know what to expect with this new volunteer duty, as Granny's experience was her only one with death and dying. But Orr felt blessed and honored that she could provide comfort to someone in his final moments.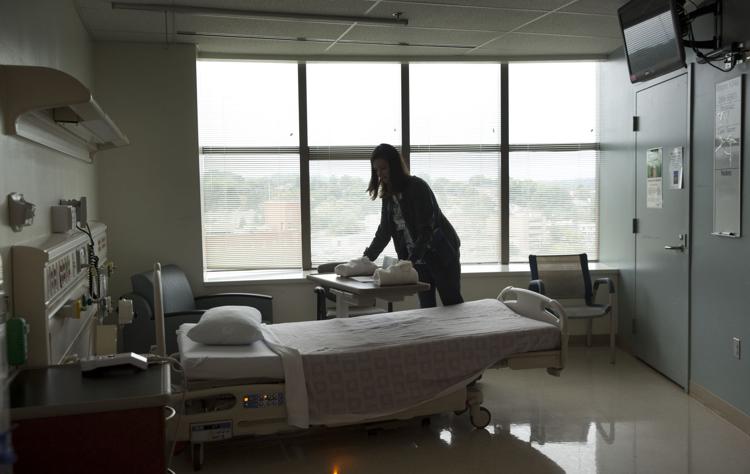 Outliving loved ones
After a year of planning, Carilion Roanoke Memorial Hospital in November 2015 launched a pilot of the No One Dies Alone program in its palliative care unit.
The 10-bed unit is where patients stay when they are nearing the end of their lives and are seeking comfort care and symptom management. Patients stay a few hours or a few weeks. About a third of the unit's patients will enter hospice care and go home or to a nursing home. The others will die on the unit. Mostly, they are comforted in their last hours by family and friends who often stage vigils, said Phyllis Whitehead, a clinical nurse specialist who works throughout the hospital but whose focus is on palliative care.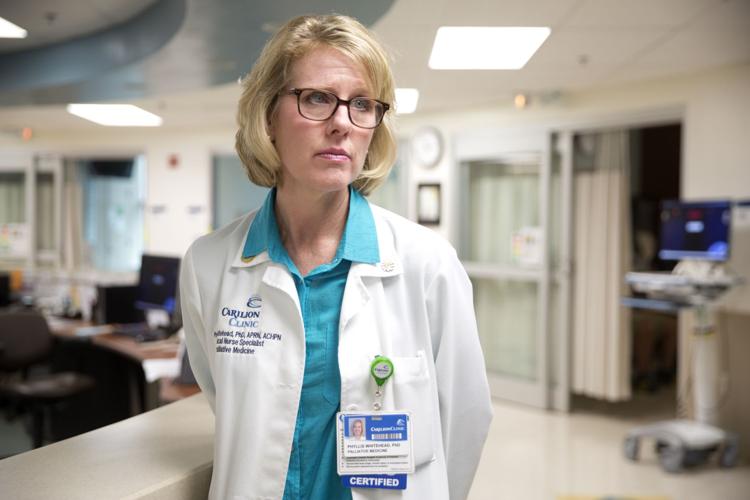 Not all patients are so fortunate.
"They have outlived their loved ones, or they don't have family or friends," Whitehead said. Sometimes physical distance prevents relatives from reaching the hospital in time. For others, a lifetime of emotional distance leaves them isolated.
Whatever the reason, Whitehead wanted to start a program so that they would not be alone in their last hours.
"The dying process is an interesting thing. When you're talking about the last few hours of your life, you are typically not interacting a lot," she said. "Hearing remains intact. There's an assumption made that it's a basic human right, that unless it's the preference of the individual, people don't like to be alone."
But palliative care unit nurses, who have as many as five patients in their care, cannot linger with one.
Whitehead had heard about a program called No One Dies Alone and sought an allegiance with Carilion's volunteer coordinator, Shanna Flowers, in late 2014. Together, they spent the better part of the year setting up the pilot, recruiting and training volunteers and fine-tuning a text-alert system to let the volunteers know when a palliative care patient is dying alone.
The program has expanded into pediatrics and may soon reach other floors, including the emergency department, which cares for patients with lethal injuries who are brought in from accidents all over western Virginian, and whose families might not even know yet.
'Outpouring of support'
No One Dies Alone began in an Oregon hospital in 2001, although the seed was planted 15 years earlier when Sacred Heart Medical Center nurse Sandra Clarke was at the beginning of her career.
Clarke writes on her hospital's website that she was beginning her shift when a frail, elderly man with a Do Not Resuscitate order asked in a barely audible voice, "Will you stay with me?" She promised she'd return as soon as she looked in on her other patients. But as often happens in hospitals, she became busy and was delayed.
An hour and half later, she returned to the man's room and discovered he had died. Alone.
"I looked around. Scores of people were nearby providing state-of-the-art patient care," Clarke wrote. "For this man, state-of-the-art should have been dignity and respect."
Not long afterward, she transferred to the intensive care unit and noticed that no one died alone there. ICUs typically have the lowest nurse-to-patient ratios, so when a patient nears death, his nurse can stay at his bedside.
For many years, Clarke talked with others at her hospital about starting a program in which staff members would volunteer to sit with dying patients who lacked family or friends. For 14 years she heard all the reasons why such a program wouldn't work, but then she captured the attention of the pastoral care staff. Together, they created No One Dies Alone, or NODA.
Sacred Heart provides information to other hospitals seeking to begin NODA, but there's no formal program with set rules, nor is there a registry to know how many hospitals have adopted a similar program. Each hospital tailors NODA to fit its own circumstances.
When Whitehead heard of NODA, she wanted to bring it to Roanoke Memorial.
"It was amazing the outpouring of support," Whitehead said as Carilion staff joined a planning committee.
They decided to start small, with a pilot in the palliative care unit, and to keep the circle tight.
"Because of sensitivity, we started with employees or volunteers, someone from the Carilion family," Flowers said. Several months ago, they opened it up to people outside of Carilion as long as someone from the health system can vouch for them.
"We have to make sure we have the right person in place sitting with these people in these very tender moments," Flowers said.
As with all Carilion volunteers, they are required to have an annual health screening, flu shot and tuberculosis test; pass an initial drug screen and criminal background check; go through a general training session and interview with Flowers. NODA volunteers receive additional training and a tour of the palliative care unit.
"Sometimes after people go through the initial training, they find out this is something they can't do. That's why after the training we bring them to the unit to do an orientation," said Carilion chaplain Helen Moe, who volunteers as the NODA coordinator. "One time we had a volunteer say, 'You mean, they really die?' You have to be really sure this is something you want to do."
While more than 60 volunteers have gone through the training, only 35 have sat with patients. During the first year, volunteers were requested for about a dozen patients. To date, they have sat with 20 people. Initially, Moe was finding it easier to fill evening and weekend shifts than weekdays. For three patients, no volunteers were available. The problem was addressed through another round of recruitment and training that looked for people available during those hard-to-fill daytime hours.
'Not alone anymore'
When nurses sense a patient has but a day or so left, they contact Moe. She then sends out a text alert to all the volunteers, and those who can sit with the patient text back their availability.
From the first alert that went out the day before Thanksgiving 2015, Moe has been able to count on a response from Arden Howell of Christiansburg.
Howell survived a bout with cancer seven years ago but had to take early retirement from his job in industrial maintenance.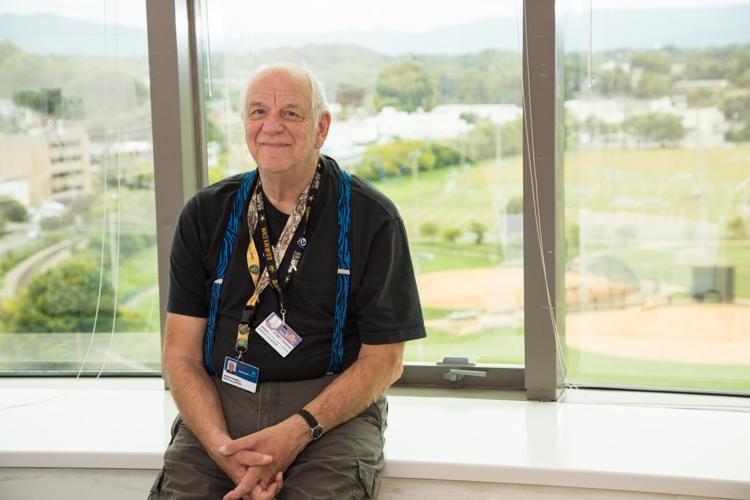 "I was surprised at how long it took me to recover," he said. About a year later, with his energy restored, Howell decided to volunteer. At what, he wasn't sure, and then he saw a New River Valley newsletter about volunteers and the first item was for hospice volunteers.
"I was shy and reserved, but I thought, 'Well, I can sit with someone for an hour and maybe talk with them,'" he said.
His first patient lived in Hillsville.
"The first time I met him, we talked for three hours, and every week after we talked for three hours. It changed my life, and he became one of my closest friends," he said. "Every time I'd leave, I'd say, 'Darryl, I'm not going to say goodbye. I'm going to say I'll see you later. I'll see you in your chair, or I'll see you when I get to heaven.'"
Howell feels as though God signs his checks now. He sees five hospice patients on a regular basis, and when Moe texts that someone is alone and dying, he gets there.
"You can sit in a dark room and know if someone walks in and that you're not alone anymore," he said.
He sat with one man until his family, who lived several hours away, could arrive. He sat with another man who lived in a nursing home and had outlived his family.
"The people where he had been living made homemade cards out of construction paper and had written words to encourage him. So I read his cards to him," Howell said. "His family was at the nursing home."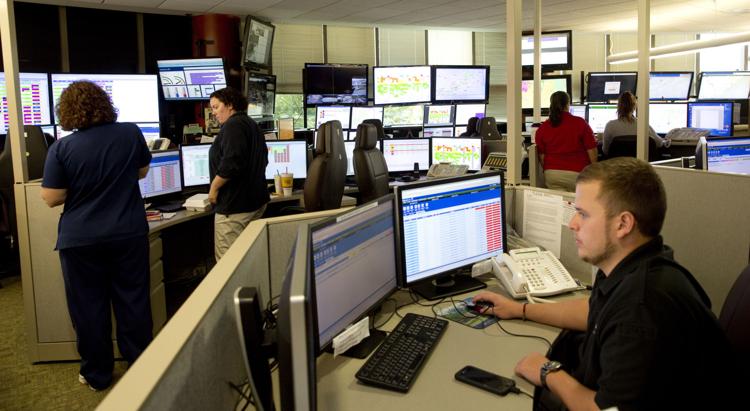 Expanding to pediatrics
Other departments at Roanoke Memorial have asked that NODA expand beyond palliative care.
"The overall goal is as we recruit volunteers, it will expand because patients are dying across the hospital. But we had to start small, and really work out the kinks to make certain we have enough resources to cover the demand," Whitehead said.
Moe understands the need, especially for the emergency department, which sees most of the people critically injured throughout the region.
When Moe was an intern and was the only chaplain in the hospital, a nurse called about midnight and told her about a young man, without identification, who had been struck by a truck on Interstate 81. His head injuries were lethal.
"She said, 'I think the least we could do before he dies is pray with him.' So we went in and had a prayer. She had to go back to work. I thought, I can't leave this child here by himself. I'm sure he has a mom and a dad, and nobody knows he's here," she said
Moe pulled up a chair and sat with him until he passed early in the morning.
"It's such a privilege to be there in that time for them. It's just the most rewarding thing a person can do is to give a little of your time to someone who has no one," she said.
NODA recently expanded into Carilion Children's Hospital.
"Six or eight months ago, I got a call from one of the pediatric doctors who said, 'We have a dying child and their parents aren't able to be there. Is it possible to have a volunteer come and sit with them?'" Whitehead said. "I then reached out to the pediatric floors and found, yep, this does happen."
It doesn't happen often, and it hasn't happened since NODA has been available.
She expects NODA volunteers might be asked to sit with a child whose organs are going to be donated during the time between brain death and when transplant arrangements are made.
"The child can't be aware of what's happening, so this is in support of the nursing staff, who will know there is a volunteer there at the bedside," she said.
The NODA volunteers have helped the palliative care nurses.
"It's an emotional relief that there's someone at the bedside, and if there are any changes, they'll be quickly notified," she said.
'He wasn't alone'
Volunteers, even those with medical training, are not permitted to provide any care.
They are asked to sign in, then jot notes in a book to communicate with other volunteers, the nursing staff and even family should they arrive from out of town. They are also advised to talk with a chaplain or a nurse.
Moe said a support system is built in, and it's "OK if you get up there, and you can't do it. You just go to the nurses' station and say you can't."
Some of the volunteers are like Orr and have never been with anyone who died.
"All my childhood, it was such a trauma when someone died. But you know, it really is such a peaceful thing. Your heart is just open," Moe said. "There is nothing scary about it."
When Orr answered Moe's text alert for the first time, she wasn't sure exactly what to expect when she entered the room of a dying patient.
"He was nonresponsive. His eyes were shut. I pulled my chair close to him, and I just laid my hand on top of his, and talked to him a little bit," she said. "I hummed quietly, and sang some songs to him, and I felt his hand tighten on mine, and it just let me know that he knew somebody was with him and that he wasn't alone."
Orr said she was not there to push her religion on him, but she prayed silently that he would have peace and would not be in pain.
"His family actually came in, and I didn't linger," she said. "They were very appreciative to come in the room and see that their loved one wasn't by himself."