At one northwest Roanoke elementary school, returning students won't see many familiar faces this fall.
Of the 70 full- and part-time teachers at Westside Elementary School, 17 aren't returning to the district next year, including every second-grade teacher but one. An assistant principal and several other support staff aren't coming back, either. Another three teachers are moving to other Roanoke schools.
Westside's turnover is likely to be higher than any other city school once contracts are finalized, although the overall number of teachers leaving the district has declined. Turnover could grow in the coming weeks as contracts are finalized.
The departures there and from other Roanoke schools come in a year when parents and educators have raised concerns about the number of teachers and administrators leaving the district, which is also grappling with a teacher shortage that Superintendent Rita Bishop says is worse than in past years.
The parents claim a culture of "fear and secrecy" drives away top staff and threatens academic success. They blame Bishop's leadership style, saying she puts pressure on central office administrators who in turn pressure principals and ultimately, teachers. Earlier this year, parents asked the school board to look into the issue, but one member said the board has already addressed those concerns.
In interviews, more than two dozen current and former teachers and administrators said the parents' concerns are valid.
"To work for Rita Bishop, you've got to be a strong person," said Gene Jones, a former high school principal who left the district after he was reassigned in 2013. "There are good things about Rita. She wants to do what's right for the district. She's done some cutting-edge things. But at a cost to whom? Because there's a lot of good people who are no longer there."
Bishop said it's impossible to please every teacher. She said she does her best to make decisions that will most benefit children.
"I have been in this business a long time," she said. "There is a joke among superintendents that morale is always an issue. I do my doggondest to be fair, and you can believe that or not believe that."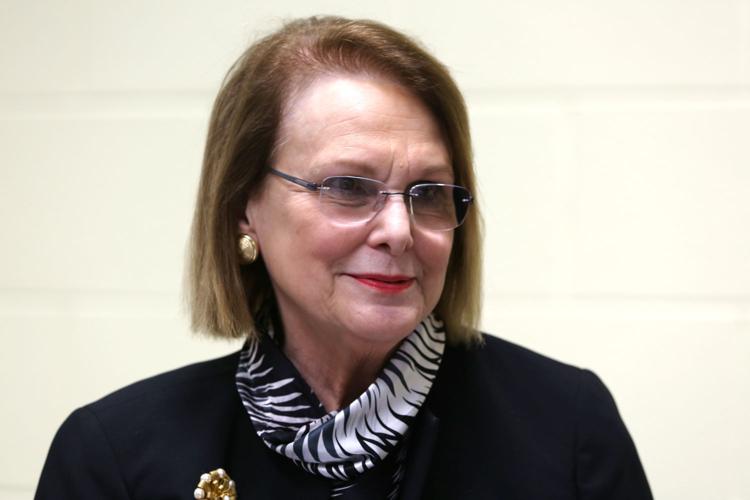 Turnover uneven among schools
With teaching, as with any profession, attrition is unavoidable.
Some teachers quit when a spouse is transferred elsewhere, or when they need to stay at home with children or elderly parents. Some find higher-paying jobs. Some return to graduate school. Some seek career changes.
Bishop said turnover like that at Westside is not ideal but sometimes happens. Some of it this year is just bad luck, she said: A lot of the teachers who left did so for reasons that had to do with medical or family reasons.
For years, Roanoke has tracked the reasons teachers cite for leaving and reported in October how the district fared over the previous year. Over the past few years, the reports show retention of full-time teachers held steady, between 86.7 percent to 89 percent. Many of the reasons for leaving teachers cite are unavoidable ones.
In the 2015-16 school year, the district employed about 1,100 full-time teachers. Based on monthly reports through July, the teacher retention rate is likely to fall within that same range or even a little better.
Teaching experts who study retention say the rate of teacher turnover in Roanoke is consistent with trends observed state- and nationwide. Districts such as Roanoke, which have many schools with high concentrations of student poverty, tend to have higher turnover than those in less challenging environments.
That helps to explain disparities in turnover across Roanoke schools, and why a school like Westside is likelier to have higher turnover than a school like Highland Park Elementary, where one teacher plans to leave. At Westside last year, 92 percent of students qualified for free or reduced lunch, a measure of childhood poverty, versus 64 percent at Highland.
Teaching in a school or district with high poverty is generally considered more difficult because those students often start school less prepared and can be dealing with stress and trauma that affects their ability to learn.
Some schools, "are just tougher to teach in," said Jim Wyckoff, a University of Virginia researcher who has studied retention in much larger, more urban districts like New York City and Washington, D.C.
"Teachers either burn out or after a while want to move on to a job that may be sort of less challenging," Wyckoff said.
And it's not always a bad thing when a teacher leaves, Wyckoff said: The departure of a teacher who is not effective at his job can open a spot for a teacher who is, but it's a relatively small number of teachers who leave that aren't effective.
"I do think that many of the people who leave are people who are effective and some of them leave for reasons you can't control, but some of them are leaving for reasons you can control," he said. "Those are the ones you want to try to figure out how to keep."
Sometimes though, teaching in a high-poverty, urban district just isn't the right fit, Bishop said. She respects teachers who leave because they realize that and noted that they tend to be excellent teachers elsewhere.
"I always say, and I'm not kidding, … a good teacher here, in Roanoke city, is a great teacher next door," Bishop said. "And a great teacher here is phenomenal."
'Do it my way or you can leave'
Teachers interviewed for this story said they were aware of the challenges when they picked Roanoke but did so because they felt they could have a large influence on students who need help most. But, over time, they were worn down by their experiences here.
Amy McGee taught at elementary schools in Roanoke for 31 years before she retired two years ago. She said personnel changes in central office sometimes left teachers confused and frustrated.
Sometimes, they were sad to see administrators they respected leave. Other times, a new administrator would change curriculum or a strategy that teachers had only recently gotten comfortable using.
McGee described a typical scenario: "This person in central office wants you to do this record keeping. Then that person goes. Do we still do this record keeping or do we stop now?"
Teachers didn't always feel they could speak up if they didn't think a suggestion from a central office administrator would work in their classroom, or with certain students, McGee said. Some who did challenge the suggestions faced intimidation or retaliation later, sometimes in the form of lower evaluations, she said.
"I call it the Roanoke two-step," said Jones, the former high school principal. "It's going to be, first we're going to try to make them look bad. Then put pressure on them. Then we're going to evaluate them and give them a bad reputation."
Alice Gallagher had a similar experience during her nine years teaching high school in Roanoke. She resigned at the end of the 2015 school year to return to her home in New Jersey in part because she didn't feel she was allowed to exercise her professional judgment in the classroom to enforce things like attendance, plagiarism or discipline.
"You're left with this kind of vague feeling that you can't just do what's right because there will be consequences," she said.
Another common teacher complaint concerned the intense focus on preparation for the standardized tests that determine school accreditation and factor into teacher evaluations. They said the focus on testing left teachers with little room for creativity or flexibility — the things that drew them to teaching in the first place.
"It's like they were a number on legs," McGee said.
Former elementary school teacher Brittany James said she felt that pressure constantly. She quit in October after her husband was transferred out of state, but she didn't plan to stay in the district after the end of the school year even if they had stayed in Roanoke.
There was a sense of "you're going to do it my way or you can leave," James said.
She said teachers at her school sometimes were wary of collaborating because they did not want to be associated with one another if administrators thought one teacher was doing something incorrectly.
"I hate to say it like this, but it was kind of an eye for an eye," James said. She often left the school in tears at the end of the day and saw many other teachers do the same.
"I would come home every day and just feel defeated," she said.
Many current and even former teachers didn't feel they could talk about their experiences with the district, positive or otherwise, because they said they feared reprisals for talking with a reporter. Some also expressed concern that doing so would hurt the district's ability to recruit top candidates.
Several teachers who volunteered to relate their experiences confidentially said they weren't comfortable meeting in public places in the city in case someone saw them talking to a reporter and told school officials.
Those who spoke on condition of anonymity shared similar experiences in terms of the pressure they felt from administrators and the frustration it caused. Some quit without having another job lined up, or took jobs with pay cuts and significantly longer commutes.
McGee said she believes the pressure that teachers feel affects students, who can think that a teacher is stressed because of them.
"When the adults in their lives aren't happy, it trickles down," she said.
More than teacher pay or any other issue, school leadership and working conditions are the most cited reasons teachers give for why they leave, education researchers and professors said. When teachers report they are leaving because of school leadership, they generally mean the leadership in their building, at the principal level.
"If there's a principal that folks are not satisfied with, teachers, they can leave," said Jacqueline McDonnough, an associate professor at Virginia Commonwealth University whose focus is on recruiting and supporting teachers for high-needs schools. "And that tends to happen quite a bit."
Wyckoff, the UVa professor, echoed McDonnough's comments but said principals typically get their "cues" from central office, so leadership there can affect teachers' decisions to stay or go.
"I don't think you can completely disentangle what's happening in schools from what's happening in the central office," he said.
McDonnough meets regularly with a group of new teachers to talk about their challenges in the classroom, and administrative support is a big factor in how happy those teachers are with their jobs. Many, though, feel as if they're "not seen" and don't get as much support as they would like. Part of that is because administrators themselves are overwhelmed, she said.
"Very few of them in some of these really difficult schools have administrators who would come in and spend the time with them," McDonnough said.
External pressures can frustrate teachers, too. The public has high expectations for what teachers can accomplish, but they aren't always realistic, McDonnough said.
"Folks think teachers make all the difference when it's what kids eat, and where they live," she said. "If you have the best teacher and you have a child sitting in the classroom who has health issues, who is underfed, who goes back to a community that's very stressed with violence, how does the teacher, as good as that teacher is, impact all of those other factors?"
Several of the parents who spoke to the school board in March said they hoped their comments would prompt more action by the board. They said they've been disappointed in the board's follow-through thus far.
Stephanie Martin, one of the parents who spoke, said they had hoped the district would get a third-party to conduct an end-of-year survey of teachers. That's still something she'd like to see happen.
"I think the problem may be that it's not a high enough priority," Martin said. She said it would be helpful to know if the district or the board has a timeline for taking any action.
"I know it would at least make me feel better to know that something is actively being done," she said.
Board Chairwoman Annette Lewis said she and others on the board looked into the issues brought up by parents. They feel comfortable with how administrators addressed the situation, she said.
"We certainly appreciated comments from the community about what their concerns were, and all of the concerns that were presented have been investigated and looked at," Lewis said. "We feel really confident that we have addressed the concerns as we need to."
Teacher turnover in Roanoke
Turnover varies from school-to-school in Roanoke. As of July 12, 142 teachers have said they won't be returning to the district next year. 
They're leaving for a variety of reasons:
Turnover among teachers in their first few years of teaching is typically higher than turnover among their peers with more experience. Teachers who make it through the first five years are much more likely to continue in the field. Superintendent Rita Bishop said she suspects that next year, the district will retain more teachers whose experience ranges from six to 20 years. Those teachers got a raise this year because the district said the salaries at those levels were not competitive.
Last year, about 16 percent of Roanoke teachers who quit did so mid-year, without serving their full contract. The number of mid-year departures fell slightly from the 2014-15 school year, when 17 percent of teachers leaving did so before completing their contract.