For the past two months, we at The Roanoke Times have been sharing our suggestions for keeping busy while hunkering down during the governor's stay-at-home order. Turns out, you all have it pretty much covered on your own!
We recently asked readers to share what you've been doing with your newfound free time, and we loved learning about all that you've accomplished, from creative art projects, to home organization, to rediscovering previous passions. A common thread through the dozens of submissions we received was our readers' ability to look on the bright side even in difficult times.
Thank you to all who participated. Responses have been edited for clarity and length.  Happy reading!
— Suzanne Miller, features editor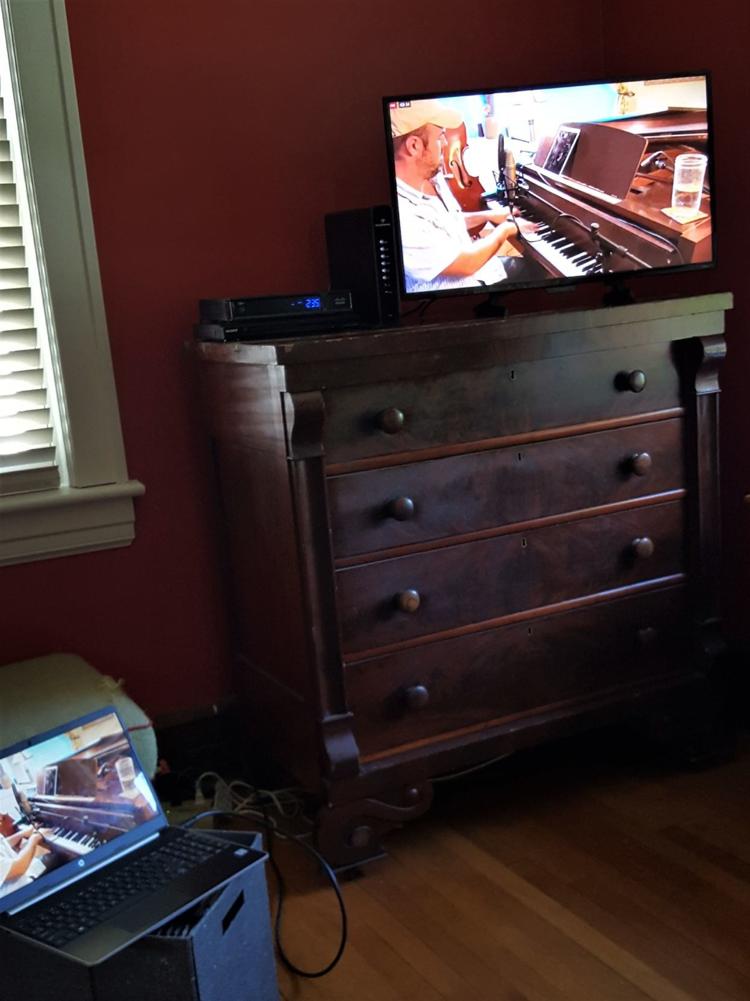 One thing my husband and I miss is going on short jaunts to hear live music — to Floyd, Charlottesville, and farther. The last trip we took was in late January to Thomas, West Virginia, to hear a favorite band, Western Centuries. Lately, we've been taking advantage of Facebook concerts, where musicians gather through Zoom or some other program, or individual ones record via their phones. By connecting an HDMI cable from the laptop to our TV, we are able to watch almost life-sized concerts. We have mostly been watching Wilson Savoy, a talented multi-instrumental musician from Lafayette, Louisiana. In his "coffee or cocktail hours," from American standards on the piano to traditional Cajun songs on fiddle or accordion, Wilson's concerts have lifted our spirits.
— Mary and Clint Roby, Roanoke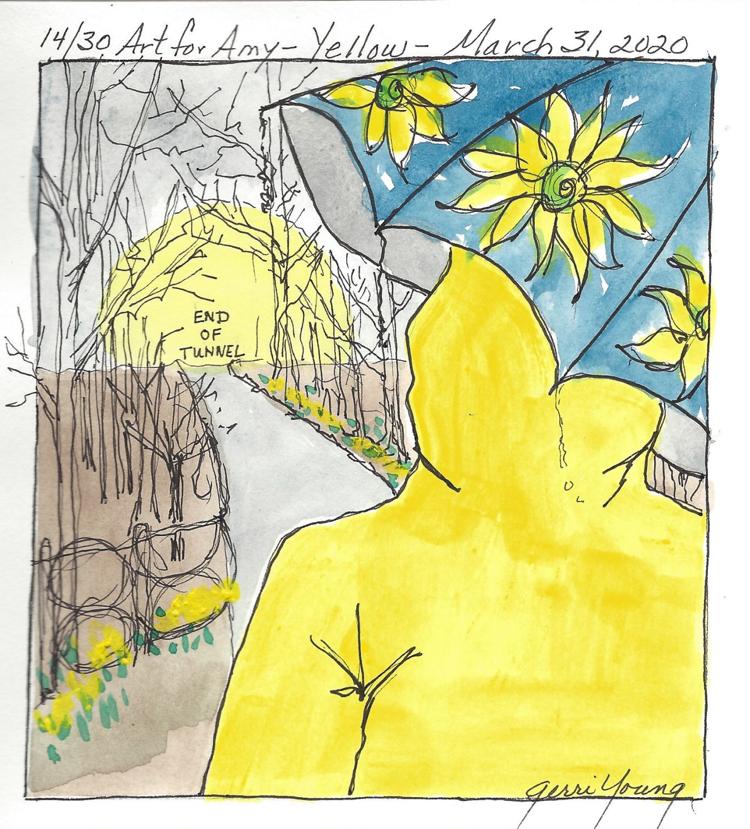 I am lucky to be an artist connected to many other artists via Facebook and email. On March 19, a teacher from Thailand with whom I studied launched a Facebook project called 30 Days of Art for Amy, and I signed on. She gave us a daily "prompt," to which we created and posted our results to Facebook. Participating artists grew to over 90. As time went on, I refined my watercolor and ink style, working alone at the kitchen table with the forest just outside the window. Reading the comments from Amy and other participating artists from wherever they lived was reassuring. This close connection to people I mostly do not know assured me there was still life on the planet.
— Gerry Young, Blacksburg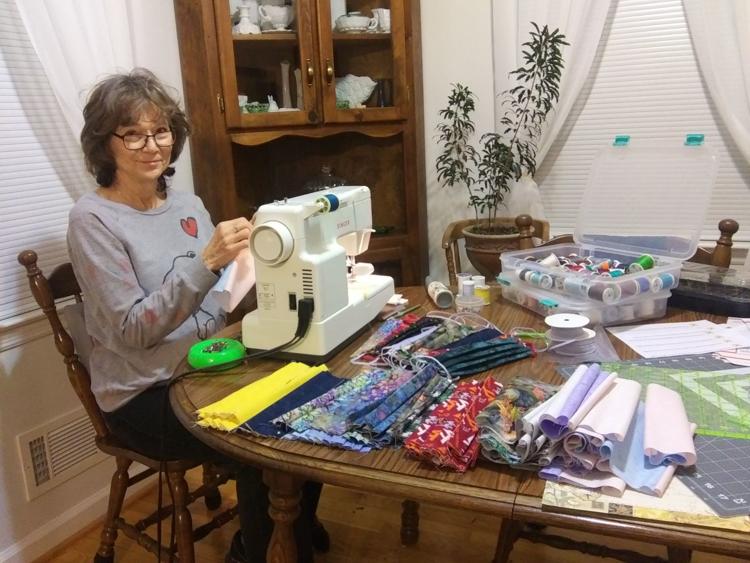 Thus far, I have made over 100 masks for family and friends. I have mailed them to a nurse in Chesapeake, a friend recovering from cancer in Goochland County, friends in Jacksonville, Florida, and family in Corsicana, Texas. Production has slowed, but I still make them for anyone in need.
— Gloria Christen, Roanoke
One of my mother's favorite expressions was "Idle hands are the work of the devil."
I have always stayed busy, raising six kids, knitting while watching TV and over-doing any "job" until retiring at 78.
I am now 89; I have been a widow for seven years. My Roanoke "routine" has been a full life with church, prayer group, knitting group, YMCA, Newcomers, Athenians, book club, writing club ... all of which resulted in personal contact and friends. I MISS THAT! So, with activities stopped, I needed to find something to do.
First, I thoroughly cleaned my house: windows, curtains, floor, woodwork. I cleaned behind and under. I shampooed rugs and polished windows. I organized. I filled boxes with donations.
Then, I looked outside. The gardens along the fences that border my backyard had become hospitality centers for ivy, honeysuckle and every invasive fast-growing plant and groundcover known to man. A year ago I had thought of clearing it but decided I was too old. This year, I attacked it. I work several hours each day until my back tells me it has had enough. I am making progress. And, I can truly say, "Mom, I HEARD you!"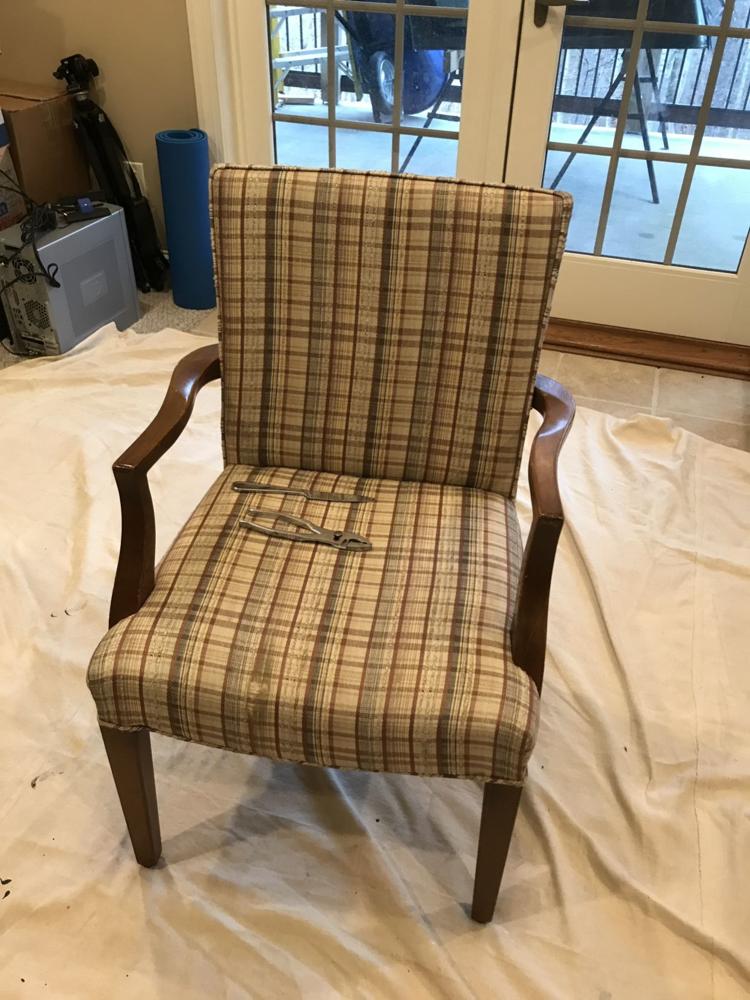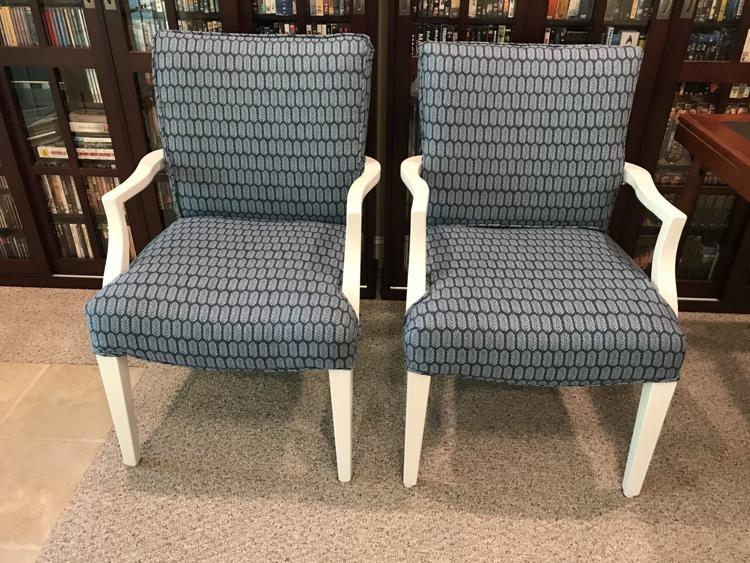 I wanted to help my daughter and son-in-law "re-fluff" their house on a shoestring budget. So, inspired by Pinterest posts, a novice's bravado and a total underestimation of the work and skill level needed, I plunged into reupholstering their 20-plus-year-old chairs salvaged from a doctor's office.
My daughter selected fabric from an online store at a cost of $6/yard, and my husband gifted me a new power stapler, without which I would have given up the effort on day one. In addition to their new covers, the chairs also needed some joints re-glued and additional polyester batting.
I think they look pretty good and am pleased with the overall result of my first upholstery project. Experienced upholsterers will only be allowed to view them from a distance as they won't withstand a close inspection.
— Joann Stevens, Roanoke County
On Christmas Day 2007, my husband gave my son and me a Nintendo Wii gaming system. I'm embarrassed at how ungrateful we both were. I'd never expressed any interest in video gaming, and my son had been hoping for an Xbox. In the end, he played with it a little, but I've used it two to five days a week ever since. My husband bought the Wii Fit program with me in mind. It has a board you can stand on and handheld controllers that allow you to interact with the exercise program, which includes aerobics, balance games, yoga and strength exercises.
Today the system is laughably outdated, but apparently, it has a loyal following among middle-aged women like me. While many people have been stuck at home, they are streaming exercise programs, sometimes watching with friends and family. But I like my old technology, so on Tuesday and Thursday mornings, I set my laptop up in front of the TV and invite my friends to join me in a 20-minute yoga routine on Zoom. Afterward, we visit for a while, and we all agree that the sessions make us feel better in both mind and body.
— Betsy Biesenbach, Roanoke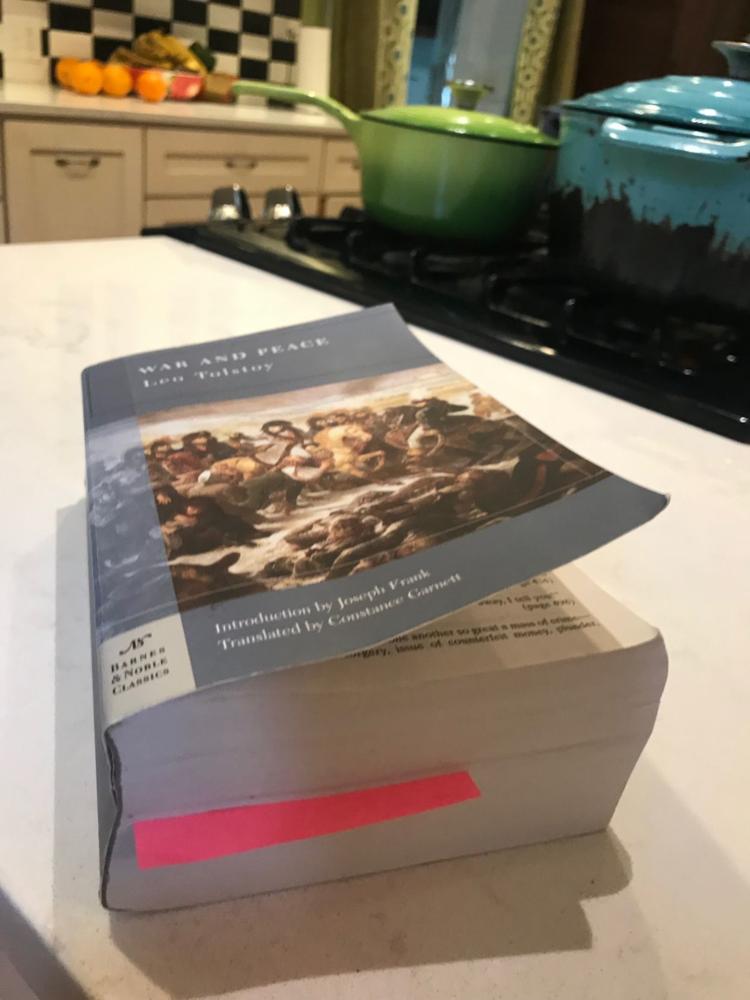 I have often bemoaned graduating college in 1987 with a degree in Russian language and literature without having read the most famous Russian novel, "War and Peace." A friend once surprised me by pointing out that I could still read it, but, meh, I never had the time or interest — until now! On March 18, I joined the #TolstoyTogether group, reading 12-15 pages a day and leaving comments on Twitter. Most of the other participants' comments are beyond me ("Tolstoy is to Dostoyevsky as Mozart is to Rachmaninoff"), but I am enjoying the "War and Peeps" tweets of scene reenactments using Easter candy. The book is projected to end about June 10, so I can measure how far we are through social isolation with my bookmark. On April 29, we were halfway through quarantine, and I was halfway through what is arguably one of the worst novels I have ever enjoyed.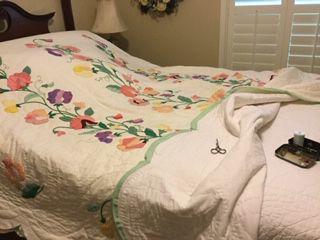 My main project has been the completion of a handmade full-size bed quilt begun by my mother in the early 1950s. This project is almost done!
I have also painted three deck rockers and oiled three other chairs. Additionally, I have finished a few sumi-e (Japanese ink paintings) pictures that will be donated to charities for silent auctions.
Walking daily the many trails in my Warm Hearth neighborhood has helped me to keep my spirits up while focusing on the beauty of nature during these strange and difficult times.
— Lee Musgrave, Blacksburg
We call our stay-at-home fun "Name That Tune." Our home radio is tuned in to a local station that plays oldies 24/7. The tunes are songs from the '50s, '60s and '70s. I must say that I sure enjoy the music from yesteryear far better than music of today.
Throughout the day, my husband will walk by the radio, turn it on very briefly, turn it off and expect me to tell him the name of the song and the artist.
I'm pretty good at this, but sometimes I get stumped. Most of the time, the songs I can't name are one-hit wonders, usually from the '50s. We laugh about the ones I cannot name, because I always just say "Elvis"! (Even though we both know it's not Elvis.)
Afterward, I quickly Google the song, so that if I hear it again, I will know the correct answer. We laugh when we find out the names, because mostly we have never heard of these songs or singers. What fun and laughs we are having with this silly game.
— Becky Hudson, Wytheville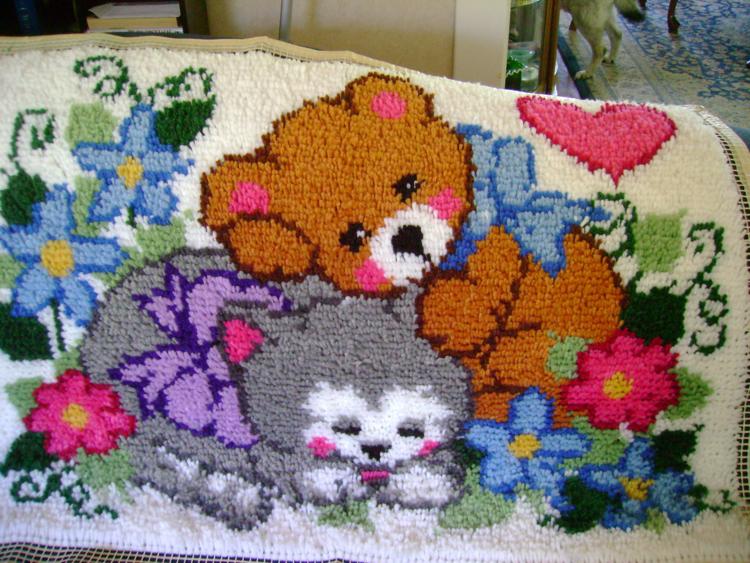 In addition to the usual cleaning the house, straightening cupboards and closets, finishing old projects, and trying new recipes, I have crocheted an afghan and latch hooked a rug for the newest family member we're expecting in August.
— Patricia Kidd, Buchanan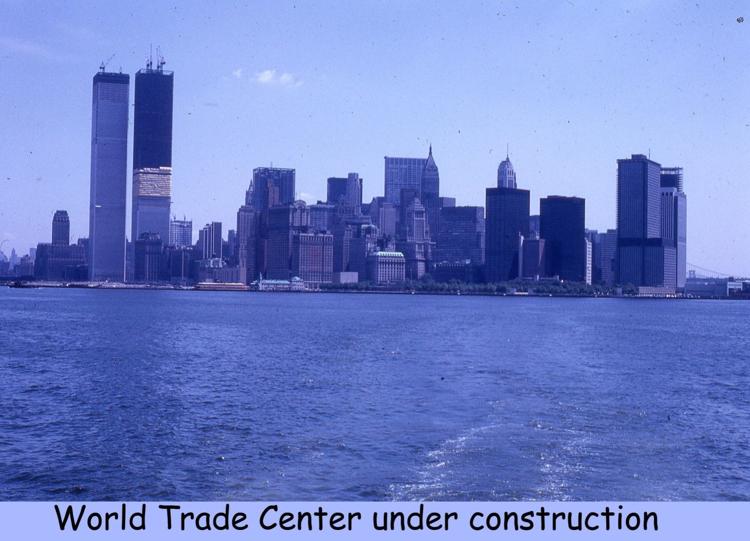 My husband has taken on the project of digitizing my huge collection of old slides (are you old enough to remember them?). This blast from the past has been so much fun! It has also encouraged me to contact old friends as I email them pictures of their younger selves.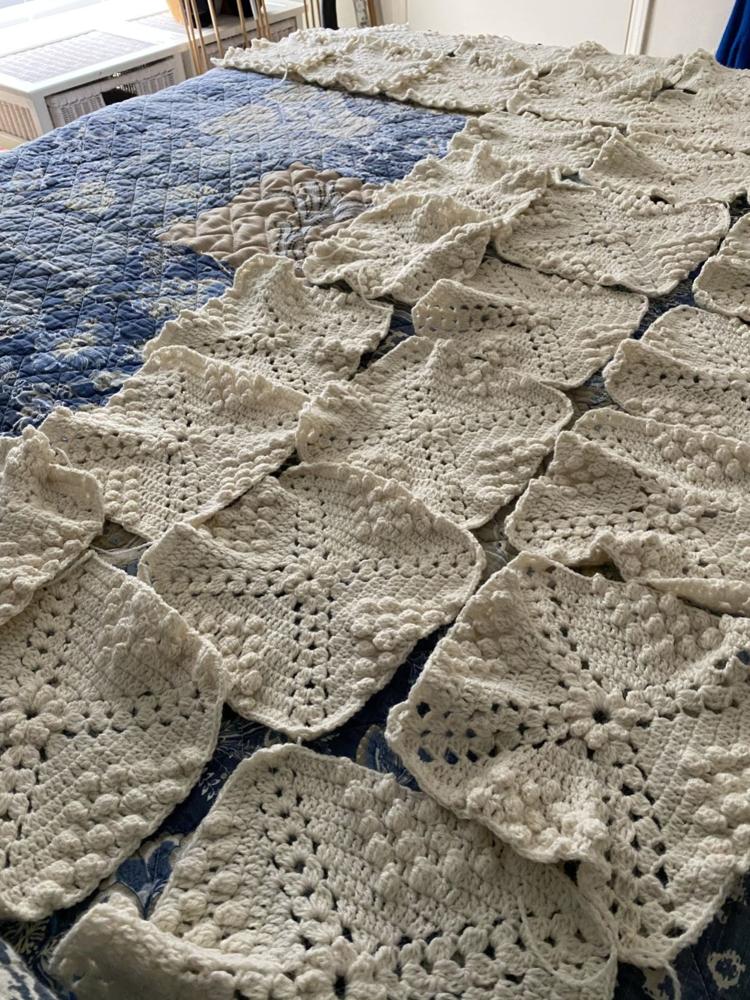 About 20 years ago, I started an afghan. Life, liberty and the pursuit of happiness got in the way, and I became bored with it. So I put it away. Now that my life and liberty have been put on hold, and having pursued about all the happiness a person has a right to expect, I've picked it up again with the strong determination that by hell I'll finish this sucker before this pandemic ends. Ten more squares to go — then I need to figure out how to put it together.
— Doris Turvey Hansel, Salem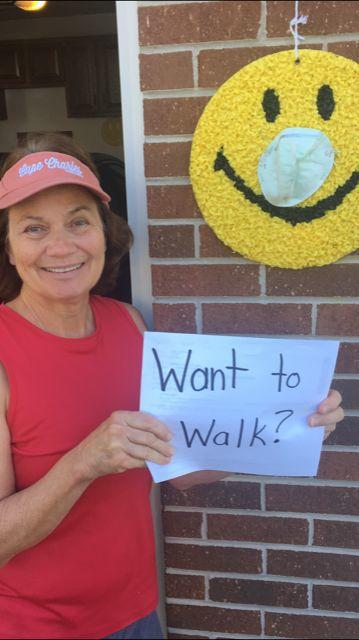 I have filled my shelter-at-home time with walking! I walk on my treadmill on bad weather days, but most of the time I am outside. And I will walk with anyone! My motto is: "Any time, any place, any pace, any weather... I will walk with you."
One of my friends is in remission from cancer and needs to walk slowly. I just adjust my pace to hers, and away we go. We talk about everything: what's for dinner, our kids, the future, religion and an array of other subjects. We try to keep 6 feet apart, but since we are "elderly," we often can't hear each other! Another friend is keeping her grandson so I meet up with her in the evenings.
My childhood friend of 56 years lives in Colorado, and we synchronize our watches to have a "walking/talking/laughing" visit. The time just flies, and we both get off the phone feeling better about our situations.
I keep my walking shoes on so I can be ready if a buddy calls to walk. It has really boosted my morale and spirits to be out and about with people.
— Patricia Smiley, Wytheville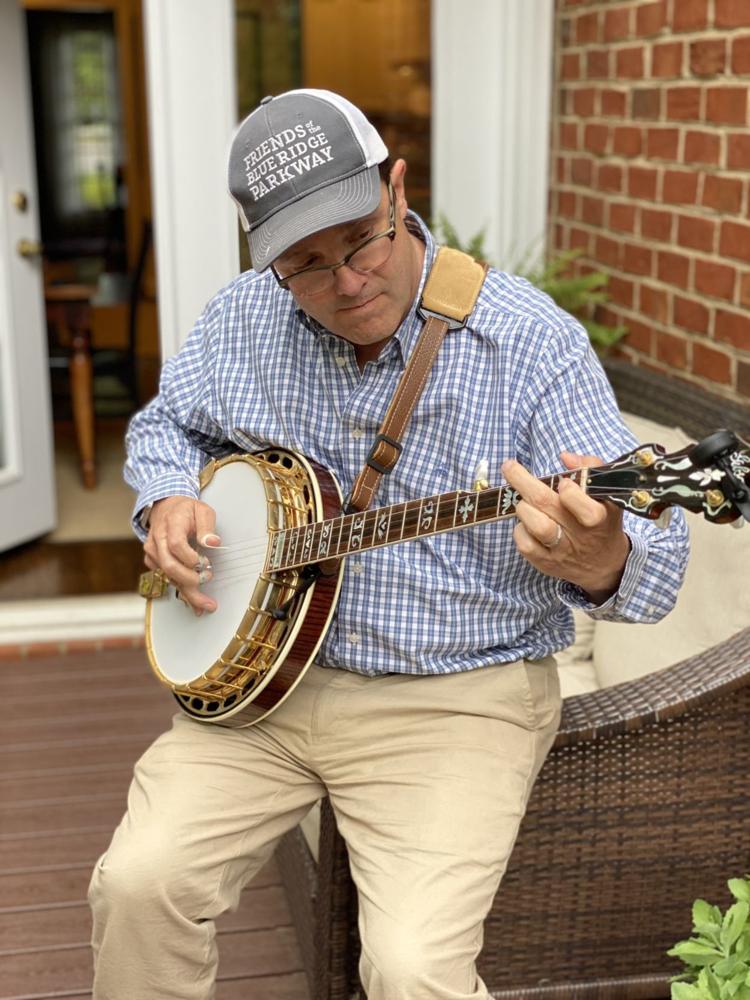 Learning five-string banjo
Honestly, I am probably working harder and longer hours during this time of sheltering than I do normally, as I pastor Church of the Holy Spirit (Anglican) and help oversee 36 churches in our diocese, Diocese of Christ Our Hope. We have had several funerals and many pastoral situations. And if I never see another Zoom meeting, that would be fine with me!
One fun thing I have done is to get serious about learning the five-string banjo. I started at age 20 and was undisciplined and quit. This past summer, at age 60, I decided I was going to learn to play banjo no matter how long it took. Let's just say it has been slow-going and too much of the beginners' classic "Cripple Creek." I have been using YouTube Lessons and some Murphy Method videos as well.
I certainly am no Earl Scruggs and have a long, long way to go, but at least I have learned basic chords, rolls and how to play a few songs that mountain folks might recognize. The toughest two songs so far are "Foggy Mountain Breakdown" and "Clinch Mtn Backstep." Again, I am not smooth or fast enough to want to play publicly yet, but mercifully my playing no longer sounds like I am strangling a cat. Well, not on most days.
My wife is a very patient woman.
— Quigg Lawrence, Roanoke County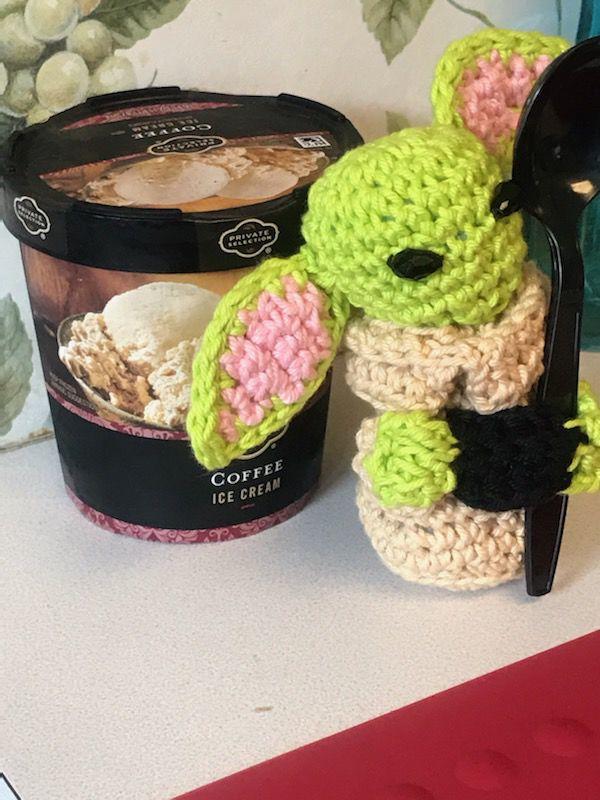 Just prior to the governor's stay-at-home order, my sister and I saw a crocheted Baby Yoda at The Knittin' Coop in Salem. I knew that my oldest grandson would love to have one since he is such a "Mandalorian" fan. I take pictures of Baby Yoda to send to all my grandkids and for my own amusement.
I didn't anticipate how popular he would be. Now my sister and I spend our mornings making Baby Yodas for both adults and children in our family.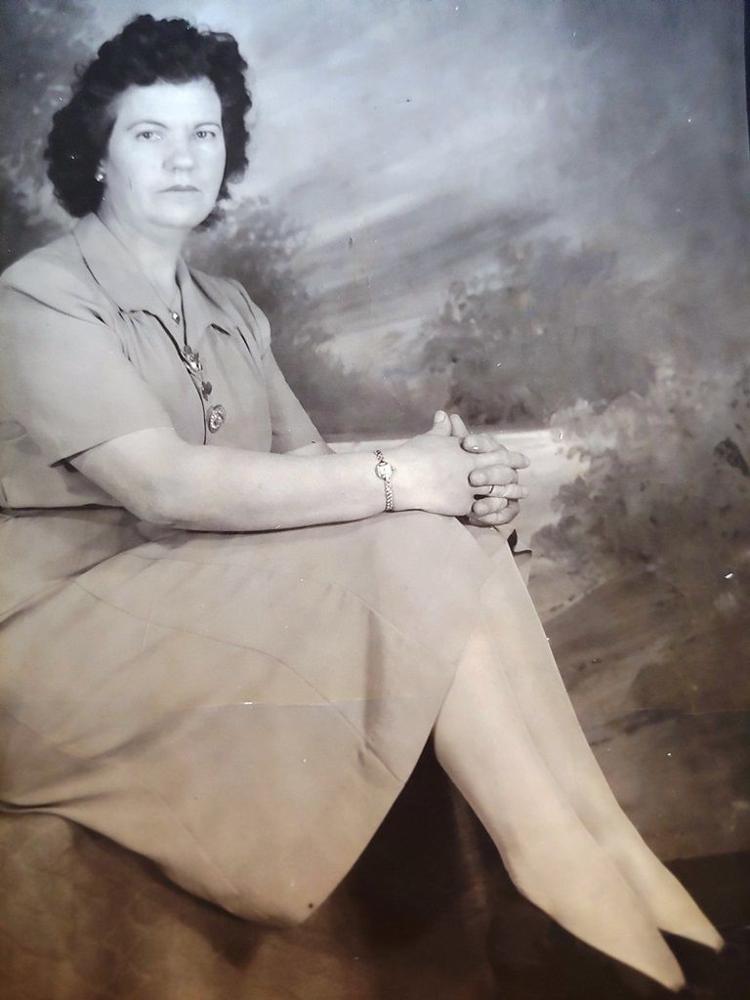 Several granddaughters of Nettie Howard Allen (1897-1987), who lived in Blacksburg, decided to share some old photos with each other during the stay-at-home pandemic. The ones who participated in the game were three granddaughters from Christiansburg (Velma, Margaret, Dot); one granddaughter from Elizabeth City, North Carolina (Janice); one granddaughter from Natural Bridge (Ann); and one granddaughter from Denison, Texas (Linda Sue).
Each of us texted a photo and asked five True or False questions about the photos. At the end of the game, we tallied the score to determine who had the most answers correct. As an incentive to play the game, a prize was offered to the winner. At the end of the game, two granddaughters in Christiansburg each received a Virginia lottery ticket. This activity took about a week to accomplish, and it was fun waiting for the next photo to be sent. 
— Dorothy (Dot) Cupp, Christiansburg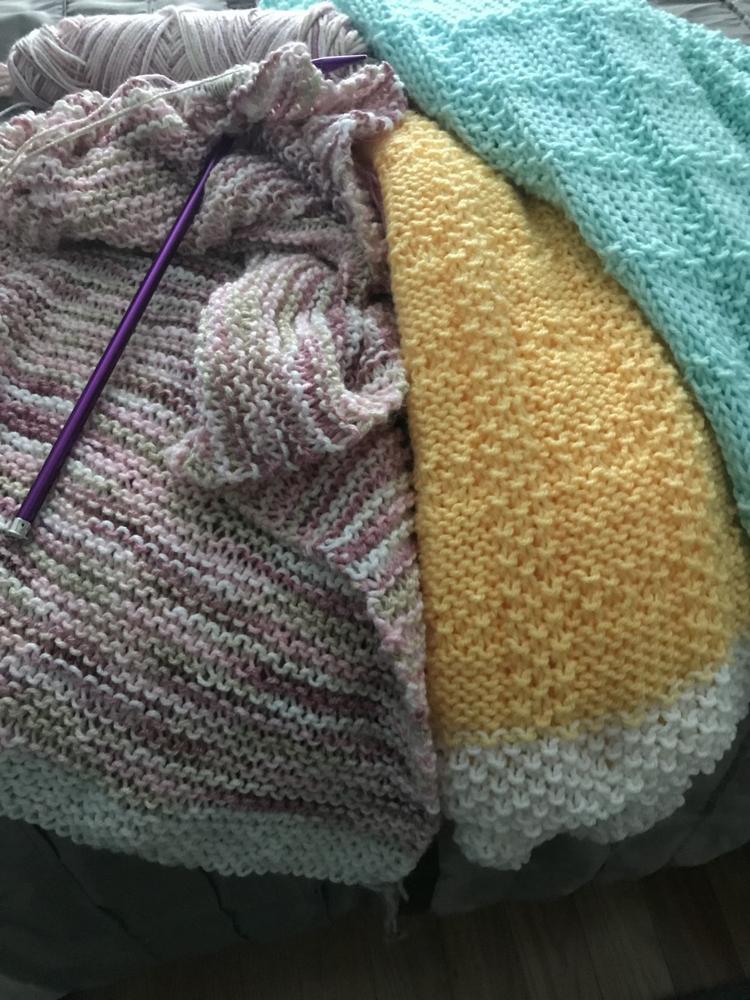 As a member of the shawl committee at Church Melrose Baptist Church in Roanoke County, I have been knitting shawls. These shawls and lap robes are then given to those who are sick, homebound or in nursing homes. Recipients are not all members of our church, but those we know will receive a blessing from a handmade shawl. Some of the ladies crochet and some knit as many hours are spent on each project. These shawls are blessed by our pastor before they are taken to each person.
— Sondra Wertz, Roanoke County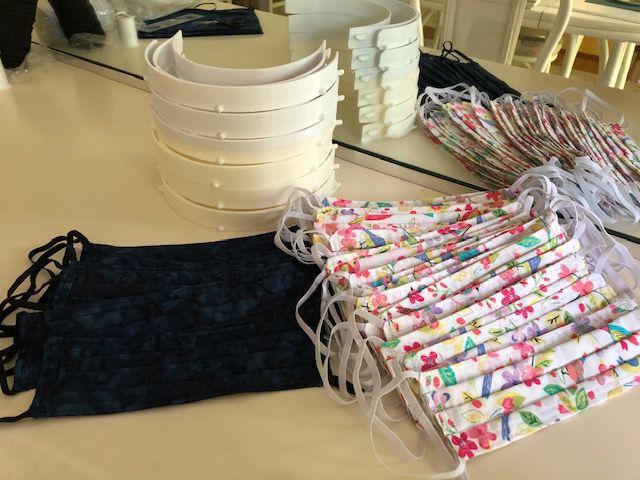 Masks, personal protective gear
We have been busy making masks and 3-D printed personal protective gear. Each mask takes 18 to 20 minutes (65 made so far), and each 3-D protective gear takes five hours on our home 3-D printer.
— Richard and Bitsy Davis, Roanoke County
As a 92-year-old physician, retired after 45 years of solo practice in Northern Virginia and now enjoying living by the water on Claytor Lake, I always tell people that my wife built a nice house on the lake with a boat dock and lets me live there — which is true. Everybody likes her immediately for that. Fully licensed in Virginia and the European Union, I did a few years' worth of free clinic in Pulaski, wrote two small books about the war in Europe, and flew aerobatics in a sail plane at my farm near New Market.
Now I still get up at 6:30 a.m., let out my dog, and two of my cats to give them time to do their physiological functions. After a small breakfast that I share with our 60-pound dog, I do some exercise as stated by the Carilion Clinic PT, and do my half-mile exercise walk — rain or shine. Then, I read The Roanoke Times and The Wall Street Journal cover to cover.
On Sundays I make some phone calls to my family in Germany and my son in NC and discuss the political situation of the country and world. Then take a nap after all the work is done. Very friendly neighbors and family in Blacksburg, Salem and Radford help us out with shopping and yard work.
But as my sister called it, my Corona hairdo is significant. Otherwise, I wait for good weather to go out again on my pontoon boat.
— Dr. Rolf A. Koehler, Pulaski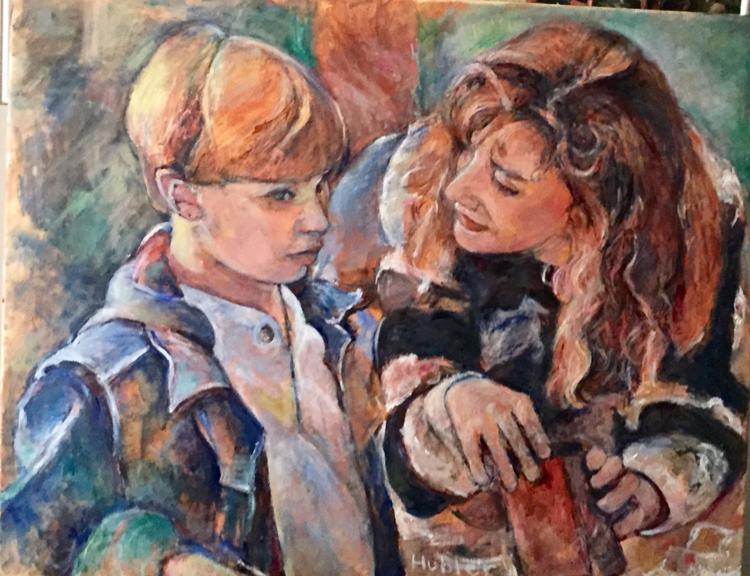 This period of isolation has been a godsend for me! I'm grateful for the opportunity to work on oil paintings in a way I have not done for many years.
Every weekday I spend some time at my easel. The time goes quickly, and I am thoroughly enjoying myself. By the way, Roanoke Times photographer Stephanie Klein-Davis was the inspiration for my work titled "Teacher and Pupil." I had kept this photograph from The Roanoke Times from many, many years ago and only now have had the opportunity to use it!
— Helen Hubler, Daleville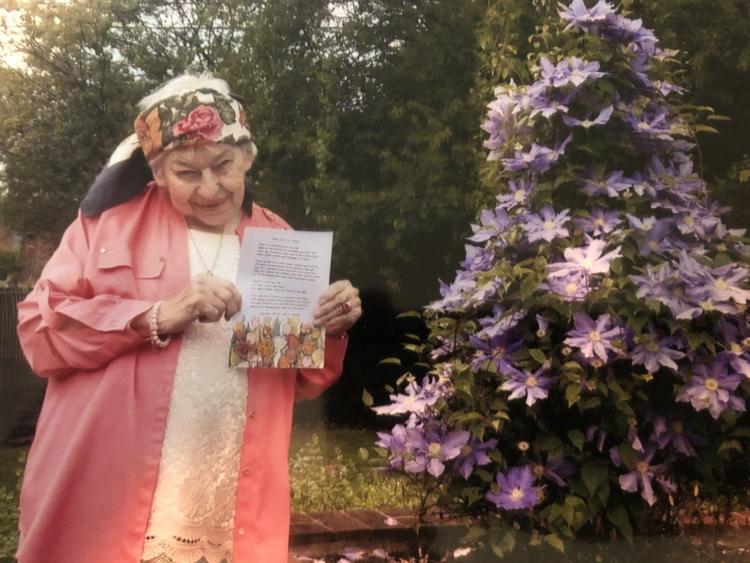 I'm about 93, and during my time at home, I'm focusing on music and the beauty of nature. A lady recently told me she was overwhelmed about her job, and I played the piano for her, which encouraged both of us. I'm writing a new song titled "It's a Brand New Day," part of which includes the lyrics, "Be faithful, kind and true, and let Jesus count on you./Do you hear the joy bells ringing? Ding-dong, ding-dong, that sets my heart to singing./Glory, Hallelujah. Jesus is mine, and my savior divine." I hope brighter days ahead will be here soon for everyone!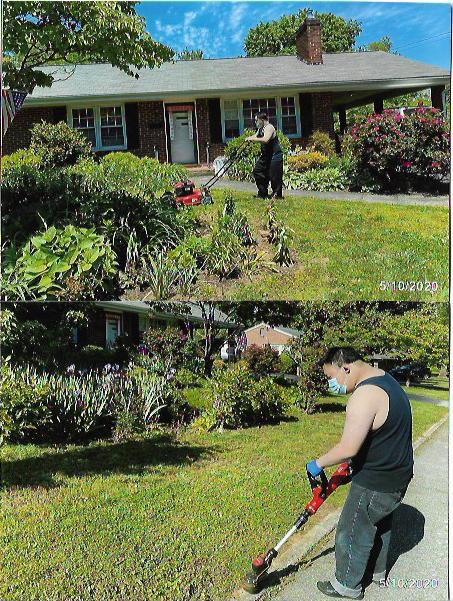 My son, Jerry Wu, and I like to work in the yard. The grass needed to be mowed and edged. Jerry helped me to do this job. I have a lot of flowerbeds and trees. I like planting in the spring. Jerry helped me water. I found a bird nest with eggs in the tree in the backyard. I can't wait to see the baby birds.
As a senior adult living independently in my small house in Salem, I have relied on a daily list to keep my life in order. Each day I use a piece of 4-by-6 cardstock in a different color to put down routine tasks such as trying to call up digitally my church's Sunday worship as well as the morning routine of cleaning up the litter box used by my two elderly feline companions.
My greatest pleasure comes from writing the weekly "Give Light.." memoir column I contribute to Salem's newspaper. In it, I start with a recollection from my 65 years of informing the reading public about events of general interest to people of faith. I have missed most my personal association with my church "family" seen on Sunday and in small groups related to my congregation.
— Frances Stebbins, Salem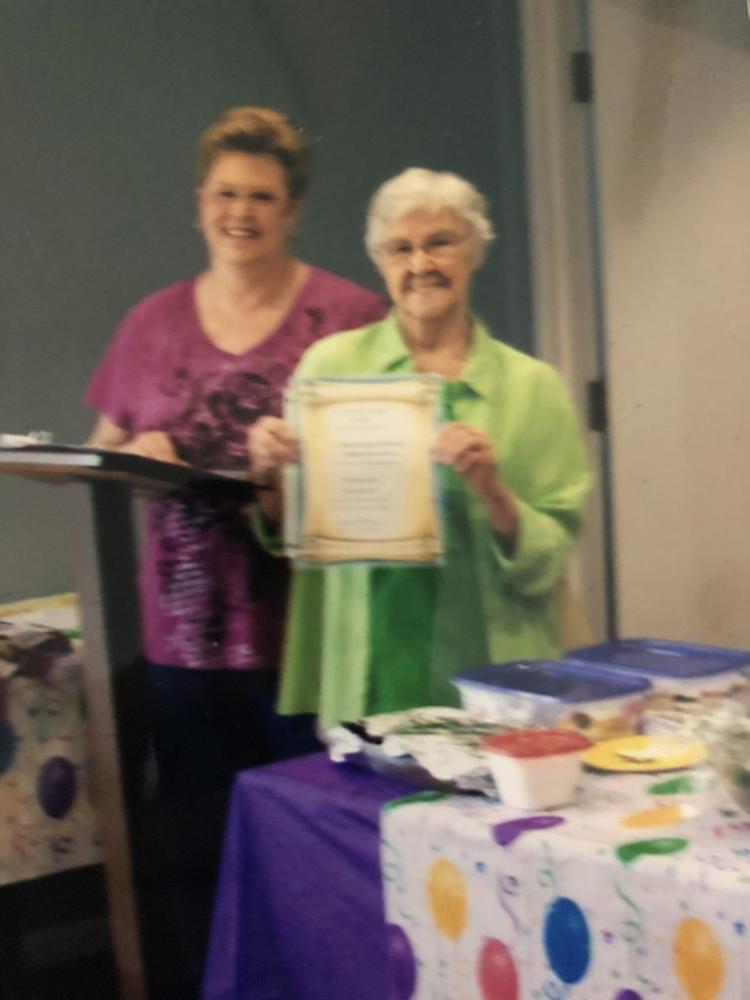 Sewing masks, renewing faith
I must say this is the most unusual time in my 90 years (which I celebrated by phone on March 28!). I have sewed 20 face masks for our neighbors and read nine books (1-900 pages) of Christian fiction. My children call every day, as well as friends from church. I have won two games of Solitaire (though I don't remember how many I played!).
Writing rhymes: "Coronavirus"
I wrote a ditty representing my thoughts regarding the present-day crisis of which I thought readers may enjoy and associate. 
A pandemic has taken the world by storm. A virus called COVID-19 is born.
Remember when Corona was the name of a beer? Now, it's a virus that's deadly andh ere.
It doesn't discriminate, no one is immune. Thousands are dying, we hope it ends soon.
Six feet social distancing and sheltering in place -- and masks, the new normal, to cover your face.
Small businesses are trying to keep afloat. The common denominator, we're in the same boat.
Many friends have screamed and ranted; we miss the things we took for granted.
We miss the gym and our buddies there. Not to mention, what's wrong with our hair?
We need to get our hair and toes done. Looking like witches is not very fun.
We're not meant for isolation. Oh, to be able to take a vacation.
I asked my friend, when this all ends, does she think we'll still be friends?
She said, "Absolutely, the answer is yes. We'll be better friends when we're out of this mess."
When everything is finally unfurled, we pray for a kinder, gentler world.
We know eventually this will not last. A great man once said, "This, too, shall pass!"
— Jennifer Breckinridge, Salem
About 30 years ago, I took a correspondence course in art. I even received a certificate. However, due to other important issues that required most of my time, I never got around to practice drawing.
As a 72-year-old, I decided to start drawing again during this COVID-19 pandemic. I grabbed some paper and pens, found a cottage in a magazine and actually drew it.
I also finally got around to reading some of those Time magazine articles I had put off for months. And eating in my home allows me to watch the local news, and now I don't have to miss "Walker, Texas Ranger" or "Charlie's Angels."
— Matthew Thomas Jr., Bedford
An update from Blacksburg's own Ms. Claus during the pandemic:
Santa Claus phoned and asked, "When are you coming home?" All I could tell him is that I am stranded here at Warm Hearth Village in Blacksburg, and can't come home until I'm allowed to leave, so please be patient!
Santa said he could put masks on the reindeer if I could send them up to him, and make one for him, too. I am waiting to hear from Mayor Leslie Hager-Smith to see if this is possible.
And I also have thanked my friend Ferne, as she gave permission for Santa to land on the center's roof to pick me up. My neighbors Tom and Kitty Jenssen said they will have water and food for the reindeer, and snacks for Santa, for the trip home.
— Marian Kelso, Blacksburg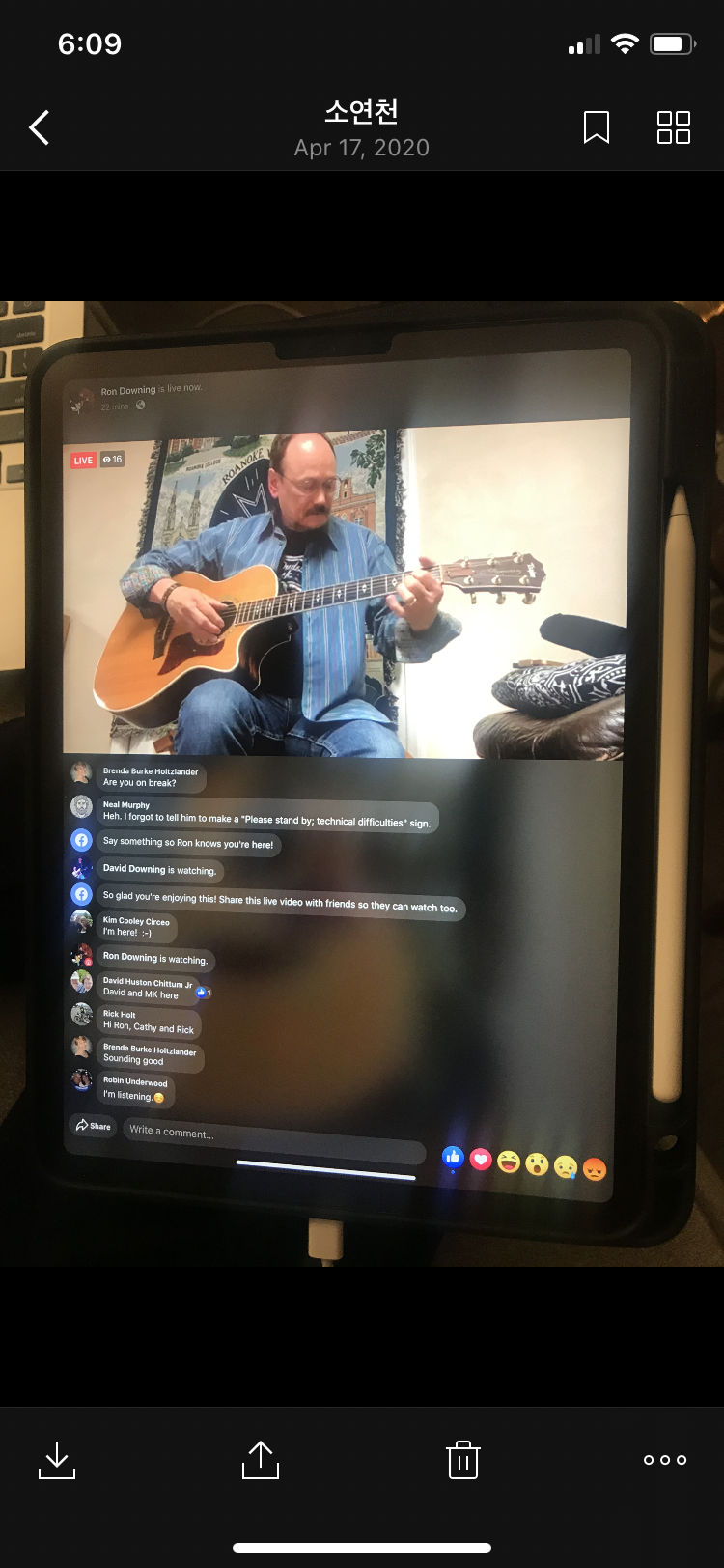 Broadcasting music online
As an active musician, I love music. Having been involved since I was a child, it is in my heart and soul. With the encouragement of my wife, Veronica, I started experimenting with Facebook Live.
For the past several weeks, I have broadcast from my "basement studio" on Friday evenings at 9 p.m. for 30 minutes or so. The global pandemic caught us in the middle of a move (with all but a few musical items not in storage) so I'm left with my guitar and my iPhone, making these programs truly unplugged. Each program remains on my Facebook page and has been viewed hundreds of times by "friends" around the country and the world. Their comments and words of encouragement during and after the live programs have been humbling. My next performance of Christian songs will be Friday, May 22. 
The following week, my band, the Henry Downing Band, will perform in my garage with a social distancing concert of popular music and dance tunes.
— Ron Downing, Roanoke County
Busy baking in the kitchen
Baking is my favorite pastime! I've tried new and old bread recipes, samples and loaves, of which I give to neighbors. I live in a condo full of good-to-professional chefs. They have all brought fantastic goodies to my door. My weight has zoomed! Am I bored? Heavens no — there is no time for it!
— Barbara Dickinson, Roanoke
My husband and I have been playing several two-handed card games in addition to the ones we have on our Kindles. Sorry, young people, playing on a computer is nothing compared to the companionship of other human beings. For over 50 years, we have played Double Pinochle with friends, and with the stay-at-home order, that came to a halt. We hope to resume when the time is right. We miss our friends.
On our bookshelf, I found an old "Hoyle's Rules for Games" — something my husband picked up at the secondhand bookstore years ago. I have been reading different selections about games I have heard of but have not played.
— Karen Vietmeier, Roanoke County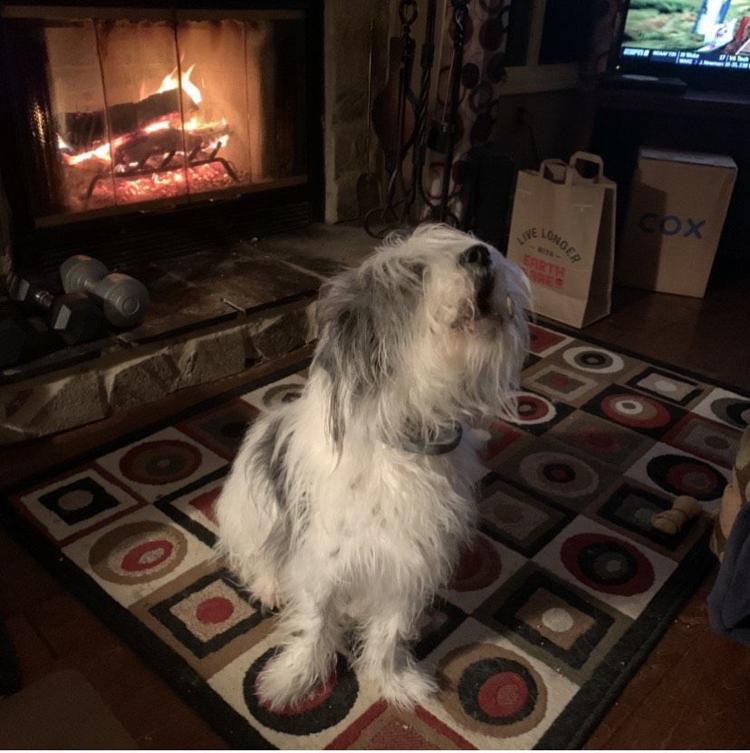 Writing poetry: "A Man and His Dog"
I started writing poems, which has helped me to relax and take my mind off all the negative things going on in this world. Here is a dog poem I wrote for all the dog lovers. Part of this poem is actually true. Beware, you might shed a tear after reading.
A mangy old dog came up to my door, just a scratching.
He looked like he was in pain, so I began just a patching.
So I called him Dog, just the same.
I nursed him back to health
And then he flew to my bed as quick as a stealth.
Get out of my bed, I said.
He laid there looking at me with those sorrowful eyes.
He knew he was getting to me,
Even though he couldn't see through all that hair that covered his face.
I knew how to put him in his place.
I broke out my old harmonica and hit that high note.
Boy, if that didn't get his goat.
He started yelping along to the songs.
Before long we were a duet — A Man and His Dog.
We traveled the countryside,
Me driving and my old dog sleeping like a log.
We became best friends, and well known as — A Man and His Dog.
Then one day, he just died.
I dug a hole way too big for him and put him in.
Then I thought, I can't leave my old dog.
The people of the little town we were in made up a tombstone
That read — A Man and His Dog.
We both slept like a log.
— Randy Pendleton, Roanoke County