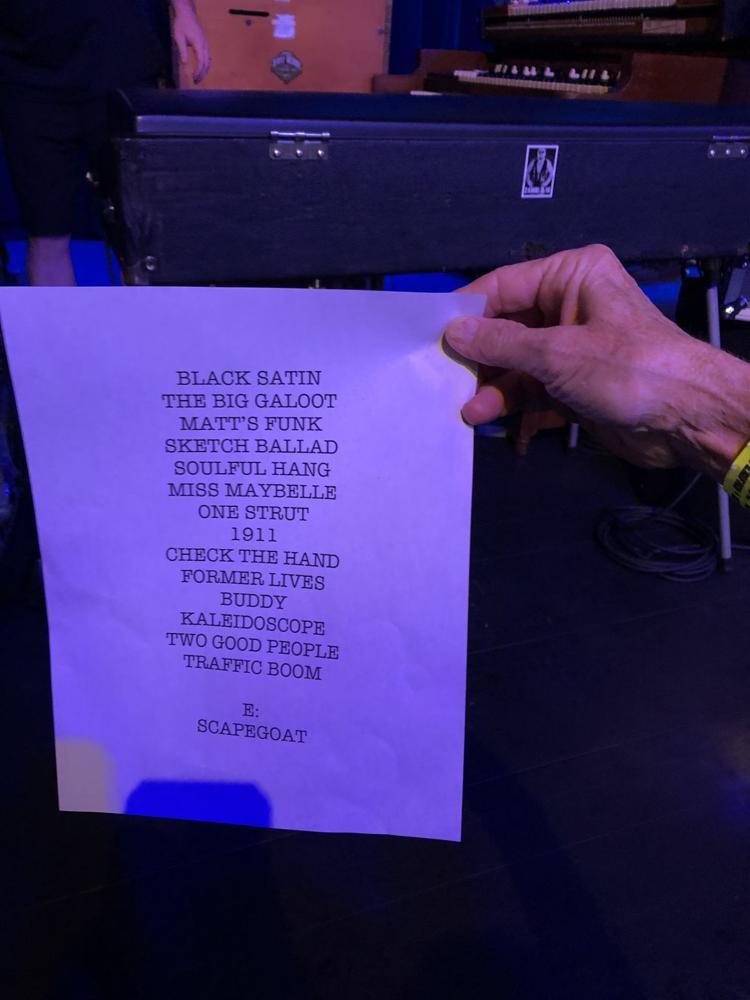 When extraordinary jazz-rock guitarist Jimmy Herring smiles onstage, you know some hot piece of improvisation or musical interplay is happening.
The Widespread Panic guitarist, leading his new band, The 5 of 7, at Harvester Performance Center on Thursday, smiled a lot as the band blasted liquid fire solos and edge-of-the-cliff ensemble parts during more than two hours of music. A crowd of about 250 in the Rocky Mount venue celebrated the musical doings with raucous cheers, drawing even more smiles from the cat that Widespread fans have dubbed "the White Wizard."
Herring has started bringing his own bands to Southwest Virginia over the past couple of years. Each time he has, I have written an advance story that focused a good bit on his connection with Col. Bruce Hampton & The Aquarium Rescue Unit.
It's a connection that Herring talks about, because both bands he has brought here — The Invisible Whip at Jefferson Center in August 2017 and The 5 of 7 on Thursday — are all vets of the late Hampton's musically adventurous combos. 
The Aquarium Rescue Unit was a big influence on me back in the early '90s, so it's thrilling to see bands with a direct line to that act show up in a place where I can hear them. What's even more thrilling is seeing the continued musical growth of a guy like Herring. 
He was great already, when the ARU was playing bills with Phish, Blues Traveler and Michael Houser-era Widespread Panic. He had that sort of Steve Morse meets Scott Henderson thing happening, and it was a huge kick to hear. As the years have gone on, he has shed the old layers and emerged with a style that is still informed by cats like that, but now is so much more Jimmy Herring.
The band leader was not the only hot guitarist onstage with The 5 of 7. Rick Lollar brought a fat, loud, Telecaster tone to the stage on Thursday and can sing well, too, on a collection of original songs. Lollar was a member of Hampton outfits including The Pharaoh Gummitt, and formed a band called King Baby with a couple other Hampton alums, keyboardist Matt Slocum and bassist Kevin Scott.
Those two guys were with Herring for both the Invisible Whip show and the 5 of 7, and through them, Herring and Lollar connected. It's a great connection. If you want to hear two guitarists who know a ton and feel a ton, but can listen to everyone else on stage and play off each other, then you want to hear these two. They can play some hot put-up harmonies, but they are great at improvising their harmonies, too. That's an outrageous thing to have in a musical arsenal.
The band kicked off the show with a cover of Miles Davis' jazz-fusion era song "Black Satin." It felt like more of a warmup, but as the song stretched on, you could feel the warmth turning to heat. Early set numbers "The Big Galoot" and "Soulful Hang" (an earworm) gave Lollar a chance to sing, and showed the band's funkiness. They followed that up with "Miss Maybelle," a bluesy, cut-time groove that drummer Darren Stanley (Delta Moon, Col. Bruce Hampton and The Madrid Express) just absolutely nailed. All pocket. The song drew a standing ovation.
Later-era Hampton drummers (including Widespread's Duane Trucks, brother of Derek) had to play the most minimal kits, and keeping it groove focused while challenging themselves to do amazing things on the basic set-up. Stanley brought a rather large kit to the Harvester, but his four tom-toms and array of cymbals were means to an end.
Slocum (Col. Bruce Hampton and the Code Talkers), who has played the Harvester with James Hunter and Rich Robinson's post-Black Crowes project, The Magpie Salute, was an absolute force on the classic combo of Hammond organ, Clavinet and electric piano. And Kevin Scott (The Pharaoh Gummit, Wayne Krantz, Forq) was sneaky good — just all pocket, groove and tone, until moments here and there where he did stuff that other bassists just generally cannot do.
"Kaleidoscope Carousel," a ballad from Herring's "Subject to Change Without Notice" album, was stunning, and set closing "Traffic Boom" — a Pierro Piccioni song that got new life as part of "The Big Lebowski" — was driving and hypnotic at the same time. The band returned to encore with "Scapegoat Blues," the southern-fried lead track from Herring's debut solo album, "Lifeboat."
There was not a throwaway number in the set, to be clear.
As Widespread appears to have wound down its days of intense touring, Herring seems to have found a project that could really have staying power. The twin-guitar antics of Lollar, along with Lollar's songs and vocals, gave the show a compelling variety. And these guys play so well together, there is no reason they should ever stop doing it. 
Here's looking forward to more. It would be a lot to smile about, for Herring and listeners, too.