Being cooped up at home could be a great opportunity to master a new kitchen skill or whip up a culinary masterpiece, if you have the inclination (because we certainly have the time). But with some food items low in stock at the grocery store and energy levels running low after weeks in isolation, sometimes we just need something fast and filling to power us through the day. We asked reporters, editors and photographers in The Roanoke Times newsroom for their go-to recipes, with an emphasis on flexible ingredients and multiple adaptations to keep things fresh. Here are some of their responses.
I discovered this recipe for Tuna Tetrazzini while helping my mother go through some old papers. It was part of a newspaper ad for the Light 'n Fluffy egg noodle company, and almost has to be from The Roanoke Times, though what year we'll never know. I have made this several times, and while it might not seem much different than Tuna Helper, it's better than that. But it's still easy, and can also be made with chicken if you prefer.
1 10.75-oz. can condensed cream of mushroom soup
1/4 cup grated Parmesan cheese
1 6.5-oz. can tuna, drained
1 4-oz. can sliced mushrooms, drained (could also use 1/2 cup fresh, and just saute them with the onions)
1/3 cup chopped ripe olives (optional)
2 Tbsp. fresh minced parsley
6 oz. Light 'n Fluffy egg noodles
TIP: If you want, you can skip the casserole step, and it still works out fine. Less time, one less dish to wash!
Saute onions in margarine until tender but not brown. Add soup, milk and cheese; heat and stir. Break tuna into chunks, and add with mushrooms, olives, parsley and lemon juice to cream sauce. Cook noodles according to package directions; drain. Toss noodles with sauce; turn into greased 2-quart casserole. Sprinkle with additional Parmesan cheese, and paprika. Bake at 375 degrees for 20 to 25 minutes. Makes 4 to 6 servings.
1 package uncooked Italian sausage links (5)
3 14-oz. cans diced tomatoes
9 cloves garlic, peeled and chopped
1/4 tsp. red pepper flakes, or more if you like it spicy
1 cup red wine, such as a cabernet
Cook the sausages for 15 minutes in an oven at 375 degrees. After they cool, slice them into chunky pieces (5 to 6 per sausage) and put all the pieces into a a 6-quart sauce pan. Add all the other ingredients and simmer on medium/low for 1 hour. Serve over cooked pasta.
— Dan Casey (got it from my wife, who got it from her girlfriend 30 years ago)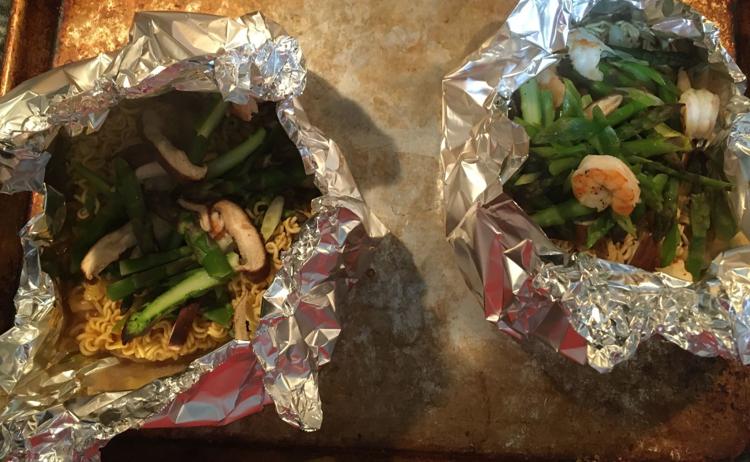 RAMEN SHRIMP PACKET SURPRISE
(Adapted from a Frankie Celenza "Struggle Meals" recipe)
Reminicent of Boy Scout "silver turtle" campfire cooking, everything is done together in an aluminum foil packet, except this one is cooked in the home oven. This is the perfect pandemic dish to serve while social distancing. After it comes out of the oven, no one but the eater need touch their packet, which doubles as a bowl.
Each packet serves one person generously, so this is easy to scale up, although your sheet pan may only be big enough to cook four meals at a time.
Per packet, you will need:
1/2 tsp. fish sauce (don't leave it out!)
1 tsp. toasted sesame oil
1 package Ramen noodles, broken into four pieces
1 green onion, thinly sliced
3 shitake mushroom caps, sliced thinly
4 large raw shrimp, peeled and deveined
Preheat oven to 425 degrees. In a small bowl, whisk together chicken broth, fish sauce, sesame oil, sugar, Sriracha and soy sauce and set aside.
Prep asparagus by breaking off and discarding woody stems. Slice off tips, leaving intact. Slice remaining stems into 1/2-inch "coins." The coins should be small enough to steam in 20 minutes.
On a sheet pan, lay out a sheet of foil, about 20 by 15 inches. Break Ramen noodles and lay evenly in middle of foil. Top with mushrooms, asparagus, green onions and shrimp on top. Gently lift sides of foil to create a bowl-like shape; careful not to puncture the foil or your packet will leak and won't cook properly. Pour liquid all over noodles. Crimp foil edges together to seal. Place up to four packets on a sheet pan, and bake for 20 minutes.
Each person can serve themselves, using the packet as a bowl.
ONION SOUP MIX PAIRED WITH CHICKEN
A pouch of onion soup mix is the magic ingredient in my family's cupboard. Take a dry mix — I like French onion soup, but it can even be a salad dressing mix, such as ranch — add a little olive oil or mayonnaise to make a liquid coating, then pour it over boneless chicken breasts. I don't even measure the oil anymore. Just a tablespoon or two is enough to make a marinade.
Bake the chicken at 400 degrees or cook on a grill until done. I use a meat thermometer to make sure the chicken cooks to 160 degrees, which usually takes 20 minutes or more for boneless breasts. The chicken can be the entree or cut up for salads. It's the best easy meal ever.
Once a week, I clean out the fridge and make a pasta dish with whatever package of fresh pasta might be on hand. You could use dried pasta, but you'd need a separate pot to cook that.
Saute onion and garlic in a skillet. Chop and add the bits of veggies that are left over or are starting to wilt. Use whatever you have: summer squash or winter squash, eggplant, carrots, green beans, asparagus, peppers. Just about anything will do, except this is probably not the time for broccoli or cauliflower. Cooking time depends on whether the veggies are fresh or have already been cooked. Add accordingly.
Once all veggies are sauteed, add chopped tomatoes. Fresh, if you have them; canned, if you don't. Once everything is hot, add a package of fresh pasta to the skillet. I like the different varieties of raviolis, but tortellini works fine, as does fettuccine. This takes just a few minutes to heat through. This is also the time to toss in whatever greens you have left.
If you're a meat eater, you can add whatever leftovers you have. Chicken, pork or beef all work fine, as does bacon. Toss on top some basil or parsley, if you have it. If you don't, no worries. And if you're a cheesy person, grate some Parmesan, romano or pecorino.
This dish turns out differently every time, depending on the combination of veggies, herbs or meat that are handy, but is always yummy and filling.
Note: If you're not in the mood for tomatoes, it's OK to try other things. Try tossing with pesto, or sprinkling a little olive oil and black pepper.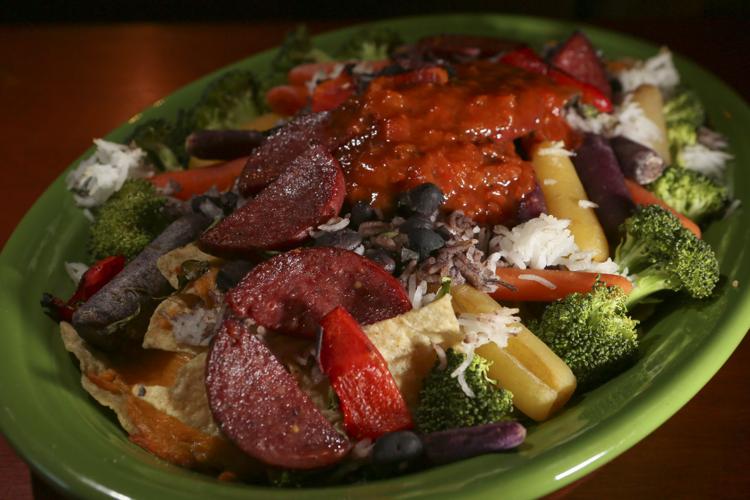 In our home, we call this delicious and colorful meal "Nibbler Nachos." When the fridge is full of odds and ends, and time is short, this dish is fast and convenient.
Begin with an oven-proof platter and lay out a thin layer of blue or yellow corn tortilla chips. Cover the layer with shredded cheese of your choice (we prefer pepper jack). Spread another thin layer of chips and MORE cheese!
Adorn the sides of the dish with fresh or leftover items from your refrigerator, such as broccoli, carrots, mushrooms or peppers. Add beans and rice. Grilled chicken or pepperonis are solid protein selections. (Go crazy! If you got it, throw it on!)
Place the dish in the oven at 350 degrees for about 15 minutes, or until the cheese is softly melted. Smother the dish with salsa or top with tomatoes, and adorn with olives.
Man, oh, man, I'm getting hungry just thinking about it!
When we are out of fresh veggies or low on food in general, my husband and I have surprised ourselves with a pretty decent meal using quinoa and cheese and then just adding a hodgepodge of whatever we have left in the pantry. It's easy to keep the grain around in bulk. Our family almost always has cheese around, but even something like salsa can be used as a flavor booster.
Pantry items we might add are black beans, chickpeas, canned veggies such as peas, corn or green beans, pickled artichokes or jarred roasted red pepper. It's a dish you can have fun adding spices to, as well. Garlic and crushed hot pepper are some of our favorites. You can also use whatever fresh vegetables you have in the house. One of my favorite combinations is spinach, onion and red pepper.
To prepare the dish, cook the quinoa on the stove with water, following the directions on the back of the bag. Then mix in cheese and/or salsa and pantry fixings. Continue to heat until cheese is melted and additional food items are warmed up.
It's not pretty, but it's quick and simple and can even be healthy.
When I want a quick and hearty meal, I turn to this recipe for Thai Chicken, which was included in an old slow-cooker cookbook I purchased. It's super easy to make (just throw everything into the slow cooker, and then set your timer). It's also forgiving. I've made it without the lime juice, with ginger squeeze paste, or with dried cilantro leaves instead of fresh, on HIGH for 3-4 hours, or on LOW for 7-8 hours, and it still comes out yummy. You can adjust the amounts of salsa and peanut butter for your preferred level of heat; we usually go a little heavier on the peanut butter and use mild salsa for a sweeter flavor. The recipe calls for 2 1/2 pounds of chicken pieces, but I'll throw in whatever we have on hand, from frozen chicken breasts to ground chicken.
2 1/2 lbs. chicken pieces
1 tsp. minced fresh ginger
2 Tbsp. chopped fresh cilantro
Place chicken in the Crock-Pot slow cooker. Mix together salsa, peanut butter, lime juice, soy sauce and ginger; pour over chicken.
Cover; cook on LOW for 8 to 9 hours or on HIGH for 3 to 4 hours or until done.
To serve, pour sauce over chicken; sprinkle with peanuts and cilantro.
— Recipe from "Crock-Pot Slow Cooker Recipes for All Occasions"
My pantry go-to for a quick meal is black beans (I always have at least two cans in the cupboard). I heat them in a glass bowl and then toss them on top of Vigo saffron yellow rice (I've even found this rice at the Dollar Tree). Then, I use any hot sauce I have in the cupboard (which is generally a few choices). My recent favorite is Zen Pepper Co. Garlic Sriracha (produced by a Virginia company), and there's always a bottle of Texas Pete Hot Sauce in the fridge door. It helps to have a local craft beer chilled to accompany it!
HOMEMADE GILLIE'S SPECIAL
This is my version of a popular breakfast dish served for at least 30 years (I remember it back to 1989) at Gillie's restaurant in Blacksburg. It's called the "Gillie's Special." Rather than roast the potatoes they use, I've adapted a microwave-to-pan technique to make crispy potatoes in about 8 minutes.
The basic recipe: Take one medium-to-large Yukon gold potato and one or two eggs per person (depending on appetites), grate a good amount of cheddar cheese to share and open a jar of your favorite salsa.
Wash the potatoes and cut into bite-sized pieces (don't bother to peel), toss with olive oil, salt and pepper in a big microwave-safe mixing bowl, cover with plastic wrap and cook on high power for 6 minutes.
Meanwhile, whisk up your eggs with salt and pepper and heat a frying pan with oil or butter on medium-high, then scramble your eggs as normal and remove them to a platter so they don't overcook.
Check the potatoes for doneness. They may need another couple of minutes in the microwave depending on their size. If you want them brown and crispy, wipe out your egg pan, heat on medium high, add more oil or butter and saute the cooked potatoes until they brown to your liking. But if you're in a hurry and don't care, skip it. The dish still tastes great.
Divide the potatoes, eggs, cheese and salsa into large bowls, with potatoes on the bottom, then eggs, then cheese, then salsa, and eat.
The good part of this is you can have it simple, or dress it up.
Suggested additions: Drain and heat a can of black or brown beans in a pan with dried oregano, cumin, coriander and cayenne pepper, and add those to the dish. Bacon or sausage is delicious — I like red beans and andouille, but smoked, keilbasa or breakfast sausage are good, too. You can can add raw or cooked veggies like cabbage or lettuce, olives, zucchini or squash. And you can mix up the cheeses, using feta or cotija or a mix.
Avocado and fresh cilantro on top never go amiss, either.
VERSATILE ENGLISH MUFFINS
If you have tuna, cream-of-anything soup, shredded cheese and English muffins, you have breakfast, lunch or dinner. My wife and I survived on tuna melts in our younger years when our pantry and bank account were mostly empty. Mix a can of tuna with a can of cream of mushroom (or chicken or whatever) soup in a bowl. Top an English muffin or toast with the mixture, sprinkle with cheese and broil for a few minutes until the cheese has melted. English muffins also make neat little pizza crusts. Spread a little tomato sauce on a muffin, top with mozzarella and broil or bake in a toaster oven.