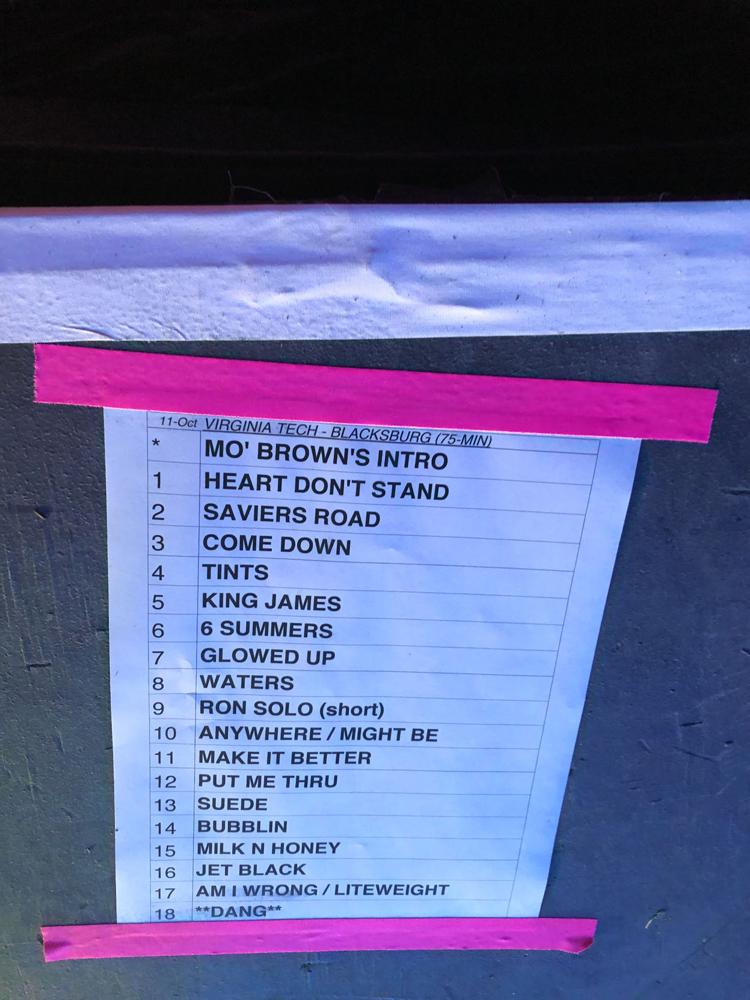 At Virginia Tech, the number 25 is iconic.
College Football Hall of Fame coach Frank Beamer wore it during his playing career for the Hokies. In recent years, VT football players who contribute on special teams — a Beamer specialty — get to wear his number for a game. 
Onstage at Virginia Tech's Drillfield on Friday, performer Anderson .Paak cut a fine figure in his own, university-issued No. 25 jersey, with his name (pronounced like "pack") on his back.
If .Paak is not a full-fledged star yet, the Dr. Dre protege is a star in the making. Each successive album goes higher in the charts, with "Ventura" getting to No. 4 on the Billboard all-genre chart. His song "Bubblin'" won him a Grammy in February, in a three-way tie with a Kendrick Lamar and Jay Rock collaboration.
To use a piece of sports jargon, the young man is a five-tool player. He sang, from lyrics he wrote. He rapped. He danced. And he drummed. He did all of them with passion and deep talent. .Paak placed hip-hop vibes with jazz and funk accents square in a brew of vintaqe soul and R&B, to great effect, in front of a fired-up crowd that the show's production manager, Virginia Tech graduate C.J. Mellides, estimated at about 5,000.
The crowd got on the Drillfield for free, as Tech was launching "Boundless Impact," a capital project aiming to raise $1.5 billion. 
.Paak was the team captain, but he had seven strong players, including two backing vocalists, for teammates. The show started with trumpeter Maurice "Mobetta" Brown blowing his horn as he walked from the soundboard to the stage, partitioned on both sides from a crowd cheering and taking snaps. As he came onstage, so did .Paak's band, The Free Nationals, with its bandleader behind the drum kit at stage center, to stick and sing the soulfully smooth set opener, "Heart Don't Stand A Chance."
.Paak stepped from the kit for the rap of "Saviers Road" (he had a strong second drummer on the team), removing his jacket along the way to show that maroon jersey, his head capped with a wool VT beanie.
Turns out, the politics of football was among his many subjects. On "King James," he rapped: "We couldn't stand to see our children shot dead in the streets / But when I finally took a knee them crackers took me out the league." On "6 Summers," he looked at the situation from the highest levers of power to the streets, and found it depressing. "And so I smoke, drink, just to cope with the pain / Get the Coltrane and the Cobain," he rapped over a loping, spooky jam.
Elsewhere, he was a soul-singing lover looking to rekindle romance on "Make It Better." On "Put Me Thru," he channeled Stevie Wonder and Earth Wind & Fire moods for a number with a killer drum solo. .Paak, who started drumming as a lad in a Southern California church, was not shy about showing chops and drum musicality to go along with serious groove power. He wasn't shy about showing off his band's talents, either, giving keyboardist Ron Avant some solo spotlight.
At the end, he paid tribute to his friend, the late rapper Mac Miller, with Miller's "Dang!," which .Paak had guested on. The video screen behind the stage showed a photo of the two, clearly enjoying a great moment together. 
Miller was a burgeoning star who died nearing his prime. His man .Paak showed that he has the energy and talent to fulfill his own promise, scoring touchdowns time after time with about 75 minutes of engaging music.
It has been almost exactly 10 years since opening act Fitz and The Tantrums played Virginia Tech's campus. Then, the band was opening for Maroon 5 at Burruss Auditorium. Back in those days, the group was known for the song "Moneygrabber." Lead singer Michael "Fitz" Fitzpatrick, harmony singer Noelle Scaggs and their crew still had that song in the setlist, along with 2016 hit "Handclap" and songs off brand new album "All The Feels," in a 40-minute opening set.
The band sparked the party well, keeping the crowd involved with synth-burbling and baritone sax-honking pop/rock that featured the occasional EDM flash.
DJ Earworm started the night and played the break between band sets with mashups that included Lil Nas X, Beyonce, Lady Gaga and the unexpected combo of Black Eyed Peas "I Gotta Feeling" and Journey's "Don't Stop Believing."