BLACKSBURG — Virginia Tech is conducting more research than ever, but the amount of technology spinning out of its labs and into the real world has underachieved.
It's a conundrum with major implications for the local economy, as Virginia Tech is the leading driver of the burgeoning technology industry taking shape around Blacksburg and Roanoke. If the university's inventions aren't escaping the lab, they're not turning into local startups, attracting venture capital or paying salaries to keep young talent here.
TEConomy Partners, which recently conducted a statewide study of the local technology ecosystem, identified Tech's recent lackluster performance as a major stumbling block for this region's aspirations to become a vibrant technology hub.
The number of patent applications filed by Virginia Tech fell between 2013 and 2016 from 142 to 97, according to data from Association of University Technology Managers, or AUTM. The money earned from licensing deals was down from $2.37 million to $1.84 million.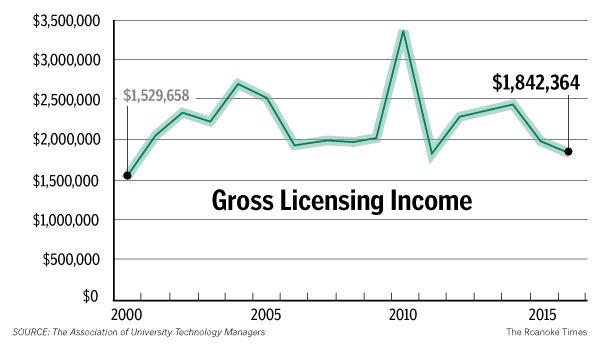 Research expenditures, meanwhile, have continued to climb steadily from $496 million to $522 million over the same time period, according to AUTM.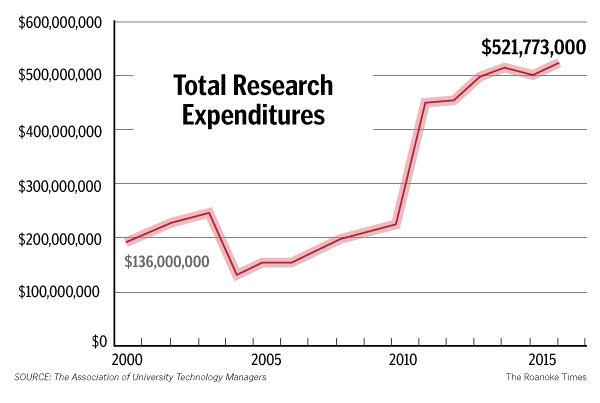 The question facing university administrators: With so much more spent on research, why isn't commercialization keeping apace?
It's an issue Tech has been working to address for years. The university has new leaders with a radically different approach to technology commercialization.
Changes are underway, but it will take time to see results.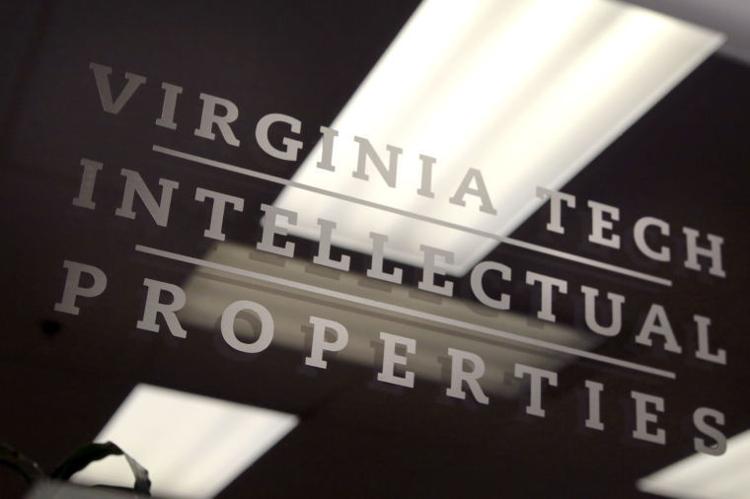 Virginia Tech Foundation CEO John Dooley said the university's intellectual property was once seen as a "cash cow" to be protected and monetized, not shared to help boost the local economy.
"That seemed to be the model that the university needed or desired at that point. But, indeed, that model is no longer relevant to the needs we have currently," he said. "With the expectations of universities as being major drivers for the economic vitality of the region, the model needed to change."
Tech officials say the university will put more funding behind the commercialization efforts. It's considering new types of licensing deals that are more startup-friendly. It's partnering more closely with corporations on sponsored research. It's looking for help from the state to pay for more patent applications.
The goal: File for more patents, sign more licensing deals, help nurture more startups and attract mature companies to the region.
"They understand, they're very honest and they have a great plan in place," TEConomy Partners Managing Director Mitch Horowitz said.
Virginia Tech Intellectual Properties, the affiliated corporation better known as VTIP that manages the university's commercialization efforts, still exists. But it has been stripped down to little more than a holding company for intellectual property.
VTIP was launched as part of the old model for commercialization in 1985.
Professors filed disclosures when they thought they had a discovery with commercial potential. VTIP evaluated all the possibilities and filed patents on the ones it thought could flourish. VTIP got 40 percent of the eventual licensing revenues, the inventor got 50 percent and the inventor's academic department got 10 percent.
VTIP expanded in 2007 when the university wanted to stir up more licensing activity. The expectation was that the organization would get university funding for a few years, but would eventually be able to pay for itself.
That never happened.
---
MORE FROM THE SERIES: Statewide report finds region's technology industry falls short of potential
---
Michael Miller, who recently retired from VTIP after a decade, said he had to pick discoveries to pursue, and the others mostly died on the vine. He always felt the commercialization office could have benefited the university beyond just licensing revenue by forming deeper relationships with corporations and bringing in more research funding.
"The old model was under-resourced for the good we could have done. But it was just what it was. We did the best we could with what we had to work with," Miller said.
The number of patent applications filed by VTIP climbed from 20 in 1994 to 90 in 2001, according AUTM data. The steady growth stopped there, and the number of patent applications has bobbed up and down ever since.
Revenue from licensing deals peaked at $3.3 million in 2010 and fell to $1.8 million in 2016.
"I saw it day-in and day-out, that the process of commercialization at Virginia Tech was inherently flawed and broken," Doug Juanarena, a serial entrepreneur who licensed technology from the university beginning in the early 2000s, said. "It [the old model] was just totally upside down and broken. What that model did, was it maximized the smallest number of shots on goal or at-bats."
The model is already changing.
Tech's Vice President for Research and Innovation Theresa Mayer said revenue is still one goal of the university's technology transfer office, but now it's also designed to reap other, softer benefits. Two new initiatives, called LINK and LAUNCH, began last year to help things move along.
The technology transfer office will be used to recruit researchers by letting them know their inventions will have the chance to emerge from the lab, create tighter bonds with corporations, boost the local economy off campus with spinouts, impact the world with new discoveries and fulfill Tech's mission as a land grant university.
"That's quite an extensive operation. And you don't want to be in a position where you're making choices that are purely constrained by the financial resources," Mayer said. "So Virginia Tech recognized that and there's a commitment from Virginia Tech to increase the support and resources."
Associate Vice President for Innovation and Partnerships Brandy Salmon said Tech is also restructuring the kind of licensing deals it offers startups.
Instead of requiring cash payments from young bootstrapping companies, Tech is open to equity deals. That means the university gets no upfront payment, but instead owns a percentage of the business. The startup can see what it can do with the technology. If it works, everybody makes money.
Miller said the new marching orders sound a lot like his goals all along. The office will still need funding to make it work, but he's optimistic.
"Hopefully they will get those [resources]," Miller said. "I think they're set up to leverage them better than we were before. So they've moved in the right direction in my opinion."
Stephen Susalka, AUTM's CEO, said Virginia Tech is not alone in a shift to the more holistic view of the value of intellectual property.
"What used to happen, is people just didn't know what the tech transfer office did," Susalka said, referring to the 1980s and 1990s.
As things progressed, some universities started seeing substantial profits from commercializing intellectual property. It became a pocket of new money to pull from.
"That seemed to morph — kind of inappropriately — in that direction. I think what we're seeing now is that course correction," Susalka said. "That course correction is showing that technology transfer provides a whole host of positive benefits for the university — and revenue is just one piece of that."