FOR YEARS, SHIRLEY BALLENTINE had confidently nursed hospital patients before wading into hospice care.
She was still testing the depths of her commitment, wondering if she was in over her head, when the phone rang. One of her first patients, a man with colorectal cancer, was nearing death when a tumor ruptured. He was bleeding and in horrible pain. Ballentine ordered more powerful medication but it had not arrived before she got to his home. He thought if he could just reach his recliner, he would find some relief.
Ballentine and the man's wife struggled to help him cross the room. They didn't quite make it and collapsed on the living room floor. Ballentine, a former labor room nurse, took a deep breath and drew upon years of coaching moms to bring life into the world.
He turned to me and said, 'Is my vision supposed to change? It's blurry and fuzzy, but the colors are spectacular.'
And I said, 'Yeah, that sounds right. Breathe some more.'
He turned to his wife and said, 'This is happening, and I want to thank you for being there with me.'
He started looking up to his left. I said, 'Are you seeing something?'
He said, 'I don't know, but I think I'm supposed to go there.'
And I said, 'Can you describe it for me?'
And he said, 'It's too beautiful for words.'
I said, 'That sounds like a good place to head toward. We love you. You did a good job. It's OK to go.'
He turned to his wife and said, 'I've got to go now. I love you.'
And she said, 'I love you, too.'
He took his last breath. She turned to me, and said, 'That's it? That was beyond anything I could ever imagine.'
That was a turning point for me. Everything I learned in nursing brought me to utilize those techniques. Even if I don't know what to do, I know what to do.
The person, not the disease
That experience was many years ago in North Carolina. Ballentine has since moved to Roanoke and heads up a team at Carilion Clinic Hospice. She said she feels blessed to coach people with terminal illnesses as they prepare to leave the world.
First, though, they have living to do.
When people enter hospice, they often think they are giving up and hastening death.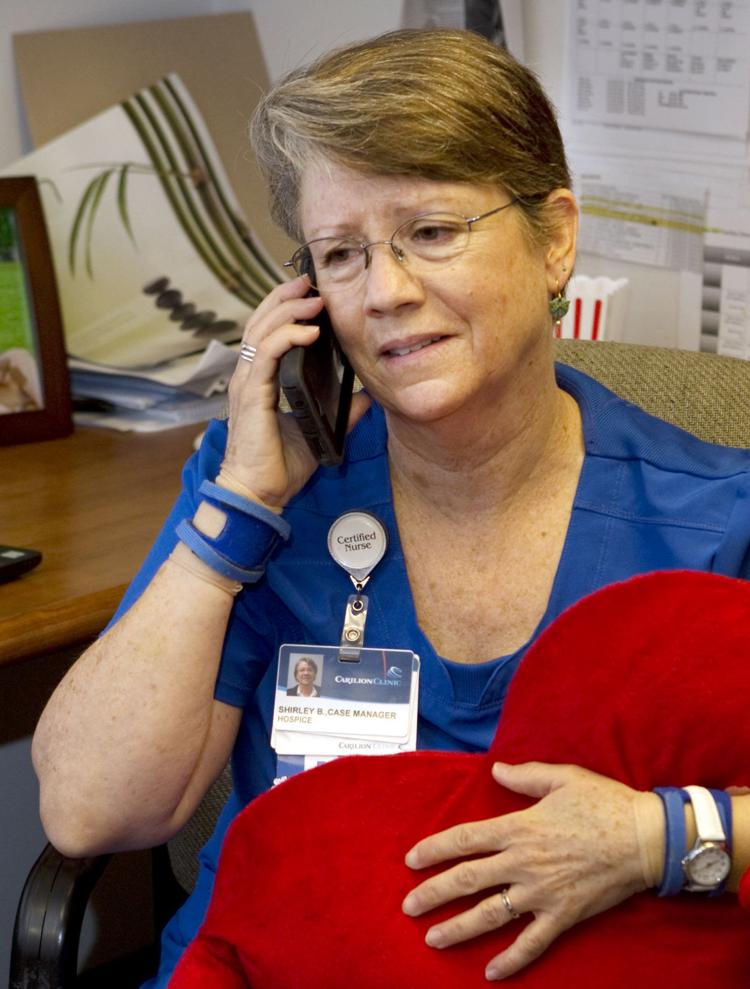 "I've had some people say, 'Oh, you're here to kill me,' and that breaks my heart," she said. Ballentine explains that she's there to make their lives as fulfilling and complete as possible.
"They'll say, 'I'm not ready.' And I say, 'Good to hear. I'm here to help you live with what's dancing in your body right now,'" she said. "'We don't know if it's going to be a long dance or a short dance. I'm voting for the long dance, and we have a lot of dance partners here for you. So let's make this good.'"
With hospice, patients cease medical interventions such as radiation and chemotherapy and begin comfort care. Patients still have nurses and doctors, and they get medical treatments for problems unrelated to the terminal illness, such as antivirals for the flu.
In the Roanoke and New River valleys, there are a number of businesses that offer hospice care in homes and institutions, and two nonprofits, Carilion and Good Samaritan.
Most insurance plans provide a hospice benefit and usually follow Medicare's lead, as it pays for much of the hospice care in the U.S. To qualify for Medicare's benefit, a patient must have a terminal illness that will lead to death within six months if the disease progresses on its current course. Very few patients are on hospice that long. Most use it in their last days or weeks, and then their concerns center on pain control.
Hospice benefits cover a multitude of therapies such as massage, music and counseling. Social workers are available to help navigate legal arrangements. Caregivers help with bathing. Volunteers offer respite so families can take a break, and they read to patients and help them write or record their stories.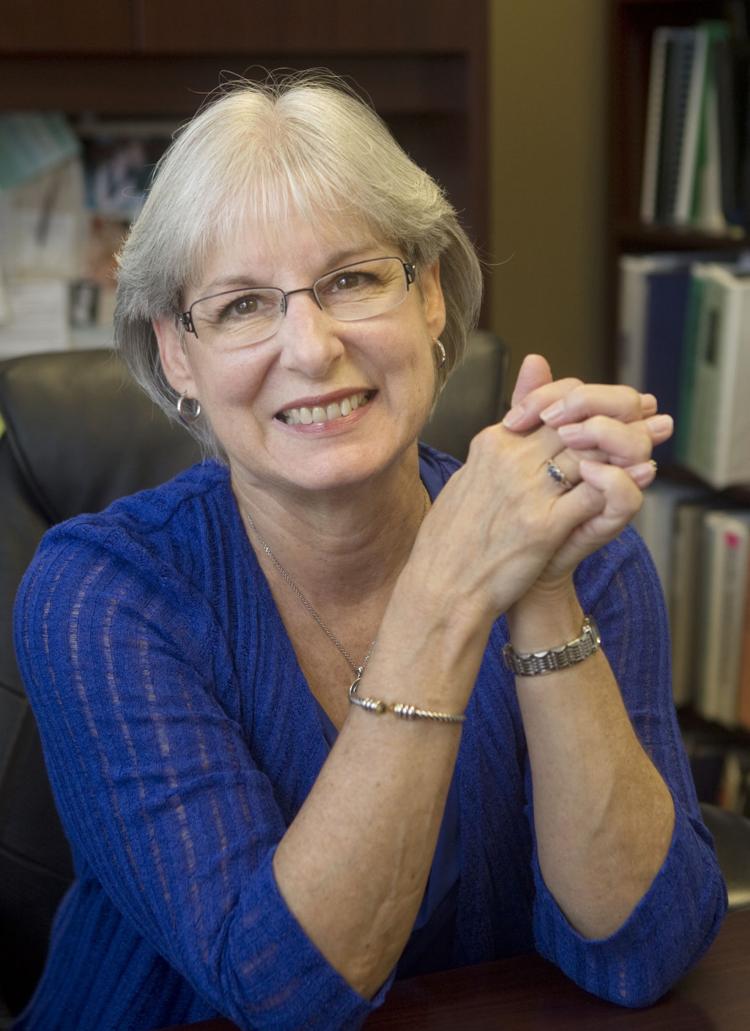 "The biggest complaint we have is from families. They say, 'We just wish we had you sooner,'" said Sue Ranson, president and CEO of Roanoke-based Good Samaritan Hospice.
"To me, the question is why doesn't everyone end up with hospice? It's a six-month benefit [under Medicare]," Ranson said. "Why is our median length of stay 20 days? Why do a fourth of our patients live less than seven days? That's tragic to me. There is so much we can do to help people focus at the end on what's important to them."
Long ago, one of Ranson's patients told her that when hospice came into his life, his disease got smaller and life got bigger.
"When somebody has a terminal illness, they get on a moving sidewalk and get pulled into a system of treatments and labs and tests," she said. "When we get involved, all that stops, and we are able to say, 'Let's not focus on the disease. Let's focus on what matters to you.'"
A hospice 'graduate'
For some patients, the care that hospice delivers changes the disease's trajectory and their prognosis improves.
Ranson said she tells people, "You have a 15 percent chance of getting better and graduating, and you can fire us at any time."
"I just want people when they come under our care to know that they still have choices," she said.
Ballentine has twice graduated Lee Graves from hospice. He's 102 — or as he puts it, 99 plus 3.
Graves is familiar to students of African-Americans' contributions to Roanoke's railroad history. He grew up in West Virginia, spent one day in a coal mine and decided the job was not for him.
He moved to Roanoke and landed a job washing dishes on train food cars. Eventually, he rose to the rank of chief cook and traveled with four railroad presidents, mostly serving them their favorite meal: steak. He has dementia but recalls some of the places he went and the celebrities he met.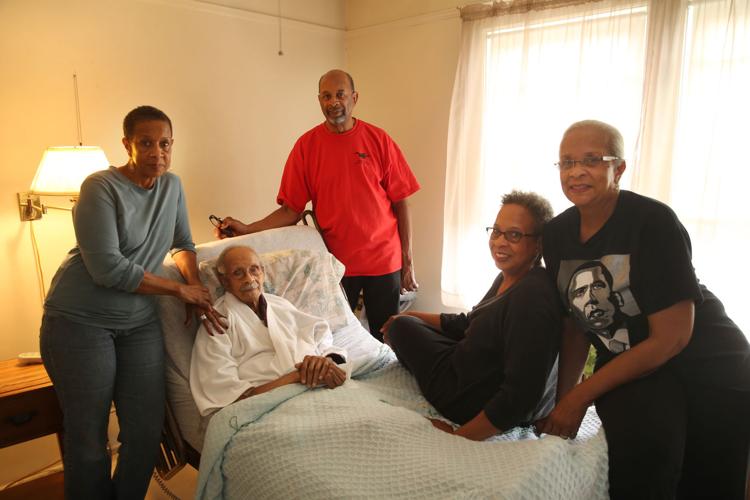 In 1961, he bought a six-bedroom home on Melrose Avenue where he and his wife raised their son and three daughters and had plenty of room for visiting relatives. He tended luscious flower gardens, loved music and left the cooking to his wife, much to chagrin of his son, Lee Graves Jr., who, as an adult, discovered his father could make biscuits so delicious tears would spring to your eyes.
Today, his three children who live in Roanoke take turns staying in his home and the fourth visits often from Charlotte, North Carolina. Graves spends much of his time in a second-floor bedroom, though he often makes his way down the steps. Hospice suggested changes to his medication and the stairway to lessen his risk of falling.
In December, Graves stopped eating, his weight plummeted and he became malnourished. Ballentine was called in and brought with her an array of services. Graves responded, began eating, gained weight and no longer qualified for hospice.
By spring, he again had stopped eating. Ballentine said the disease process for dementia can cause difficulty in swallowing and give rise to suspicions that food is tainted. The hospice team again swung into action.
For Graves' 102nd birthday on March 13, hospice brought in a choir.
"He was singing right along," said his daughter Gayle Graves. The family took a video. "Afterward he went to the back door and looked out. Then he got on his bike and rode for a half hour after they left."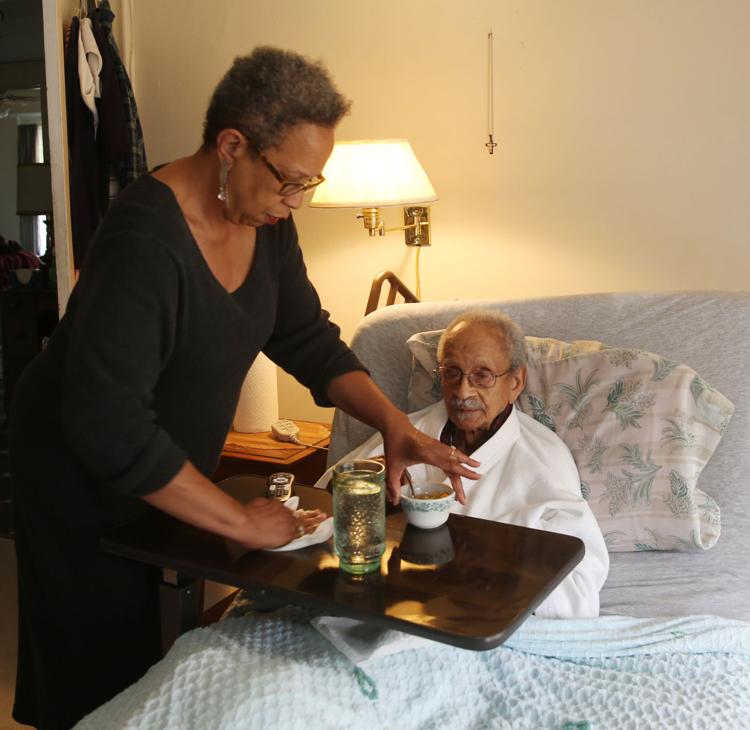 Ballentine returned for a weekly visit. She pumped up an old-school blood pressure cuff and listened.
"I love your blood pressure: 124 over 64. You have the blood pressure of a teenager. Your body still thinks it's a teenager, or at least parts of it does," she told him.
Graves broke into a smile. His room was decorated with birthday cards and balloons and family photos. Ballentine listened to his tummy and quizzed him on what he ate for breakfast and lunch and then reminded him to bend and flex his knees and feet so his legs don't get weak.
While he went through a series of exercises, they chatted about the arrival of warm weather and his penchant for gardening. The conversation meandered to his days on the railroad.
Later, Ballentine talked with Graves' children.
"He's starting to make us look silly again," she said. "We may have to graduate him again. He's doing so well."
"I always thought hospice came in when a person was on his way out. But seeing what you do that's not necessarily true," Graves Jr. said. "Every time someone says hospice, you'd think death was around the corner."
A few weeks later, Graves no longer qualified for hospice. He still has home health services and physical therapy, but the music therapy he so loves is gone. The family expects they'll soon welcome back Ballentine.
Teaching the doctors
"We live in an area where culturally death is uncomfortable for people to discuss," said Lisa Sprinkle, director of Carilion Clinic Hospice. "There is not any background of what the end of life should look like, the type of care and where they would like to be."
Carilion is working with primary care physicians to help them initiate and continue conversations with patients and families.
It's the Chuck E. Cheese approach, as a physician explained at a seminar Ranson once attended. The doctor noticed that when she abruptly told her kids it was time to leave the pizza restaurant, they pleaded for five more minutes. So she started warning them: They had 20 minutes, then 10 and 5. When it was time to depart, they were prepared. She realized she needed to do the same with patients instead of waiting to talk about hospice late in the disease process.
"I get sad when I hear a physician say, 'There is nothing left to do.' That's the stigma that hospice is trying to eliminate," Sprinkle said. "There is never a time when there is nothing left to do. We can provide compassionate care and love an individual. They can be offered emotional, spiritual and psychological healing."
Most physicians were trained to intervene in the disease process and are not comfortable talking with patients about what might happen. Sprinkle said Carilion is training family doctors how to have those difficult conversations.
"He sits me down and says, 'Lisa, we have found that you have lung cancer or pulmonary obstructive disease. Let's talk about what they means now, and what it means when things progress.' That's a conversation that needs to occur over time and with family," she said. "Our focus is to initiate the conversation earlier, so that also decision makers know what your goals, wishes and values are over time."
Sprinkle knows how difficult it can be to talk about end-of-life care. Her father is 80 and her mother 75.
"It's still not pleasant for me to talk with them. Because I'm the daughter, there is a reluctance to engage in a discussion," she said.
Ranson has lost both her parents. They were living in a retirement community when her father entered hospice care.
"He had heart disease and was declining. One day he said, 'Susie, I don't know why this is happening to me. I've done everything the doctors told me to do.' He was 86," she said. "I said, 'Dad, it's like your car. You can get the oil changed and take good care of it, but eventually it's going to wear out. Your body is wearing out.'"
One night he had a headache. Ranson suspects he had an aneurysm as he became unresponsive. As a nurse, she knew nothing would halt the disease; as a daughter, she began to question if they should do more.
Then a friend of her parents called, upset and wanting to know why she hadn't taken her father to the hospital.
"I said, 'Well, he doesn't want to be there,'" Ranson said. "As soon as I said that, in my mind, that resolved everything when I remembered he was the one who made this decision."
The woman then said she was concerned because she heard he wasn't eating. Ranson explained, as she has with many families, that is a natural part of the dying process.
A sacred death
Families often worry that they aren't capable of caring for a dying relative. Ranson said too many in the medical community also don't understand what hospice does to support families.
"We sometimes hear physicians in the hospital say to patients and family, 'Your mom can't go home.' Well, why not? There is almost nothing we can't do in the home," she said.
Hospice does not provide around-the-clock care, but services are available 24/7. Families are taught the skills they need. The hospice team meets at least every two weeks to review patients' needs.
"We've seen families that when you walk in the room you think they may not pull this off. And they do," Ranson said. "There are families who can't for very valid reasons."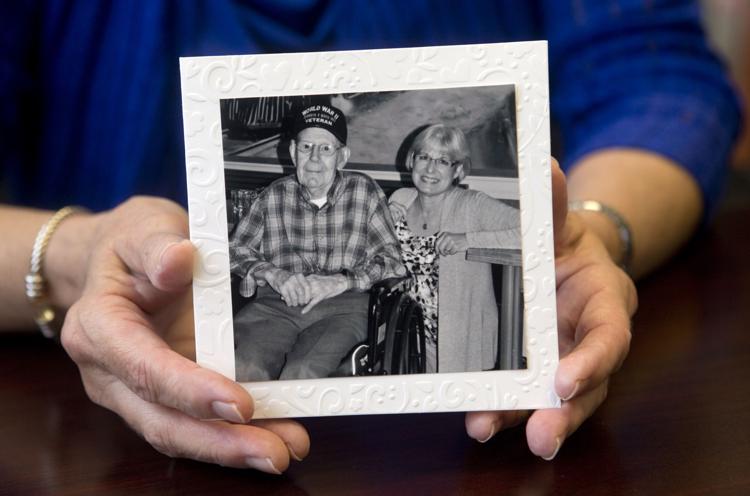 Not all patients can go home, and not all patients have family or friends who can care for them. Hospice services can be delivered in assisted living facilities, rest homes and nursing homes. In some states, hospice houses run by hospice agencies provide a serene setting and allow families to be families and not become exhausted by being caregivers. But few hospice houses exist in Virginia, and there are none west of Bedford.
A group in the New River Valley is working to raise funds to build a hospice house, and hospice caregivers in the Roanoke Valley said one is needed here. The financial challenge of building, staffing and maintaining one has so far proved too daunting.
For now, hospice social workers can help to cobble together friends, neighbors, church members and other acquaintances to help a patient stay in her home. The effort isn't always successful.
Meanwhile, Ballentine said the goal of hospice is "to reduce pain and anxiety and to be surrounded by those who love you best in the setting of your own home or one that is comforting to you."
At the end, most people just want to go to sleep. Often they are ready but their families are not.
She recalls one of her favorite experiences involving a big family that started with pleas to Grandpa not to leave but ended with them cheering him on.
He had a king-size bed, and they were all piled up with him, and me, too. They were saying Italian stories and telling him of all the good things he'd done with his life, and when he took his last breath, everyone sighed with him.
They cried and told him what a good job he did. Then everyone prepared his body, washed him and got him dressed.
That, to me, is a good way to go. You come into the world, everyone is cheering you on, and with a whole group of people loving you. When you go out, they look at all the great things you did. It's joyful. It's a very sacred thing.
Some deaths are a little more quiet than that, but no less sacred.