Death doesn't frighten Christine Slade nearly as much as dying.
Breast cancer's insidious assault riddles her body, refusing to stay hidden. An ulcerating tumor pierces her skin, and Slade knows that too soon she will die.
She is, as one might suspect, frightened of the unknown. Yet it isn't the hereafter she fears most. She's terrified that, at the very end, she has no place to die.
Slade neared death once before — although, as it turned out, not from breast cancer but from the poisons intended to kill it. She prepared well. She entered hospice, gave away all that she owned, said goodbye to all she knew, and when she became too ill to eat for nearly a month, she entered a nursing home for what she thought would be her last days. There are fates worse than death, and Slade recoils at the horror she endured there.
Somehow, her body healed.
Time and disease progress and fatigue washes over Slade. By mid-summer, freeing her bed from its sofa mooring has become too much of an effort. Most nights she folds a thin blanket and crawls into it like a sleeping bag to rest beneath the window of her studio apartment on Campbell Avenue.
By summer's end, even this has become impossible. She no longer gets by on occasional meals and herbal medicines dropped off by friends.
She needs a place to die.
"Where am I going to go? I will never go in a nursing home again. Never. I will jump off the roof of a taller building than this before I will go into a nursing home," she said from her second-floor flat. "What I want is the same courtesy that my neighbors Angels of Assisi are giving to cats and dogs."
She wants to live her last months, weeks or days in a hospice house, in a homelike setting with skilled caregivers to offer comfort.
That's too much to ask in Roanoke.
Culture of acceptance
In Virginia, hospice services are delivered mostly in people's homes with their family enlisted and trained to become 24-hour caregivers.
But while hospice agencies bring in nurses, therapists, social workers and other health care workers and volunteers, not all families are able or willing to step into what can be exhaustive roles.
Some people opt, as Slade did, to die in nursing homes, assisted living facilities or rest homes, where they can still receive hospice services.
Two of Virginia's neighbors — West Virginia and North Carolina — have hospice houses in many communities. These are homes with a residential rather than institutional feel and usually blend into neighborhoods. Hospice nurses and other health workers see to the residents' needs while family and friends remain just that, and not caregivers. Gardens, common rooms and kitchens for friends, families and residents to visit and share meals are among the amenities.
There are fewer than eight places like that in Virginia. The closest is a recently opened four-bedroom home in Bedford. In North Carolina, there are more than 50 hospice houses, said Anne Campbell, who for the better part of a decade has been part of a volunteer group working to bring one the New River Valley.
Campbell, a retired nurse, is president of the Sojourn House board. She thinks culture plays a huge role in the lack of hospice houses here.
"There is a higher utilization of hospice services in North Carolina," she said. "Because of the presence of hospice houses, they feed into a culture of more acceptance of end-of-life care."
Nationwide, about 45 percent of people who are dying enter hospice care, while in the New River Valley, only 30 percent do, said Tina Smusz, a retired doctor and vice president of the Sojourn board. Without hospice houses, families can be reluctant to take on that role in their own homes.
Sojourn has looked at why Virginia lags its neighbors.
"Some people have tried to say, 'Oh, the regulations are much more stringent [here].' But when we looked at the regulations, they aren't that different," Smusz said.
Medicare, the predominant payer of hospice services, drives staffing requirements. For instance, a registered nurse must be present if a patient requires a level of care that can only be delivered in a hospital-like setting.
Virginia requires hospice agencies to run hospice houses.
Both of the area's not-for-profit hospice agencies are represented on Sojourn's board. Sue Ranson, president and CEO of Good Samaritan Hospice, and Lisa Sprinkle, director of Carilion Clinic Hospice, said there is a need for hospice houses in the New River and Roanoke valleys but given the current insurance reimbursement rates, their agencies could not sustain one.
Even nonprofits can't operate in the red and risk the ability to continue to provide services to people in their own homes.
"It takes a commitment of caregivers, volunteers and fundraisers to operate," Sprinkle said. "You cannot go into a community and plant it. It needs a community of engaged individuals."
Insurers pay a flat fee for hospice care that covers the doctors, nurses, therapists, dieticians and hospital beds and medication. Medicare allows $150 a day for hospice benefits wherever they are delivered.
But that doesn't cover all of the expenses in a hospice house.
"Hospice care is typically given in someone's home — however that is defined — which may be their home they lived in all their life, their nursing home, or rest home bed," Campbell said. "Your Medicare isn't paying for your Kroger bill or your mortgage. The same is true if you need to go into a hospice house. Medicare will pay a per diem fee, but they aren't going to pay your room and board."
While residents could be charged out-of-pocket fees, often those who need a hospice house are like Slade and cannot afford to pay.
Medicare will pay a higher reimbursement rate that covers room charges but only if a patient needs a level of services that would be available only as an inpatient. If all patients qualified for the higher rate, the dollars might make more sense for operating a hospice house.
Ranson said she keeps running the numbers with various bed counts and insurance mixes but comes up with the same result: Hospice houses are money losers.
"Inevitably they end up losing six figures," Ranson said. "That being said, that's not to say we shouldn't do it."
Ironically, the alternative can prove more costly for insurers when overwhelmed families call for an ambulance to take their dying relatives to the hospital.
This is what Smusz saw too often as an emergency room physician. It prompted her to retrain in 2004 to specialize in palliative care, which focuses on providing comfort during the end of life rather than continue intensive medical interventions.
She wants better options for people with terminal illnesses.
"We would have a patient who could no longer be cared for at home for a number of reasons. The wife has used up family medical leave, the spouse is too weak to care for them, it's a young family and they don't want for the children to always know that's the room where Mom died," Smusz said. "There is no place for them to go. By default, they end up in the hospital, but that's not the best place to go because hospitals are about fixing. They're not about supporting the most comfortable dying process."
Smusz said people need to do the hard work of dying and to say their goodbyes, I love yous and I'm sorries in a peaceful setting of a hospice house.
"There is a lot of joy and happiness in those settings that people don't understand until they are there. It's a universal experience, and we can get this one right," Smusz said. "We have to build a safe haven."
Campbell, a retired nurse, said she sees a parallel with beginning and end of life care.
"I worked in obstetrics at a time when consumers were driving the Lamaze and prepared childbirth experience," she said. "I see that transition starting to happen with some consumer-driven pressure on the medical establishment about end-of-life care."
A hospice house for New River Valley
The Sojourn group formed eight years ago to bring a hospice house to the New River Valley. They've spent the time developing a wealth of knowledge about regulations, requirements, architecture and all that goes into providing the right care and setting for the dying. They've visited a number of hospice houses in other states. Until recently, the Sojourn Center remained just a plan.
Then in May, developer Roger Woody gave Sojourn 27 acres near Warm Hearth Village.
"I felt like this would be a great place for someone in their last few days. I can't think of a better thing to give it to," Woody said during a walk around a clearing soon after the donation.
Once the deed was recorded, Sojourn board members hosted a meeting to share their plans with neighbors to build a seven-bedroom hospice house with gardens and trails, possibly even one that connects with the Huckleberry Trail at the rear of the property. The grounds would be open to the community, since being part of a residential setting is at the heart of a hospice house.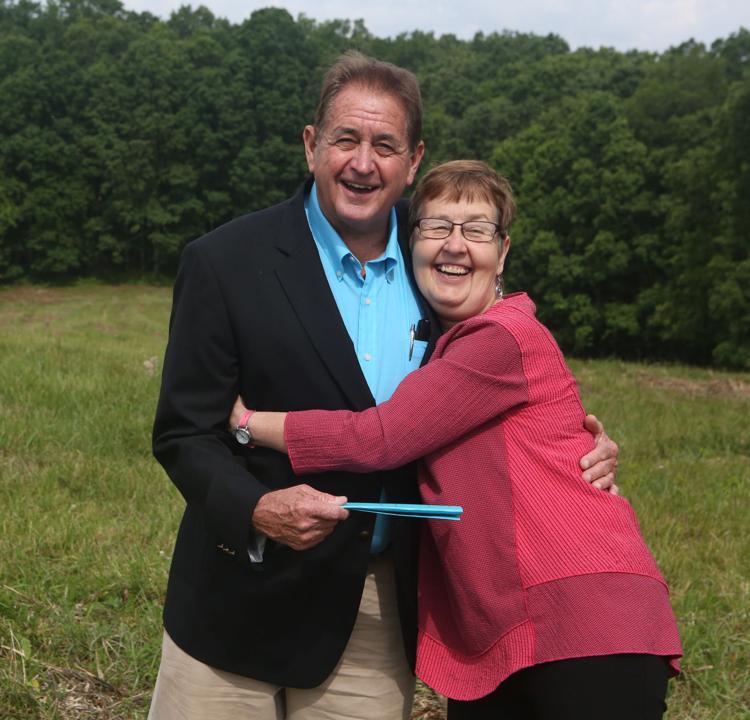 Construction is at least three years away, but now that Sojourn has the land, the board plans to launch a campaign to raise $5.5 million to build and maintain the home and to create an operating cushion.
One board member, Tim Haasken, who is the CFO of LewisGale Montgomery, said he's ready to give more than his time and talents.
"When Sojourn Center approached me, I hadn't given the matter much thought. I had somewhat taken it for granted that there would be some hospice house, at least in the Roanoke area," he said.
Haasken, originally from Northern Virginia, had been working in Phoenix in a similar role before joining LewisGale. While in Arizona, his parents and niece came for a visit.
His father and niece borrowed his and his wife's bikes to ride around the neighborhood.
"This is a testament to the value of bicycle helmets," he said. "My dad rode my bicycle without a helmet and the bicycle was too big for him. He just lost control and hit his head on a curb and had a cerebral bleed. It was basically the end."
His father was admitted to a neural intensive care unit; tests confirmed there was no reason for hope, and the family knew through an advance directive that he did not want to be on life support.
Haasken's hospital had a wing that was leased to a hospice agency.
"It was immediately adjacent to the intensive care unit. From an appearance perspective, it was very sterile, very cold. They try to make certain cosmetic changes, but at the end of the day, you're in a hospital room," he said.
The family was offered a better option and transferred Haasken's father to a hospice house that looked like any other in the neighborhood.
"It was definitely much more peaceful. In a neural ICU there is so much activity, and it's stressful. There are patients coming and going, and candidly some are not making it out of the hospital and you are faced with that," he said. "It is much more relaxing to go to a beautiful house with landscaped gardens and fountains. It's still tearful to lose your loved one, but it's a much more intimate atmosphere."
'In denial'
For Haasken, taking his father home was not an option. Nor would it have been possible for the family of LewisGale Montgomery physician recruiter Andrea Isenhour.
Her parents, Jim and Jewell Carter, lived in Charleston, West Virginia, where he retired as a warehouse manager for Kroger and was enjoying a part-time job at Avis when he became ill with lymphoma.
For a short while it appeared he was getting well.
"When that cancer came back, he couldn't get out of the bed," his wife said. One morning she tried to help him. She held a walker, while he pushed himself up. They both fell on the floor. She called for an ambulance, and her husband spent the next month in the hospital.
His kidneys were failing, his body swelled with fluid. Isenhour and her mother said they knew they could not take him home.
"He was just a big man. He was heavy, and he was accumulating all this fluid. My son and I tried to pull him up in the hospital bed — my son's a big guy and I'm a nurse — and we couldn't do it," Isenhour said.
He was moved to a 24-bedroom hospice house. West Virginia, like North Carolina, has hospice houses that are supported by their communities.
"It was on the top of a mountain. The gardens were absolutely a beautiful place, and you don't have that clinical feeling." Jewell Carter said the family benefited from the setting, but her husband was too sick to know.
"He could have sat in the gardens with the family if we could have gotten him there sooner," Isenhour said.
She said her father missed out on some of hospice services.
"I think he would have benefited to go two weeks earlier," she said. "The services he got were just end-of-life care. They could have helped him understand what was going on."
"Jim had such a heart that he'd get better. We were in denial. I couldn't talk about it, and your dad wouldn't have talked about it," Carter said. "He said, 'You know why I'm going up there. I'm going up there to die.' He went in on a Saturday and made it to the next Saturday night."
The family was familiar with the hospice house; other relatives, neighbors and friends had used it.
Carter said she's heartened that a hospice house might be ready in the New River Valley when her time comes; otherwise, she wants her family to take her to West Virginia so she can die in the same hospice house as her husband.
"It's a bad thing, but were all going to go through it someday. You aren't going to get out of this world alive," she said. "Where I live, there are a lot of widow ladies. It's a very common thing for us to talk about in our age group, like 70 to 90."
The Sojourn home is still years away.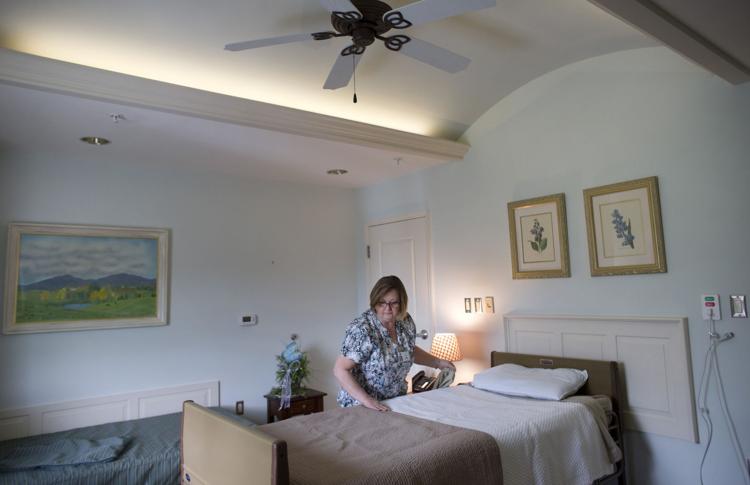 A house that feels like home
A similar community group in Bedford decided about a decade ago that they needed a hospice house. While the Sojourn group set about researching regulations, financing and staffing, the Bedford group took a different approach. They raised funds and built a four-bedroom home.
They never quite got the licensing part worked out. Though hospice houses need financial support from a community, Virginia requires that licensed hospice agencies run them. Also, Medicare sought to curb costs and shifted its payment structure. The Bedford house venture was short-lived.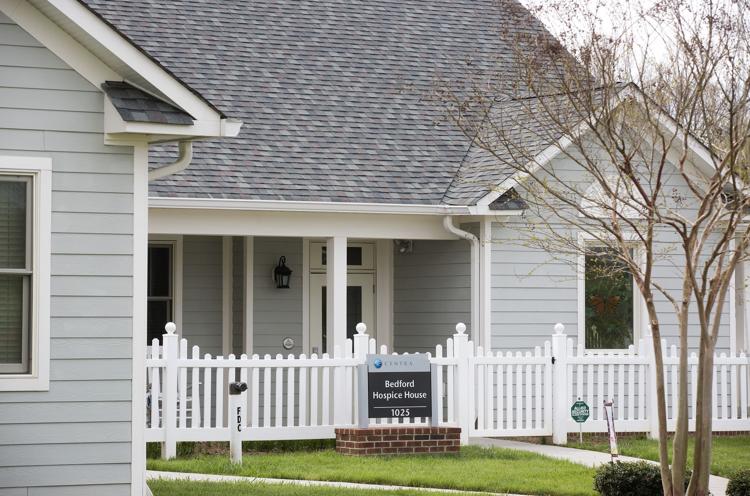 It got a new life once Centra Health took over Bedford Memorial Hospital and agreed to look into reopening the hospice house. Centra already operated a four-bedroom home in Lynchburg.
Terri Layne, business development manager for Centra hospice, said the people of Bedford then raised about $50,000 to bring the stick-built residential home up to current institutional fire and building codes. The house has a residential kitchen rather than the required commercial one, so three times a day, volunteers shuttle meals from Lynchburg to Bedford.
Layne offered a tour of the home, showing off a large, inviting living area that opens to a kitchen that families may use and to a separate dining room where they can share meals. There are smaller rooms for private discussions, a children's play room, a quiet chapel with stained glass and four large bedrooms, each opening to a patio. The rooms are decorated differently, but each is equipped with recliners and fold-outs for family to stay through the night.
Handmade quilts hang along the hallway.
Centra staffs a registered nurse around the clock and brings in doctors, therapists, counselors and other hospice services.
"There are no set visitation hours. You can see your loved one at any time," she said. Residents are just that.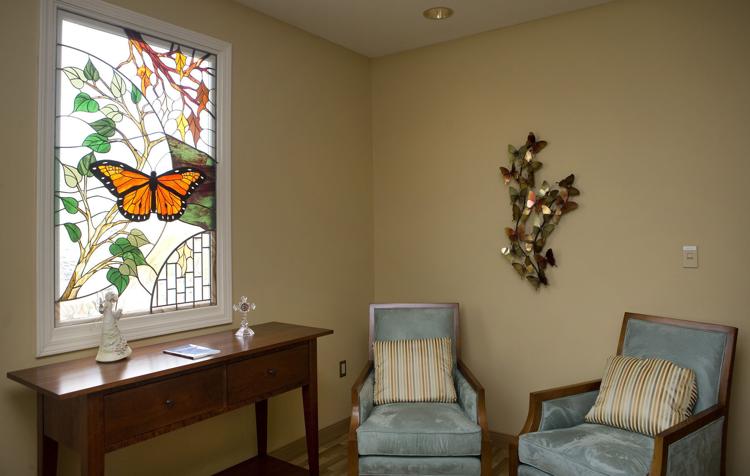 "They have the ability to have a whole house without the worries and stress to say, 'Please excuse my house, I haven't felt well.' Instead they can say, 'Come and have a cup of coffee with your friend,'" Layne said. "We use every minute for living. The outcome, the end, may be that, but this is about — whether you are here for a day or for four months — the living that goes on is so cherished. There is a special joy in that."
Centra charges a sliding scale depending on financial need, she said, and does not turn away those who cannot afford to pay the room rental. The community, she said, continues to be generous with financial support and with volunteers.
"Truly, our goal is that this house feels like their home," she said.
So far all the residents have been from the Bedford area. Layne said the house would accept someone from elsewhere provided he or she becomes a Centra hospice patient, and there is an opening. Since the home reopened in January, it has operated at capacity.
A movement too late
For Christine Slade, the Bedford home is too far. It would place an hour's distance between her and her friends in Roanoke and would leave her isolated and alone at the end.
Cancer isn't Slade's only foe. Her liver cannot metabolize medication and even a Motrin leaves her feeling drunk and disoriented. For much of the summer she was able to control the pain with cannabis oil. But she knew she would need narcotics. 
"I'm frustrated and I'm scared. I know what's waiting for me, and it f---ing sucks. I cannot take morphine and fentanyl and live by myself," she said. "When I take those drugs, I require 24-hour care. On pediatric doses, the lightest you can get, I had to be helped up and down off the toilet. I wasn't safe to get out of bed by myself."
She was having mini strokes.
"I'm praying these little TIAs I'm having will lead to a big one that takes me out," she said. "But while I'm still here I'm making a difference. That's what matters to me. That's what quality of life is."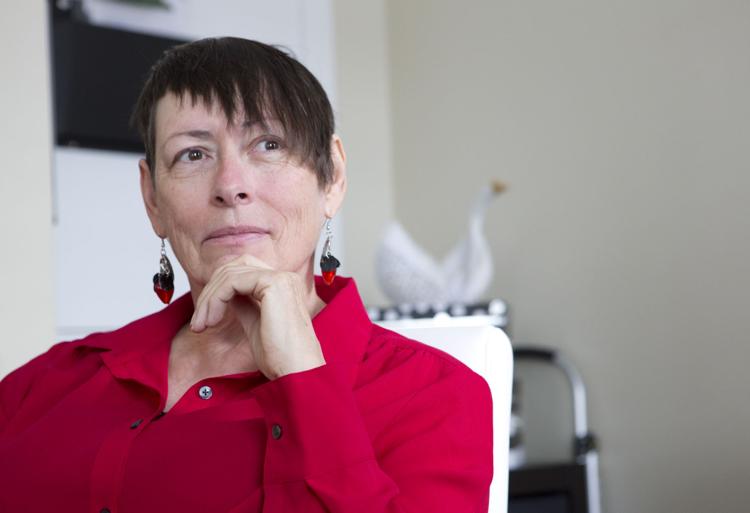 By late August, the cancer had continued to spread, had claimed the sight in her left eye and was dimming the vision in her right eye. The pain became so intense she did what she had so wished to avoid and entered hospice care.
Friends checked on Slade while she waited to hear from a nursing home that would accept her as a Medicaid patient. She had no choice but to surrender to the inevitable, and on Sept. 5 she moved into a nursing home.
But she's not ready yet to surrender her voice.
For the last year, she's followed the hospice philosophy of living rather than dying, and of being useful. Along the way, she discovered Knitted Knockers, a soft prosthesis for women who have had mastectomies, and has helped to spread the word. She's knitted and recruited knitters so that hundreds of local women have knockers. Through that, she's heard too many heart-breaking stories of other women like her. She's found a successor for Knitted Knockers.
Dr. Robert Keeley's 92-year-old body was worn out by the time he checked into The Homestead in Hot Springs for a gathering of the University o…
She's hoping she finds many successors to advocate for a hospice house in Roanoke.
"I do feel a time pressure," she said. "I don't feel time pressure to have a hospice house in place for my demise. I feel a pressure to use my voice while I still have a voice."
She wants people to think about this.
"If you are dying and your family circumstances don't allow the kind of care and support you need, there ought to be a comfortable place in cheerful surroundings that are well staffed for you," she said. "It all comes down to hearts and culture."
She's impatient when people who know what a hospice house is tell her it's too expensive or when people tell her that Roanoke has hospice care and direct her to an agency, not understanding the limitations.
"It comes down to a culture, or who has the money to speak up and make something happen. I don't have the money to make something happen. I have the voice," she said.
And with it, she shares an uncomfortable story. Slade will die too soon. She has no place to rest in peace.