NATHALIE — Television producer Ken Peade was born and raised off the beaten path, where he says the U.S. Postal Service is often faster than the region's internet infrastructure.
When he started his business in the 1980s, everything was on film and Peade was able to keep up – even working 50 miles from the nearest interstate. But when the industry went digital, his hometown became a handicap.
He said he'll often spend a week on a project, only to find himself unable to deliver the video file to his customer. During moments of desperation, he's resorted to saving files to a hard drive and mailing it to west coast clients.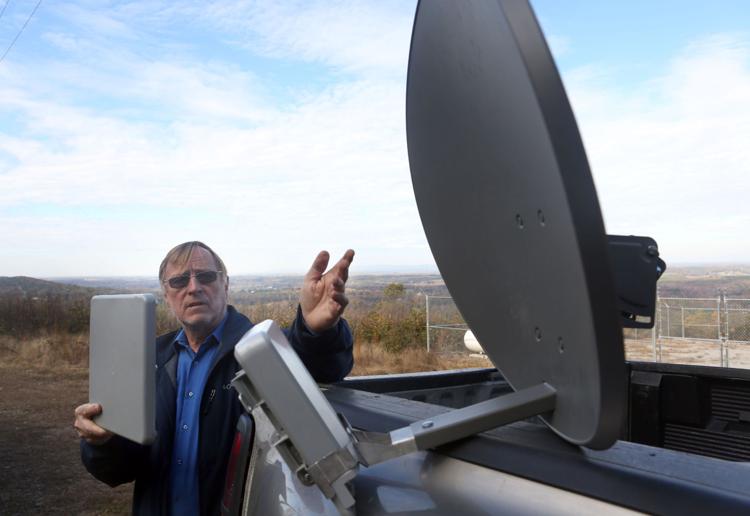 He said he's tried everything, from 3G hot spots to erecting a small antenna tower on top of his house. There have been glitters of hope, like the time he was able to ditch dial-up around 2008. More recently, federal grants funded construction of a fiber optic network for area schools. The line runs through Peade's front yard – but he was told he can't connect.
Instead, he started studying the internet usage habits of his neighbors so he could avoid peak hours. There are the early risers, then the lunch crowd, the evening users and a midnight rush, he says.
When they all go to sleep at night, that's when Peade gets to work.
"It's the most stable I've seen it from 1:30 a.m. until whenever I quit," he said. "But it's going to pick back up again around 5:30 or 6 a.m."
Peade wishes he didn't have to work nights, but in Halifax County he ranks among the lucky ones.
His connection, which is hovers below 2 Mbps compared to the 30 Mbps national average, would be a luxury for neighbor Brenda Short.
She can't send emails at home, stays up to date from print newspapers and drives six miles through the country roads of Halifax County to her office whenever life necessitates an internet connection.
She got rid of her home computer years ago, when there just wasn't any point in keeping it around anymore.
She can get on Facebook from her smartphone, but only in the sun room off the back of her house. Ask about her Netflix watching habits and she'll shoot you a look.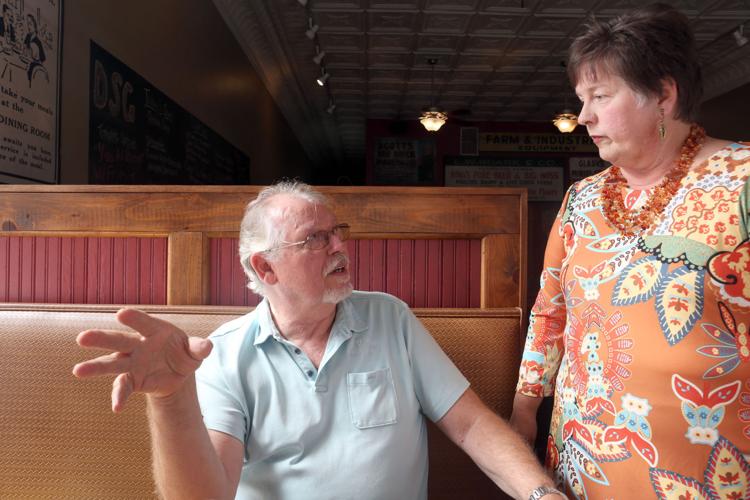 "Oh no. That's impossible," she says with a hint of frustration. "When [visitors] come here, they can't even believe that this exists, that people in this world cannot get internet."
It's a problem felt across rural America, but especially in Halifax County where 30 percent of residents have no internet access at all and another 62 percent insufficient service, according to a 2016 survey by the state-sponsored Center for Innovative Technology.
But within this void there's emerging optimism surrounding new wireless technologies that are turning Halifax County into a proving ground that could form a blueprint for how to solve the rural internet conundrum.
There are two separate projects offering a reason to be optimistic: one cutting-edge plan by technology giant Microsoft, and another more practical effort by county officials.
Eventually, what's happening in Halifax could be replicated in places like Roanoke, which has identified its own broadband deficiencies, across Virginia and beyond.
Microsoft brought national attention to the Southside region when it came here to debut new technology, called TV white spaces. The company's army of researchers believes this new type of wireless signal will be able to help close the nation's entire broadband gap within five years.
When Microsoft chose a starting point for its rural broadband revolution, it came to Halifax County first.
Paul Garnett, Senior Director of the Microsoft Airband Initiative, said white space signals now blanket virtually every corner of the county. It's an experimental network that's only open to about 170 select households at this point - but that number is going grow.
At some point, Garnett said it could be opened up to regular customers, delivering modern internet to the Halifax County tobacco fields for the first time.
In the meantime, county officials are moving ahead with a wireless broadband plan of their own. It relies on more proven equipment, known as fixed wireless, offering a more immediate reprieve.
If these latest effort falls short of expectations, it will be just another letdown as people here continue to wait for the information superhighway to arrive. But if it works, those such as Peade and Short could be online within months.
"We're living the dark age, so to speak," Halifax County board of supervisors vice chairman J.T. Davis said. "We've got to close this digital divide."
'Embarrassing'
"Bandwidth exhaustion" is the excuse Short and her neighbors have heard from their internet service providers over and over again.
It's an industry term used to describe a broadband network that is so overloaded that speeds are cut for those already online and no new customers can join. It happens in places that still rely on copper telephone wires that aren't capable moving data as quickly as fiber optic cables.
The networks sufficed for years, but are now getting bombarded by new, more bandwidth intensive internet applications such as Netflix and online gaming.
Laying fiber is expensive and doesn't make sense in sparsely populated areas where internet providers would have to run miles of cable and spend millions just to reach a handful of customers.
That leaves the rural parts of Virginia in that broadband exhaust.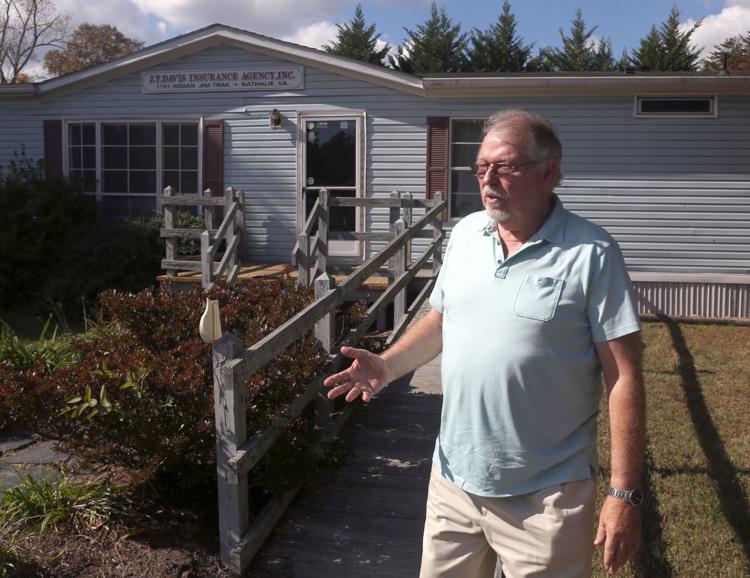 But for Short, the term has a simpler definition: "I've just had to do without."
"You know the bad part about it – there are a lot more stories just like her," Davis said, pointing out that his own office uses a 1 Mbps connection. "You could knock on any door and ask, 'How is your internet service?' You're going to get an earful."
Locals here shared stores about the local church that canceled its internet service when a pastor left, only to find out it couldn't get back online later because the network was exhausted. There's a local DMV Select office that struggles with a connection so slow that it often can't process credit cards. A farmer said he tried satellite internet for a while but ultimately decided he was paying too much for a connection that was hardly usable. One Halifax County resident runs an entire lumber business, including billing for international orders, from his cellphone.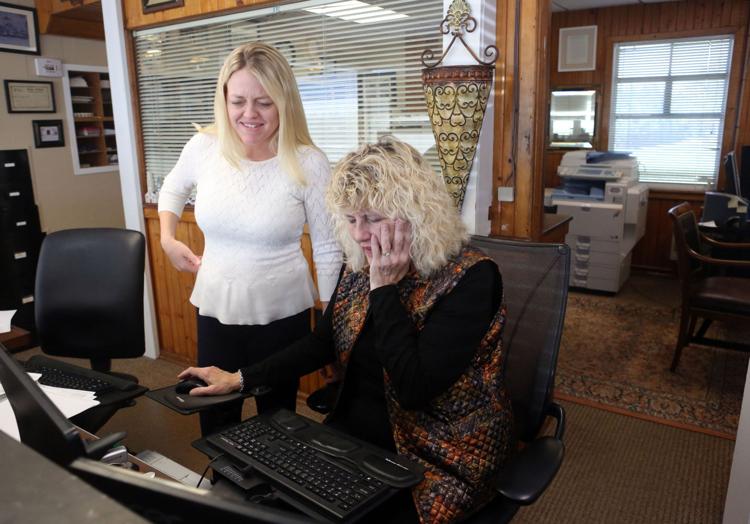 When library Director Jay Stephens shows up in the mornings, he said there are often a handful of cars in the parking lot as residents stop by to use the Wi-Fi before heading to work. In South Boston, he said there's always a usage spike around midnight, when the library is closed but the parking lot is active.
"It feels like you've gone to a third world country," Vickie Barker, owner of an insurance agency and the DMV Select in Nathalie, said.
Both her businesses share an office and an internet connection that maxes out around 2 Mbps – on a good day. On the bad days, she finds herself turning away customers and watching through the window for repair crews to show up.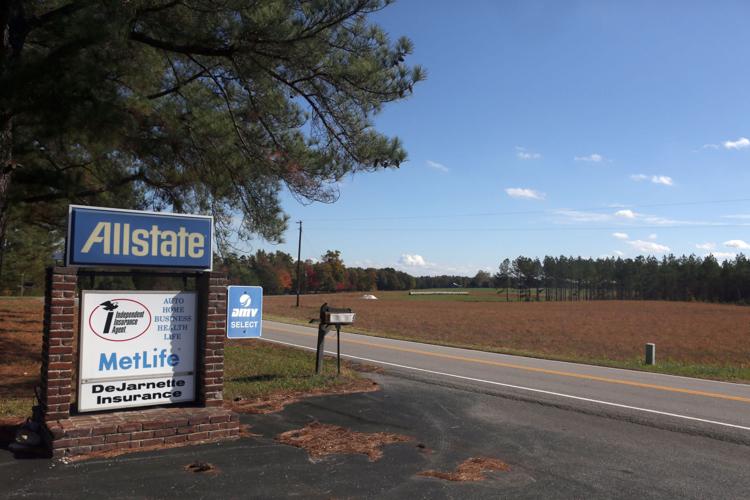 Nationally, only 4 percent of urban dwellers lack access to a 25 Mbps connection, according to 2016 data from the FCC. In rural America, it's 20 percent. But in Nathalie it's closer to half. 
"I have one word to describe it: embarrassing," Barker's daughter and business partner Ashley Fisher said.
The business plans its day around her internet usage. Uploads are especially challenging, so Barker said she starts those in the morning and lets them run in the background all day long.
People here keep track of things most don't have to worry about, like school schedules since connections tend to slow to a crawl whenever teenagers get home and hop online.
"They've got us boxed in," Davis said. "But we're getting ready to fix that."
National model?
Microsoft has been researching TV white spaces for about 15 years, and company President Brad Smith said in July that the technology is finally ready to take off.
The Airband Initiative is built off the same type of wireless signals that have been used for broadcast television for decades.
Each channel is assigned a specific frequency, separated by vacant airwaves so antennas can home in on one at a time without mixing signals. Those unused bands between channels are known as TV white spaces. They can carry a lot of data, long distances, through rough terrain.
So instead of broadcasting TV shows or leaving them empty, Microsoft's plan is to use those frequencies to broadcast internet to rural America.
The company has said it believes one white spaces tower could theoretically cover a 10-mile radius with up to 400 Mbps connections.
For now, Garnett said the Halifax County network is built to deliver 5 Mbps from a total of 16 towers.
While Microsoft spearheaded and invested in the project, Salem-based internet service provider B2X Online is the partner who owns the network and manages customers.
The goal of the initial rollout is to close the region's "homework gap," or the number of children who are only able to get online while they're at school. So the experimental network is restricted for now to only select households with students.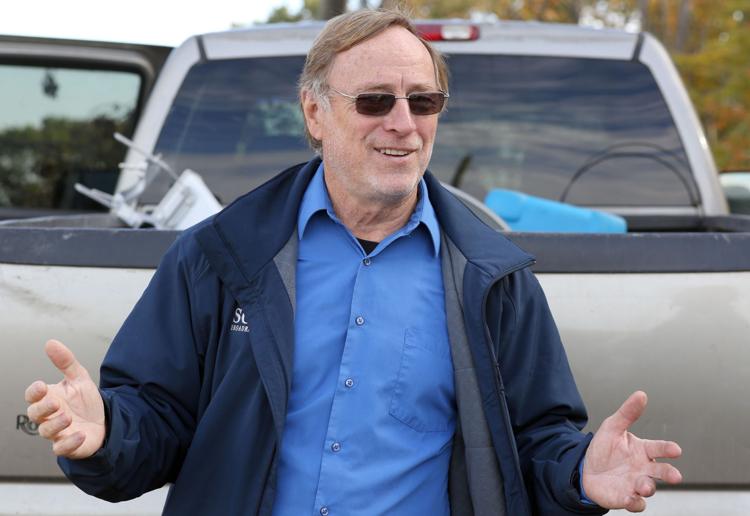 "We don't think we have all the answers, but we've come across something we think has the potential to have a big impact," Garnett said.
Microsoft hopes to connect 1,000 homes in Halifax and neighboring Charlotte counties by early next year. Garnett said it will be up to the company's internet service provider partners to decide when the network could be opened up to everyone else in the county. But the capacity is there and a larger rollout is being considered.
By 2022, Microsoft plans to partner with local providers to deliver internet to 2 million people across rural America, beginning with a total of 12 test sites like Halifax.
Garnett declined to comment on conversations Microsoft has had with other localities across southern Virginia, but he said his team has heard from many jurisdictions who want the technology next. And he's interested in expanding the initiative.
"I think often times in these big projects, the individuals kind of get lost in the bigger story," Garnett said. "But I think really what matters the most is the individual impacts that these projects enable."
But county officials aren't waiting for Microsoft to save the day. Instead, they're moving forward with their own – less cutting-edge – plan that could expand access in months rather than years.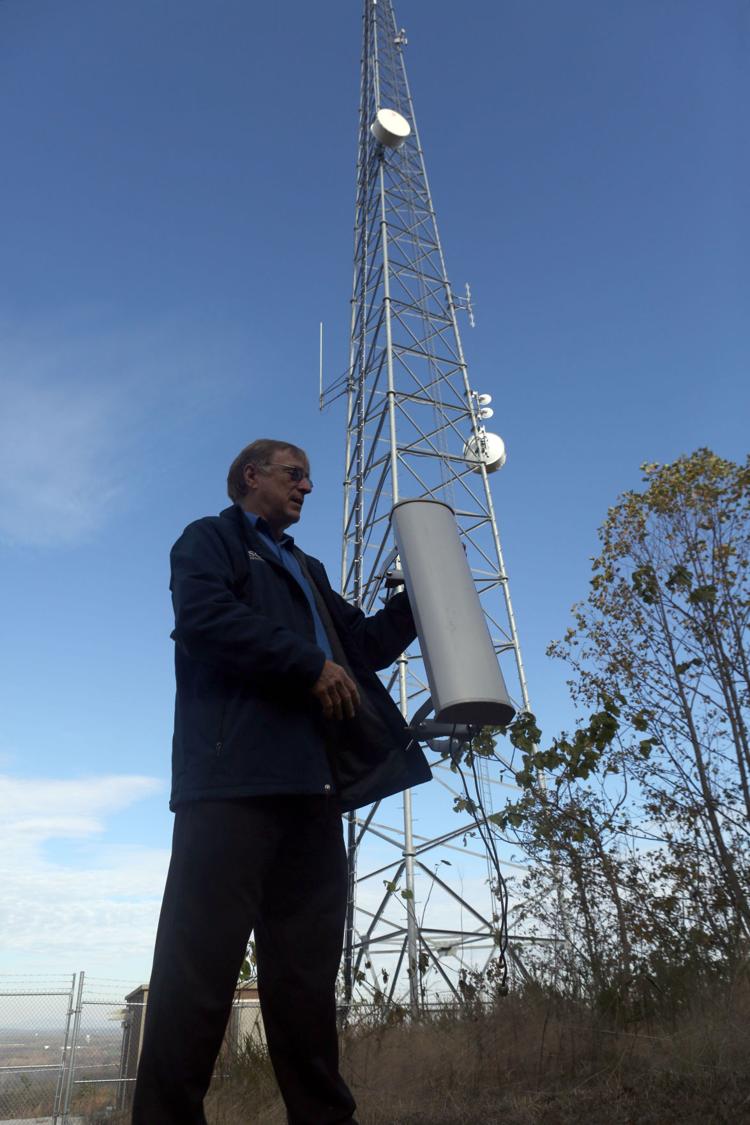 The county has partnered with SCS Technologies, another local internet service provider, to begin beaming service down to residents from its own towers. This network will also use wireless connections, but with more traditional frequencies.
The network will use the small amount of fiber already in the ground as the backbone. The connection will get tossed around the county through a series of antennas mounted on cell towers, water towers, church steeples or anything else tall enough to see above the trees.
SCS isn't unique in this fixed wireless strategy. The technology has been around for decades, and many providers are moving that direction.
But the technology is just now advancing to the point its fast enough to keep up with the growing broadband needs.
Chuck Kirby, director of broadband programs for CIT, said his organization doesn't advocate for one technology over another. But he said he has seen a trend toward wireless in rural areas, likely because deployment costs are lower and the technology keeps improving.
He said wireless signals used to struggle to pass through trees and rough terrain, making it difficult to deliver service. But that's changing.
"The potential is definitely there," he added.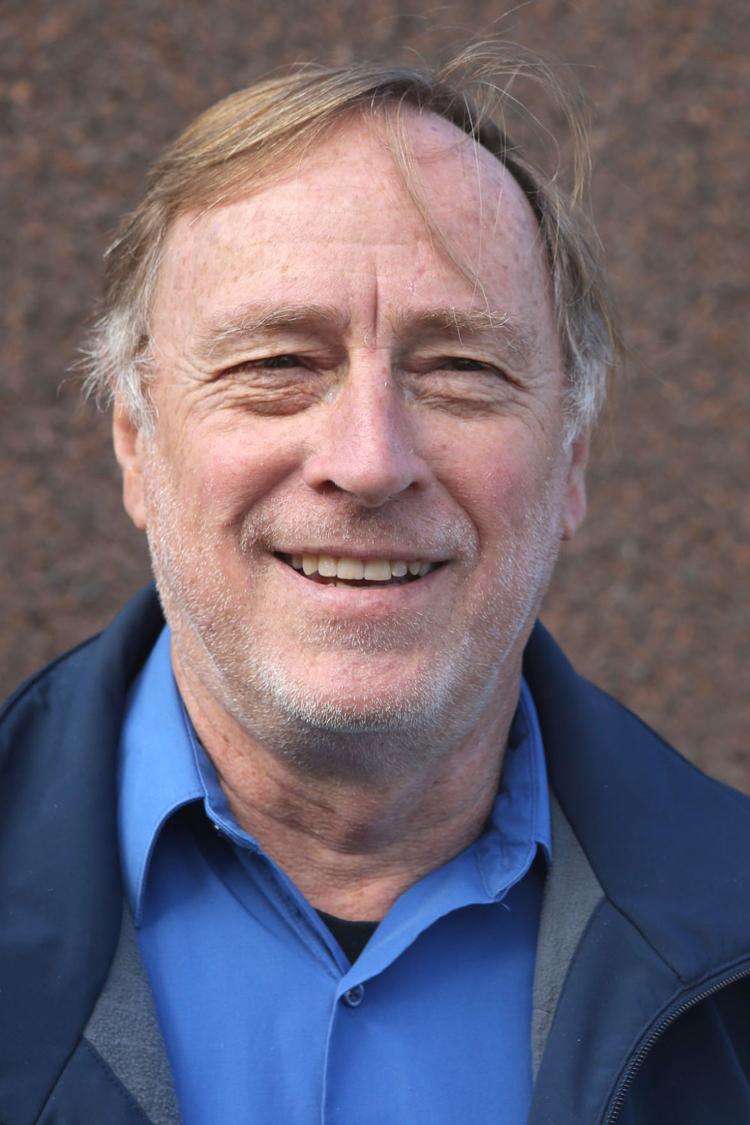 Clay Stewart, CEO of SCS, said he plans to offer connections in Halifax County beginning at 10 Mbps for $35 a month. The top tier will max out around 50 Mbps.
When he started deploying wireless connections, his equipment peaked around 2.5 Mbps.
"We're talking speeds that even five years ago was unimaginable for wireless," Stewart said. 
He added that he has to be careful about managing expectations, since he never knows how equipment will perform until he flips the switch. But he thinks his network could reach 70 percent of Halifax County homes after four buildout phases are complete.
To help get the project off the ground, Halifax County board of supervisors voted in October to contribute a total $103,000 for phase I and is now seeking grants for future expansions.
Stewart said that his company isn't stopping with Halifax, and would be interested in doing something similar around Roanoke.
The Roanoke Valley Broadband Authority has already built a government-owned 80-mile fiber network, but it's not designed for residential service. Instead, it connects businesses and public amenities, like schools and libraries.
Stewart said SCS hasn't had any formal conversations with the RVBA, but he thinks the municipal fiber could enable a wireless network that reaches out into rural areas that lack residential service. 
RVBA President and CEO Frank Smith didn't say that's the plan – but he also didn't rule out that possibility. While the RVBA doesn't sell internet service directly to residential customers, it could provide the backbone infrastructure to a private entity that would.
"Adding wireless overtop of a well-built fiber network is a great move for a lot of reasons," Smith said in an email statement.