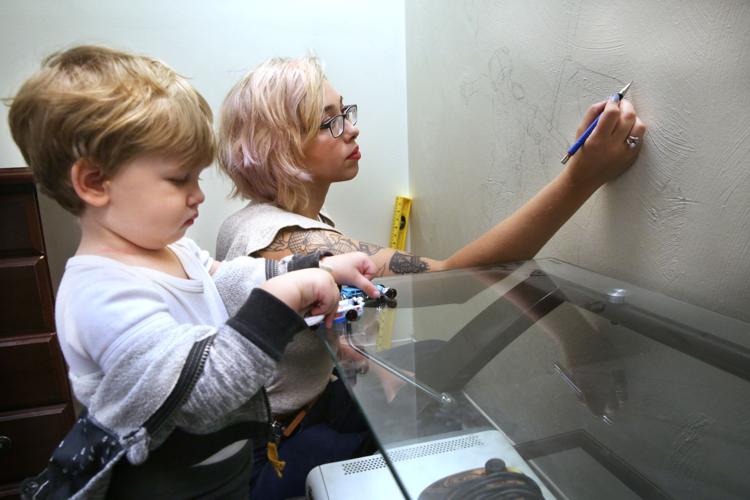 Living in Rocky Mount, Tori Melson doesn't have to watch her kids like a hawk when they play outside. Franklin County provides a safe environment with low crime and good schools, all of which were fully accredited last year, making it an ideal place for the 27-year-old mother of two to raise her children.
Yet, the artist wants to move to Roanoke.
"I have more opportunity to be around my friends, I have more opportunity for better jobs and if I want to try to make money off art, it's a better place for me to be," she said.
Though Roanoke recently has made gains in attracting young adults, rural Franklin County is a tougher sell for millennials, the generation that lives online and is said to prefer city life.
A 2016 study by University of Southern California professor Dowell Myers contends millennials will be less likely to cluster in cities in the future. Three factors — the size of millennial birth cohorts, job opportunities and housing availability — "harmonized" before 2010, causing millennials to flock to cities, according to Myers. He expects the trends to shift.
For a certain kind of millennial — one who values outdoor recreation, is looking to buy a home with a yard or simply prefers a slower pace — Franklin County could be a contender.
Melson said downtown Rocky Mount, where she lives, has a few things going for it: It's walkable, and there are a handful of unique businesses on Franklin Street, like vintage store Old's Cool and the Whole Bean Coffeehouse, along with the Harvester Performance Center.
Her biggest complaint is that the town essentially shuts down at nightfall.
Melson said Franklin County should draw inspiration from Floyd, a rural community with a funky mix of hippies and farmers, young and old.
She cited Dogtown Roadhouse, a restaurant and bar that features live music, as something Floyd has that Rocky Mount could use. She's not proposing a rowdy, college-type bar in the middle of Rocky Mount — just a place where she can stay out late, have a drink or two and see some local, live music.
"I think that nightlife is important to people in their 20s," she said.
 Millennials remain stagnant
Local officials in recent months have lamented Franklin County's limited population growth.
Counted at 56,159 in the 2010 census, Franklin County's total population has increased by 46 people, based on 2016 estimates.
Deaths are outpacing births and have been since 2010. In 2015, the most recent year for which data were available, 51 more people died in Franklin County than were born.
"You can only grow two ways: One is having more people move in than out. The other is having more births than deaths. And if you've lost one of those engines, you're really reliant on migration, which is a lot less reliable," said Weldon Cooper Center demographer Hamilton Lombard.
An influx of retirees at Smith Mountain Lake caused Franklin County's population to swell from 35,740 in 1980 to 56,159 in 2010, but the number of residents in the 18-34 age range still hovered around 10,000. In 1980, that age range accounted for 29.6 percent of Franklin County's population. In 2016, the share was 18.1 percent.
Franklin County gained in the 15-24 age group from the 1980s to the early 2000s. Lombard attributed much of that to Ferrum College. From 2010 to 2015, however, the county didn't gain enough 15- to 24-year-olds to make up for those leaving, and that segment of the population decreased by 243 people, or 4 percent.
Most of Virginia's growth has been concentrated in the largest metro areas. There's an expectation that when people marry and have kids, they move to the suburbs. But that's less common among millennials, Lombard said; some are delaying the move, while others are eschewing it altogether.
Lombard said the main reason Franklin County continues to grow is its location within the Roanoke metro area. He said there's a correlation between growth and proximity to a larger job market, particularly as education rates rise.
As the country's workforce shrinks, localities must think about how to attract young people, even if the effort is simply "treading water and just trying to keep the young adult population from declining further," Lombard said.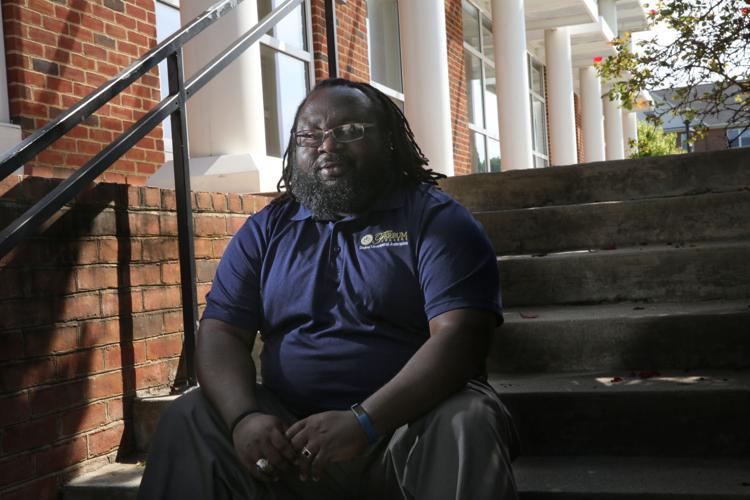 The Ferrum connection
Franklin County has an advantage over some localities with similarly stagnant populations: a college.
With an enrollment of about 1,300, Ferrum College gives the county a boost in its younger population. Lombard said Franklin County should capitalize on Ferrum.
"If they're trying to attract young adults, that's probably the number one place they should be looking, because they're already in the county," he said.
Ferrum alum Justin Muse, 35, chose to stay in the area. Raised in Burnt Chimney, the Franklin County native serves as the school's director of student leadership and engagement. He recently bought a home in Rocky Mount and sees himself living in Franklin long-term.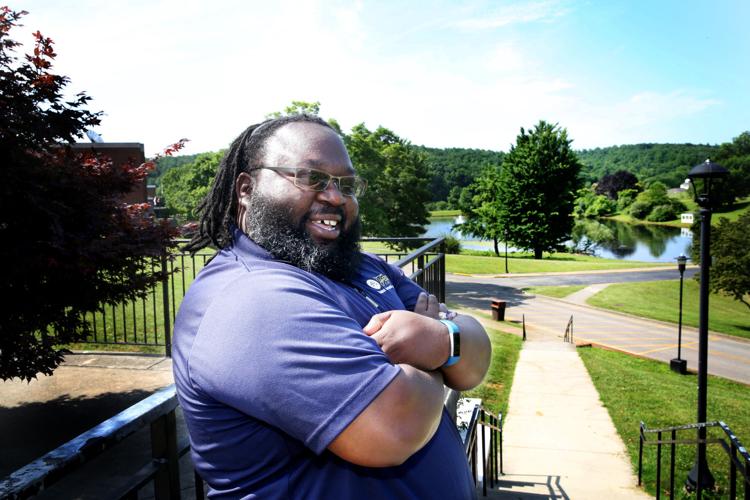 Students from more urban areas might experience culture shock when they arrive in rural Southwest Virginia, but many of them, along with other Ferrum students, also want to stay, Muse said. Depending on their industry of choice, that can be difficult, he said.
For agricultural sciences graduates, Franklin County is a good place to start a career. For those who obtained degrees in business administration or computer technology and information systems, Muse said, there are fewer local opportunities.
Franklin County should do what it can to keep Ferrum grads in the area, he said.
"Take advantage," he said. "Keep them here."
If you like biking, hiking or hunting, Franklin County is for you. But if you're a 20-something who would prefer clubbing or bar-hopping, it's not the right fit, Muse said.
The county ought to be trying to attract millennials who aren't inclined to big city life, Muse said. A larger music scene, an outdoor concert facility like Roanoke's Elmwood Park and a young professional network could help, he said.
"We are tomorrow," Muse said. "I'm not trying to be cocky or nothing, but work with us and give us some options so we can move back and keep everything going. It's a great place."
Valuing experiences
The topic of sluggish growth in Franklin was particularly hot during county budget discussions in the spring, when supervisors considered, but opted against, a tax increase.
"It's generally perceived that a community is more vibrant if it's growing in population, not just budget. We're at that point where we've made the statement: We're concerned about our stagnant population growth," said County Administrator Brent Robertson.
The county has identified retirees as a target group. But officials haven't discussed millennials, Robertson said.
"So what do we do? That's the conversation I think has to come next," he said.
The county's two most significant long-term projects — developing a 550-acre business park and building a new career and technical education center — could help attract and retain young people.
The two projects are, in a sense, connected: the career and technical education center will prepare teens for the workforce, and the business park could provide a place for them to apply their skills.
Dubbed Summit View, the business park is envisioned as a modern, campus-style park with public amenities, which officials say is a draw for prospective employers.
Much of what's outlined in the plans — an event space where concerts could be held, fields for youth and adult sports and multi-use greenways — appeals directly to the millennial demographic, focused on work-life balance.
Localities must offer more than jobs, Robertson said. They must be the right kind of jobs. And community features must go beyond basic needs into the realm of fun.
Growth of the experience economy— something Robertson said he believes millennials value — is good news for Franklin County. There are ample opportunities for outdoor recreation, with lakes, rivers and mountains, and the county has increased its attention on parks and recreation. The Roanoke Valley craft brewing boom extends into Franklin, which has three breweries. Distilleries are popping up too.
"Now the cool factor is finding its way into Franklin County with some of those type of concepts that are out there and businesses that are developing," Robertson said.
Those things can draw visitors to the county, but Robertson said he questions whether such amenities are enough to entice a young person to make Franklin County their home.
"As I look at that age group," he said, "they like being able to pop over to the store, pick up some food and come back and have Mexican and Chinese and Vietnamese and Ethiopian available to them. Well, I'm not sure we're going to get many Indian and Ethiopian restaurants in Rocky Mount or in Franklin County."
Trying to meet the expectations of locals while also attracting new residents is a balancing act.
"The older baby boomer's version of fun is significantly different from the millennial's," Robertson said. "I think that's where you run into the clashes in these rural areas."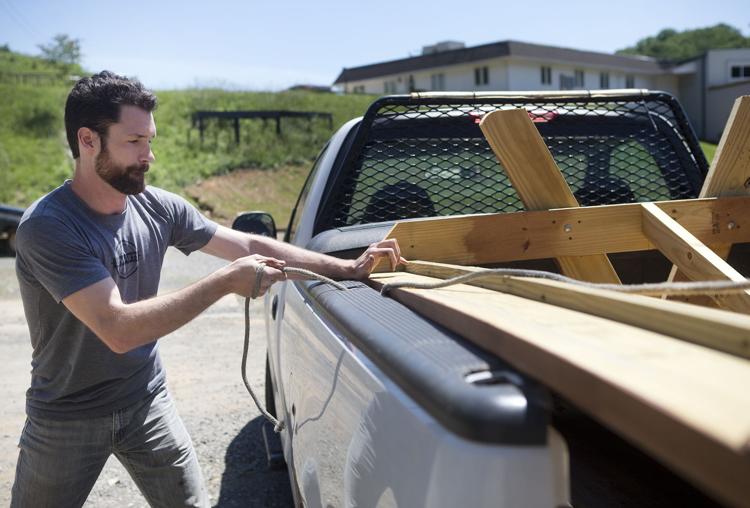 Millennial town manager
Just across the line separating Roanoke and Franklin counties sits the small town of Boones Mill. Only 20 minutes from downtown Roanoke, it could be an alternative for a millennial looking for more wide open spaces.
"You could live downtown and pay a whole bunch of money for one of those new lofts, or you could be just a little bit of a ways out here and also have good quality of life. And see more stars at night," said Town Manager Matt Lawless.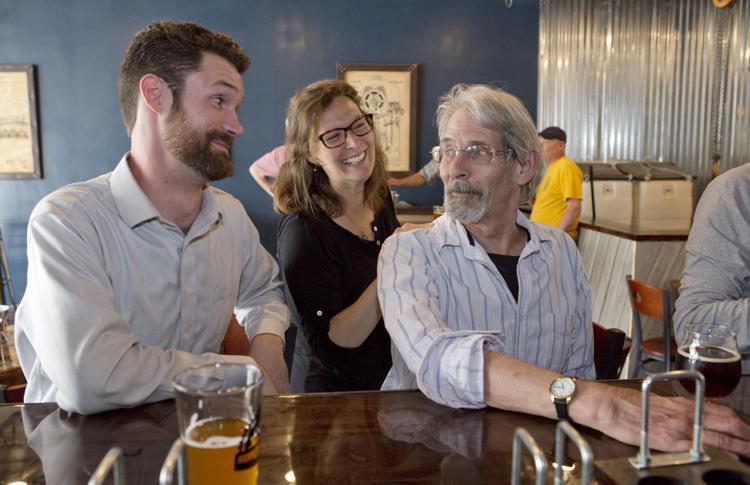 Lawless said it's important not to overstate the allure of what he calls the "hip downtown thing." Cities such as Roanoke and Richmond have had success with it, he said, but it's not for everyone. Franklin County can cater to the young people who would prefer a yard and garden to a loft above a coffee shop.
The county should have housing options and job opportunities for every age, Lawless said, so people could live their whole lives in Franklin County if they wanted.
"The ability to graduate from the high school, continue with some kind of post-high school certification, get a job at one of the large employers in Southway [the business park] and then have an interesting place to live before you settle down and have kids of your own," he said.
Boones Mill is taking steps to become "a little bit more attractive to younger people," Lawless said, with recent additions like an art gallery and brewery. The town just received a grant to build a farmers market and is considering apartments as part of its redevelopment plan for the Village Park at Boones Mill.
Lawless is a millennial himself. The 28-year-old can be found hanging out at the local brewery, Hammer & Forge. It even has a beer named for him.
When Lawless took the post as town manager two years ago, he almost ended up living in Roanoke. He and his wife, who moved to the area from Charlottesville, ultimately chose a home at Smith Mountain Lake.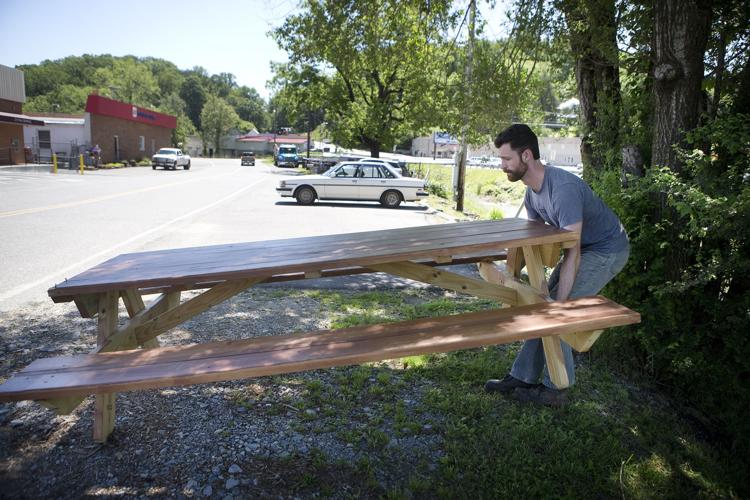 Lawless and his wife both grew up in settings similar to Franklin County, so they knew living there meant they were more likely to spend a Friday night at home playing board games with friends than out on the town bar-hopping.
"It's pretty much the lifestyle we expected," he said. "We were ready for something that was a little bit quieter than Charlottesville. So it has not disappointed."
But, he said, they probably leave Franklin County on a third of their weekends.
For singles, good to be here but not exciting
Bryan Walke, 27, called Franklin County a wonderful place to grow up, but he doesn't plan to stick around. Walke is living with his parents and helping on the family farm in Sontag while looking for job opportunities in writing. He recently finished the last few online courses he needed to obtain his psychology degree.
Franklin County has the things that young families want. It's the kind of place where you don't have to worry about locking your doors, Walke said, and you can get more bang for your buck when buying a home. But it doesn't necessarily have the things single millennials want.
"Young people generally go where businesses are, where the restaurants are, where the social environment is, where it's already established," Walke said.
Franklin County is for someone who wants to live life at a slower pace.
"It feels good to be here," Walke said. "But it's not exciting, by any stretch of the mind."
Rocky Mount ISO millennials
Millennials are a group Rocky Mount wants to attract, said Assistant Town Manager Matt Hankins. It's just a matter of having the amenities.
"Having a good nightspot, good restaurants, good access to quality internet and employment opportunities — there's all sorts of things that play into how you attract people of that age here," he said. "But certainly we've got some of the building blocks in place."
The Harvester Performance Center, where Hankins also serves as CEO, is an engine to attract new and young people. Bringing it to town wasn't easy. The Harvester faced resistance. The mayor broke a tie when the council voted to proceed with the project in 2013.
Existing community values can make attracting millennials difficult. Hankins said there's opposition in town to serving alcohol at public events. While alcohol is offered at festivals in Roanoke that draw thousands downtown — most recently the Deschutes Street Pub — Rocky Mount's policies would prohibit a similar event in the centrally located farmers market, he said.
"You see successful events in other communities that don't lead to excessive public drinking or fighting or any of the other things that people typically negatively associate with alcohol use," Hankins said.
The hours many businesses keep are problematic, not just for millennials, he said. Hankins said he's talked with a number of business owners about experimenting with their hours, maybe staying open until 7 or 9 on a Friday night.
The town needs to continue to diversify its economy, Hankins said, ensuring it has jobs to appeal to the younger demographic and the infrastructure to allow them to work from home for companies in places like Northern Virginia and Washington, D.C.
"We have folks who want to live here because of the small town setting, knowing your neighbors and having a comfortable way of life, but they want the salary ranges that come with jobs in larger localities," Hankins said.
Rocky Mount is a walkable, bike-friendly community. A new restaurant is looking to open in the former Bootleggers Cafe location, and the town is interested in luring a microbrewery or microdistillery, Hankins said. These traits are all millennial-friendly.
"Communities age a lot more quickly than people realize," Hankins said, so attracting millennials and generations after them must be a goal for both the town and county.
Love for community
Emily and Rachel Blankenship-Tucker, members of the band After Jack, said they believe promoting a vibrant arts scene is a key to attracting a younger demographic to Franklin County.
After graduating from college, both women came to the area for the now-defunct Blue Ridge Dinner Theatre. Though neither grew up in Franklin County, the environment was familiar to them — Emily Blankenship-Tucker, 36, was raised in rural Pennsylvania, and Rachel, 31, in nearby Patrick County. They wanted to live in a place where they could appreciate nature, know their neighbors and raise a family.
The couple married and set roots in Ferrum, where they have a home and are raising their son, Silas Henry, 1. They like what Franklin County offers: land, where they can garden and keep animals like chickens and goats, and the natural beauty of the mountains.
"Sometimes we are definitely like, 'What are we doing here?'" Emily Blankenship-Tucker said. "And then the spring comes."
Rocky Mount has potential, Rachel Blankenship-Tucker said. She cites the Harvester and Old's Cool as unique attractions that draw young people. But there's room for more.
She's heard rumors about a rooftop restaurant coming into town, and a distillery tasting room, though neither has come to fruition.
Twin Creeks Distillery was considering locating in the Jones Building, beside the Harvester. The town council approved a special-use permit, but the distillery never moved in. An antique store, Perfectly Picked, now occupies the building.
Franklin County's moonshine heritage is a perfect opportunity, Rachel Blankenship-Tucker said. The locality has embraced its illicit history more in recent years, but not in a way that would appeal to younger people, she said. An antique car show doesn't excite her.
Emily Blankenship-Tucker said she feels many people in town prefer to keep things the way they've always been.
"I feel like if the powers that be would allow for some things to move in and not fight at every step of the way, I really think that it could be a cool little town," Rachel Blankenship-Tucker said.
But the women are happy to call this place home. They appreciate the well-preserved history and the love people have for their community.
"I don't think that we would want that to change, to be sort of this influx of different people who wished that they lived somewhere else," Emily Blankenship-Tucker said. "If you wish that you were somewhere else, then you should go there."