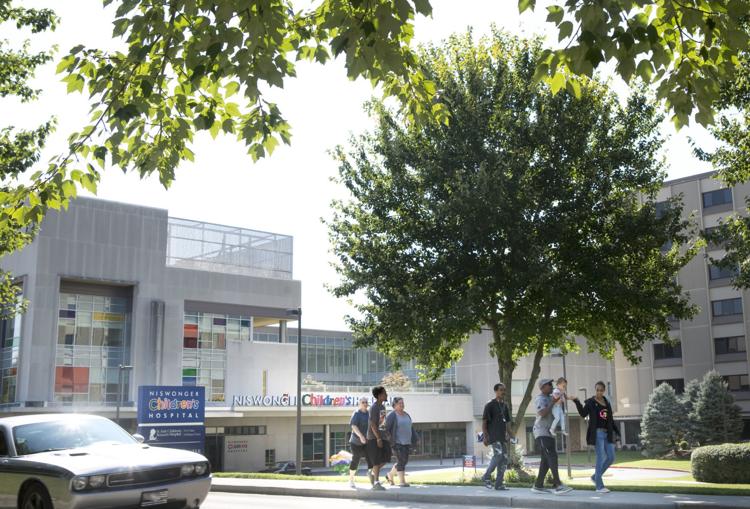 BRISTOL, Tenn. — Dani Cook's granddaughter Bella was born unexpectedly in August 2017 at Holston Valley Medical Center in Kingsport, Tennessee, weighing in at 1 pound, 3 ounces.
"Her lungs weren't developed. We could literally see her heart beat through her skin because that's how early she was," Cook said. "As you can see, she's perfect now."
She credits the care Bella received in the hospital's neonatal intensive care unit. On a February afternoon at a community college near Bristol, Cook stood before the COPA Local Advisory Committee with Bella on her hip to plead with Tennessee regulators not to allow Ballad Health to close the unit.
She was followed by more than three dozen speakers — some of them doctors, nurses and medics, others patients and families — who voiced concerns about Ballad. Hundreds of people had filled the auditorium at Northeast Community College to cheer the speakers and to boo Ballad and its CEO. The committee chair said later that people had approached privately to say they wanted to make positive comments but were too fearful to speak.
By the time Wellmont Health System and Mountain States Health Alliance merged last year, they had already talked about how consolidation of services, including trauma care, would help the new Ballad Health thrive. Their three largest hospitals offered specialized trauma care, and two specialized nurseries, and they were located within 30 miles of the other in Tennessee's Tri-Cities, the urban triangle in the state's eastern Appalachian region.
In November, Ballad announced it planned to move all babies needing specialized care to Niswonger Children's Hospital in Johnson City, and it would keep the highest level of trauma services in Johnson City as well. Holston Valley would care for well babies and some born to moms with addictions. Holston Valley and Bristol would no longer have a long list of specialists and subspecialists available around the clock for their emergency departments, but would remain staffed to handle nearly all the same trauma cases that they now see.
With the financial savings, Ballad plans to hire more specialists for both Johnson City Hospital's trauma center and Niswonger's neonatal intensive care unit, to create a pediatric trauma center there, and to add emergency rooms for children at Holston Valley and Bristol.
Ballad CEO Alan Levine said the board knew these were big decisions with serious implications, so to announce them they held a two-hour media briefing to walk through the data.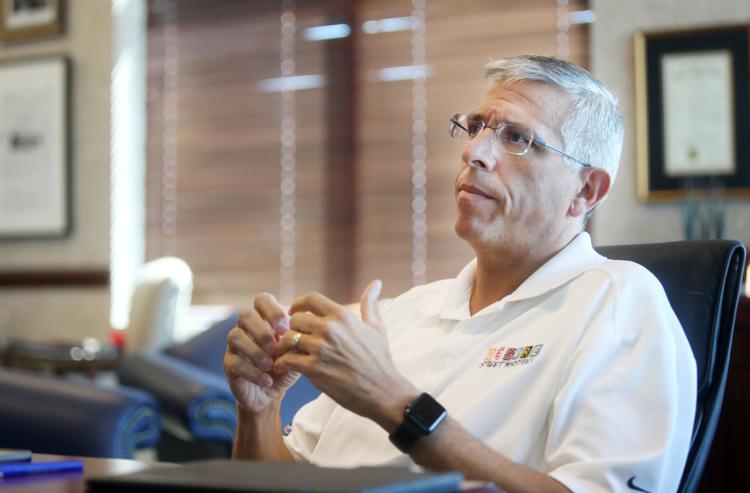 "It was important that it would get reported accurately and wasn't just trauma center going here — details at 5," he said. "Literally, the next day — lesson learned, TV media have only so much time they can't get in the context — the Sullivan County Commission meets and votes to oppose our decisions, and we hadn't even had time to meet with them and explain our decisions. That just started this cascade of events."
Sullivan County is home to Kingsport and Holston Valley, where much of the opposition has been focused. Local governments are lining up on both sides, while business groups favor the plans, as do medical schools, systems and organizations.
Ballad's critics worry that if Holston Valley's nursery and emergency departments can no longer care for critically ill newborns and severely injured adults, those patients will suffer harm and possibly die as they are transferred to Johnson City about 25 miles away. The downgrade also will mean fewer specialists in the communities for patients to see outside of the hospital, more patients billed for medical helicopter charges, ambulance crews tied up transferring patients instead of responding to new calls, and families incurring travel hardships.
The opposition, led by Cook, has more than 2,500 members on one of its Facebook pages and will hold meetings Tuesday in Kingsport and April 3 in Greeneville to raise awareness through door-to-door campaigns.
The changes have yet to draw similar pushback across the state line, as Virginians already do without. No hospital west of the New River Valley, a couple of hours away, is equipped and staffed for trauma.
In parts of Virginia, cellphones don't work and getting out of the holler is the first challenge. Julia Wallace, whose family lives in Southwest Virginia, said those like her uncle who are injured at sawmills or while felling trees are loaded onto the back of pickups and driven someplace to meet an ambulance or helicopter. They are usually taken to Holston Valley. She's concerned care may be delayed if they are taken farther.
"You know these people are already disadvantaged. They're already disadvantaged geographically, by money. They don't have a lot of it. So why would you want to take away access to important trauma care for when those accidents occur?" she asked.
Caring for the smallest patients
Nurseries are rated Level 1 through 4, ranging from the lowest to the highest level of care. Most nurseries, such as the one at LewisGale Medical Center in Salem, are Level 1 and are all that is needed when both mom and baby are expected to do well. Staff must be capable of resuscitating and stabilizing sick babies for transportation to higher-level nurseries.
If obstetricians anticipate that a baby will need more care, the mom is usually sent to a hospital with a more sophisticated nursery for labor and delivery.
As the nursery level increases, the requirements for certain types of specialists and subspecialists grow. LewisGale is asking Virginia for permission to have a mid-level care nursery. Carilion Roanoke Memorial's NICU is a Level 4 and, in the past, Carilion Clinic opposed LewisGale's effort to have one as well. Carilion's reason was much the same as Ballad's is now in seeking to combine its two Level 3 NICUs.
"The fundamental reality in health care generally, and there are decades of evidence to support this, is the more volume you do of a procedure, especially high-risk procedures, the better the outcomes," Levine said.
Holston Valley's volume is so low that East Tennessee State University's Quillen College of Medicine won't send its pediatric residents there for training. On average, the NICU has seven or eight babies a day, and after 4 p.m., neonatologists are on call, and there aren't any pediatric specialists on staff.
Nine of Ballad Health's hospitals deliver babies, although the two in Greeneville will be consolidated on April 1. Most are well-baby nurseries that are staffed and equipped to resuscitate and transfer sick babies. If physicians suspect ahead of time that a baby will require a higher level of care, the mother is usually sent to Holston Valley or Johnson City medical centers for labor and delivery, as they are staffed with specialists. Ballad plans to consolidate the higher level nurseries into one facility. Sources: Ballad Health, Virginia Department of Health
At Niswonger, which is designated by Tennessee as the region's go-to place for high-risk deliveries, 25 pediatric specialists are on staff with neonatologists always available. Its graduate medical education program means interns and residents are always in the hospital, and the NICU usually has 28 to 30 babies each day.
"Keeping pediatric specialists here [northeast Tennessee] is very difficult because if they can't get enough volume to sustain their skills, they leave. The problem we have is too much volume for one [NICU] and not enough for two. What happens is they burn out and leave," Levine said. "So we've committed to hiring 10 additional pediatric subspecialties. In order to support them, you have to have the volume."
By combining the NICUs, Levine said they'll be able to have enough volume to attract and retain hard-to-get subspecialties, which means possibly rising to a Level 4 so that the sickest babies will not have to be flown to Nashville.
Critics of the plan to downgrade Holston Valley's NICU believe moving babies 30 miles to Niswonger will harm them.
Gary Frady's granddaughter was born at 28 weeks.
"For three long months, the dedicated doctors and nurses of Holston Valley did for my granddaughter what no one else on God's green earth could do," he told the COPA committee.
Frady believes she would not have survived a transfer to Niswonger.
Levine said that Bristol delivered 600 babies last year and the Greeneville hospitals about 550, all without a NICU, and that Ballad has a transfer system with 10 nurses and respiratory therapists to accompany newborns either by ambulance or helicopter.
Others opposed to the downgrade have raised concerns about the high number of babies born to moms with addictions. Not all opioid-exposed newborns develop neonatal abstinence syndrome, and not all NAS babies require NICU care. Ballad has begun to change practices in Abingdon and Norton, which have mid-level nurseries, in order to keep babies with NAS in the local hospitals where counseling, group therapy and parenting classes are packaged in with the care.
When plans were presented in December to the Southwest Virginia Health Authority, Dr. Sue Cantrell, who heads Virginia's health department in the region, said she was more concerned about efforts to reduce the need for NICU stays.
Too many women have to travel more than an hour to see an obstetrician and often don't get adequate prenatal care, she said.
Specialized care for serious cases
Most emergency departments are not rated for trauma care.
Trauma center levels run in the reverse of nurseries. Level 1 is the highest and requires 28 specialists and subspecialists to be available immediately.
Ballad does not have any trauma centers in Virginia. It has a Level 2 center in Bristol and Level 1 centers in Kingsport and Johnson City. However, none of its trauma centers are verified through the American College of Surgeons. Only four Virginia hospitals, including Roanoke Memorial, and three Tennessee hospitals have earned Level 1 verification.
Ballad's Level 1 centers are, at times, more aspirational than actual.
The College of Surgeons requires Level 1 centers to admit at least 1,200 trauma patients a year or have 240 patients with severe injury scores, to ensure consistency of outcomes.
"Even if you add up all the trauma volume between Holston Valley and Johnson City Memorial, it's barely the third-busiest program in the state," Levine said. "So we are diluting that trauma volume, and frankly, we don't even have all the specialties. It's very difficult to create three of every specialty that can only cover that hospital."
Urology is a prime example. Last year, urologists handled seven trauma cases at Holston Valley, yet Ballad paid more than $1 million to fly in on-call urologists to sit and wait for the phone to ring, he said.
All hospitals have emergency departments, but not all have trauma centers, although they must be capable of stabilizing trauma patients for transport to a higher level of care. Level 1 trauma designation requires the most specialists and subspecialists. Ballad Health has Level 1 centers in Kingsport and Johnson City, and a Level 2 in Bristol. It is seeking to have just one Level 1 in Johnson City and to drop to a Level 3 in Kingsport and Bristol. Ballad says this change will affect fewer than 1 percent of its emergency room patients. Sources: Tennessee Department of Health, Virginia Department of Health
In downgrading Holston Valley and Bristol to Level 3 trauma, Ballad can instead have a community urologist on call to cover both Indian Path and Holston Valley hospitals in Kingsport.
Level 2 centers are required to have almost as many specialists as Level 1. Level 3 drops down to just four specialists, who are the bread-and-butter of emergency care, to be assigned only to the trauma center.
"Sixty-five percent of the trauma is orthopedic, 20 percent neurosurgery and the rest basic general surgery. Those specialties are staying. Nothing is changing as far as specialty care," Levine said.
Last year 477,647 patients visited Ballad's emergency rooms. Of those, Ballad said, 99.94 percent of them would be unaffected by the changes.
Of those patients, about 5,200 were coded as trauma cases and 488 of them had trauma severe enough to require Level 1 care. Of those, 256 patients would have been affected had consolidation already occurred.
Levine said a national trauma consultant led a Ballad committee, which included residents of both Kingsport and Johnson City, on deciding which hospital should have the Level 1 center. Along the way, one of the board members asked for a breakdown of trauma patients.
It turned out half of the trauma cases involved people 65 or older, and 85 percent of them had fallen.
"That's stunning data. We can now have something to dig into to see what is causing that and what are some steps we can take to educate the public or even intervene if people are at high risk. Had we not gone through that process, we wouldn't have known that," Levine said.
And that is another flaw with the current system.
"Here we sit with two Level 1 centers that are supposed to do research, neither of which knew what was driving their trauma. And why is that? I talked with the directors of both trauma centers and they both said the same thing independently: 'We spend all of our time just trying to make sure we have the specialists to provide coverage,'" he said.
Ballad hospitals without trauma centers also treat elderly patients who fall without coding them as trauma. And those whose injuries are more severe are stabilized and transferred. Levine said none of that will change.
Kris Casey, an EMT with Duffield Fire and Rescue, is concerned that it will change if specialists are lacking at Holston Valley and Bristol.
"We bring these people out on one-lane dirt roads, narrow, curvy roads. Our time is pushed to meet the golden hour to begin with," he said. "We're not going to make it if they have to be stabilized first and then have to be transported to Johnson City. How is that giving our citizens the proper and best healthcare possible?"
Some critics of the plan have said Virginia does not recognize Level 3 trauma centers so patients would have to bypass Holston Valley and Bristol.
That is not accurate. Virginia has six Level 3 trauma centers of its own; two are in the New River Valley. EMT assessments of patients determine the level of trauma care that is required.
Others are concerned that a higher volume of transfers will place more demands on volunteer ambulance services that are already stretched thin.
"These transports aren't taxi cab rides. You don't pull up, throw somebody in and take them to the next hospital and dump them out," said Michael Honeycutt, a retired paramedic in Tennessee. "It can take hours for that ambulance to be back in service. … While that ambulance is out the calls come in. There's not an ambulance there to take your loved one to the hospital."
Ballad said it plans to work with EMS services to develop a transportation and communication network.
Its plan to address the impact of trauma system changes on Virginians is due in Richmond at the end of March.
Maps created by online editor Kate Owens.
---
This story was reported with the support of the Dennis A. Hunt Fund for Health Journalism, a program of the University of Southern California Center for Health Journalism.